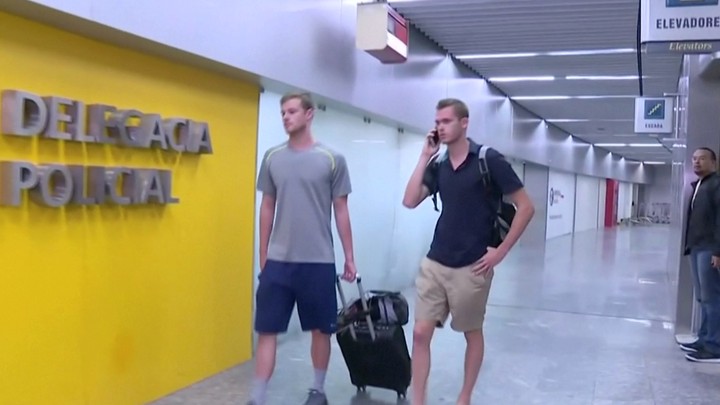 Updated on August 18 at 11:46 a.m. ET
Brazilian officials say the four American swimmers who said they were robbed at gunpoint on Sunday fabricated their story.
ABC News reports that a Brazilian police source told the network that "one of the swimmers was seen on CCTV footage breaking down the door to the bathroom at the gas station and fighting with a security guard" on the night the alleged robbery took place. A similar account was reported by The New York Times.
Three of the four swimmers involved in the incident are still in Rio, while the fourth, Ryan Lochte, is back in the U.S. On Wednesday we told you a Brazilian judge ordered  police to seize Lochte's passport, as well as that of James Feigen, his teammate, over alleged inconsistencies in their accounts of what happened. To add to this saga, the two swimmers who were with them at the time of the reported robbery, Jack Conger and Gunnar Bentz, were pulled off a U.S.-bound flight late Wednesday over the incident.
A spokesman for the U.S. Olympic Committee confirmed that Conger and Bentz were removed by Brazilian authorities from their flight home. They were reportedly released upon condition of remaining in Brazil and cooperating with authorities who are investigating their accounts.
On Sunday Lochte, Bentz, Conger, and Feigen said they were robbed as they returned to the Olympic Village from a party. But police in Rio were unable to corroborate their account. Indeed, that's why Judge Keyla Blank wanted their passports seized. Here's more from USA Today:
Blank wrote in her filing that there were discrepancies about the time when they left France House and arrived at the athletes' village.

According to the documents, she watched surveillance video of the swimmers arriving at the athletes' village. "They arrived with their psychological and physical integrity unperturbed," she wrote, also noting that the swimmers appeared to be joking with each other and did not appear to be upset.

Investigators need more time to determine whether they are guilty of filing a false police report, the judge wrote.
Rio has for years been trying to shed its image as a crime-prone city, and reports of the robbery at gunpoint, as well as incidents in which items were reportedly stolen from the Olympic village, have embarrassed many Brazilians. But the possibility that the story was fabricated has many Brazilians incensed.
Lochte himself appears to have changed the account of what happened in an interview Wednesday with NBC's Matt Lauer. But the swimmer strongly denied the story was fabricated. Here's more:
Lochte repeated his story of what happened in large part, but a few details changed, Lauer said during NBC Sports coverage of the Olympics Wednesday night.

In an interview with TODAY's Billy Bush on Sunday, just hours after the alleged robbery, Lochte had said the gun was put against his forehead — but said in Wednesday's telephone conversation that the gun was pointed in his general direction but the weapon was cocked, Lauer reported.

Lochte did not repeat part of his story that their taxi was pulled over by the robbers, Lauer said.

Lochte said Wednesday they were at a gas station and got back in the taxi, the taxi driver did not move, and it was then that two robbers with guns and badges approached the car and ordered the swimmers out of the vehicle and onto the ground, Lauer said.
An spokesman for the International Olympic Committee appeared to suggest the incident should be forgotten:
Official statement from IOC #Rio2016 spokesman Mario Andrada on #LochteGate. It's amazing. pic.twitter.com/4B03on17QL

— Greg Wyshynski (@wyshynski) August 18, 2016
It's unclear at this point, though, whether Brazilian authorities will allow that to happen.
We want to hear what you think about this article. Submit a letter to the editor or write to letters@theatlantic.com.