A Peace Deal for Colombia
FARC reaches a final agreement with the country's government after a half-century of violence.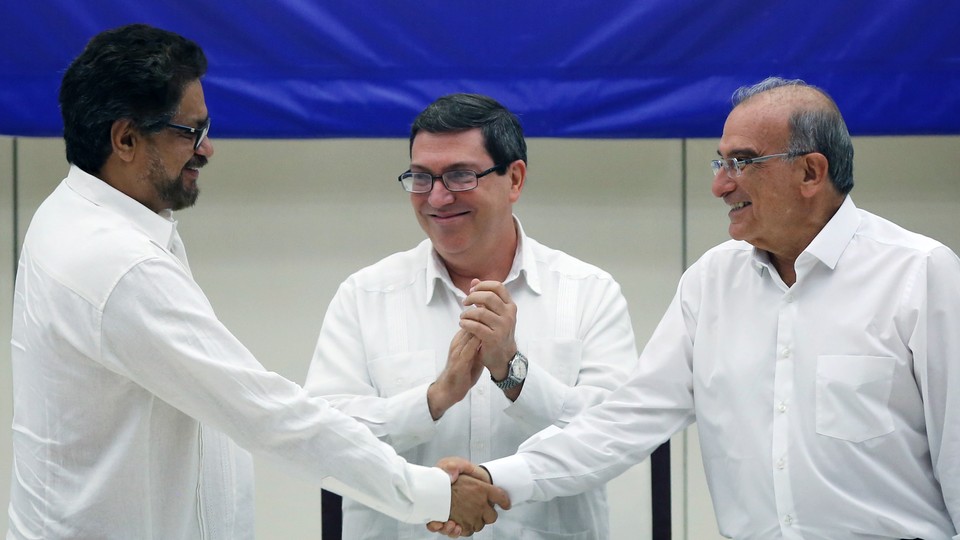 NEWS BRIEF The Colombian government and FARC have finalized a peace agreement, tentatively drawing to a close five decades of conflict with the largest guerrilla movement in the Western Hemisphere.
Negotiators announced the deal Wednesday in Havana, Cuba, where talks between the government and FARC first began in 2012.
FARC, also known as the Revolutionary Armed Forces of Colombia, first launched its left-wing insurgency in 1964, plunging the county in a bitter conflict that cost over 200,000 lives. Both sides had agreed to a preliminary ceasefire in June.
The New York Times has more details on the deal:
It outlines a timetable in which the rebels […] will abandon their arms. It also sets out a pathway in which former fighters will enter civilian life again — and in some cases, run for office.

But to most Colombians, the deal is simply a promise that the war, which has lasted 52 years, claimed some 220,000 lives and displaced more than 5 million people, is at last coming to an end.

Peace in Colombia now looks more likely than ever, but a big hurdle still needs to be cleared before the deal is ratified. President Juan Manuel Santos, who has staked his legacy on peace, must now sell the agreement to his people, who will be asked to vote in an up-or-down referendum on the deal.
Foreign leaders from across the ideological spectrum reacted warmly to the announcement. UN Secretary-General Ban Ki-Moon praised both sides for their "hard work and patience," while the White House called it a "historic day" and a "critical juncture" on the path to peace.
In neighboring Venezuela, where the government has previously acted as a mediator between the rebels and Colombian leaders, President Nicholas Maduro welcomed the agreement.
Reitero mis felicitaciones a Colombia por acuerdos definitivos firmados hoy en La Habana,cuenten con todo el apoyo para construir La Paz...

— Nicolás Maduro (@NicolasMaduro) August 25, 2016
The referendum is scheduled for October 2, according to the BBC. Opposing Santos and the peace deal is former president Alvaro Uribe, who led an aggressive military campaign against FARC and other guerrilla groups during his administration. Uribe has harshly criticized the agreement for what he sees as its excessive leniency toward FARC and its leadership.