A Shattering Act of Civil Disobedience
Yale University has asked the state to drop felony charges against Corey Menafee, the dishwasher who smashed out a window in the school that pictured slaves picking cotton.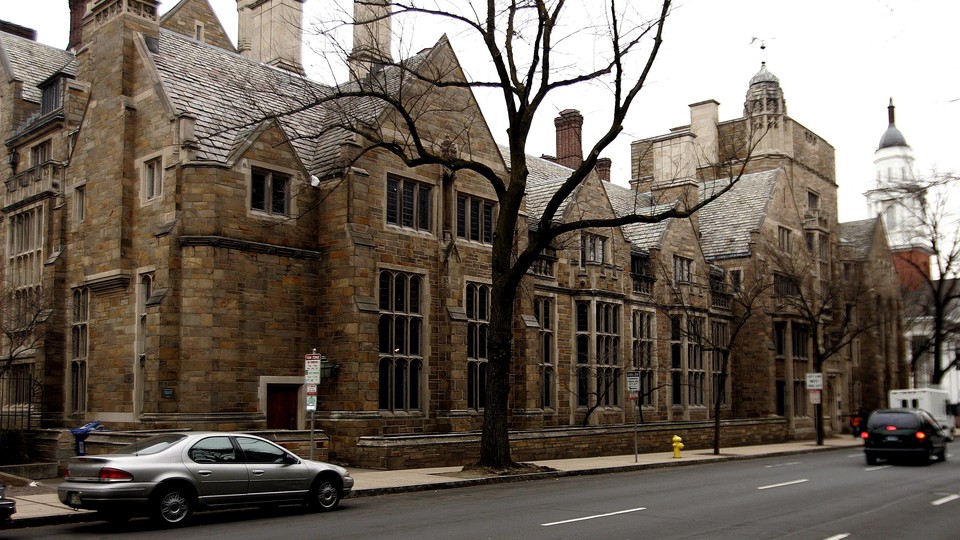 Updated at July 14 at 10:56 a.m.
The dishwasher who last month knocked out a stained-glass window at Yale University will not be charged for shattering the image of slavery, and he would like his job back.
On Thursday Yale President Peter Salovey sent a statement to the "Yale Community," apparently to address the wide concern for Corey Menafee from alumni. In it, Salovey said the school reached out to the State's Attorney office in Connecticut and asked it not to pursue charges agains Menafee, adding Yale didn't intend to recoup restitution for the window. Salovey also said Yale had already begun to reconsider which images around the school belong on walls, or in windows, and which were wiser to keep in galleries or exhibits, where "historical background can be provided."
In April Salovey started a committee to review art around the school, and that "based on their work so far, a number of windows have already been scheduled to be removed from Calhoun College and conserved for study and future exhibitions."
The stained-glass pictures that are taken down will be replaced by other works. But in the meantime, they will be covered with tinted glass.
Menafee, meanwhile, appears to want his job back, according to the union of service and maintenance employees at Yale. In a statement, Bob Proto, president of Local 35 UNITE HERE, said:
Facing termination and worrying about providing for his family, Mr. Menafee chose to resign; the union stood with Mr. Menafee through this terrible ordeal, and we will stand with him again if Yale is willing to discuss a pathway for Mr. Menafee to return to a Yale University job.
---
July 12 at 12 p.m.
NEWS BRIEF The stained-glass window pictured a black man and woman carrying bales of cotton atop their heads in a field that looks very much like a plantation. It was located in a dining hall in Calhoun College, a residential college at Yale University named for John C. Calhoun, a former vice president, U.S. senator from South Carolina, and defender of slavery.
The man who smashed the window pane was Corey Menafee, a 38-year-old dishwasher who is black. Although he knocked it out on June 13, lost his job, and was arrested last month, the New Haven Independent recently reported on what Menafee, a nine-year employee of Yale, has called an act of "civil disobedience." Menafee told the Independent he had grown disgusted with looking at the image, which he called "racist, very degrading."
In the past year, campus activists started a petition to change the name of the Calhoun College. Menafee told the Independent his decision had nothing to do with that:
"When I walked into this job, I wasn't aware of none of that," Menafee said. "And then you know, being there, you start hearing different things."

"I took a broomstick, and it was kind of high, and I climbed up and reached up and broke it," he said. "It's 2016, I shouldn't have to come to work and see things like that."

"I just said, 'That thing's coming down today. I'm tired of it,'" he added. "I put myself in a position to do it, and did it."
The Independent reported that a room full of people watched Menafee tap twice on the window with the broom as the glass fell. Menafee said he then walked to the bathroom and shaved, to make sure he was "clean-shaven for the authorities." He left in handcuffs, and now faces charges of reckless endangerment, and first-degree criminal mischief, which is a felony. He has yet to enter a plea.
Yale has said it won't "advocate that the employee be prosecuted" and that it reached out to the State's Attorneys office to ask for the charges to be dropped. The university also said Menafee apologized for his actions and resigned from his job. Menafee has said he lost his job over his actions.
According to the school, the window may have already been on its way out. In a statement, Yale said it asked its Committee on Art in Public Spaces to assess the windows in Calhoun, and that it had "recommended in June that this window and some others be removed from Calhoun, conserved for future study and a possible contextual exhibition, and replaced with tinted glass for the time being."
For the past year, student activists at Yale have campaigned for the university to change the name of Calhoun College because of its links to slavery. But in April, Yale said it would keep the name. The former vice president and former student of Yale once said of slavery: "I hold then, that there never has yet existed a wealthy and civilized society in which one portion of the community did not, in point of fact, live on the labor of the other."