The Cost of Athletes Taking Political Stands
The WNBA fined teams and players for wearing black warm-up shirts to protest police-involved shootings.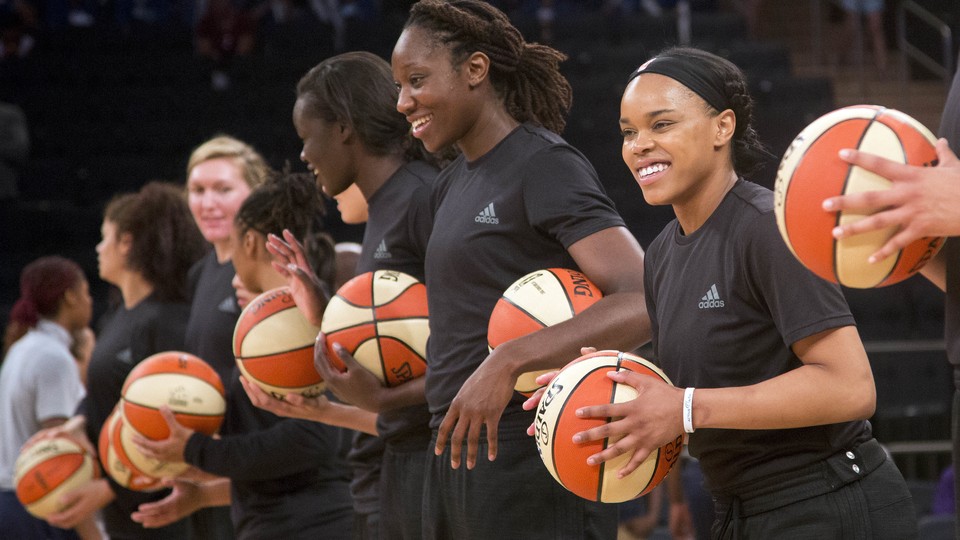 NEWS BRIEF WNBA players are paying for their political activism.
The league fined the New York Liberty, Phoenix Mercury, and Indiana Fever each $5,000 and fined their players $500 for wearing black warm-up shirts following recent deadly police-involved shootings of black men. Teams in the league were warned earlier this week about the uniform policy. Still, those three teams decided to wear the black shirts. WNBA President Lisa Borders explained the league's reasoning to the Associated Press:
We are proud of WNBA players' engagement and passionate advocacy for non-violent solutions to difficult social issues but expect them to comply with the league's uniform guidelines.
The WNBA warned its athletes against making political statements by wearing unsanctioned shirts after the Minnesota Lynx, and later New York and Phoenix, wore black shirts with white lettering commemorating the Alton Sterling, Philando Castile, and Dallas shootings two weeks ago. While four Minneapolis police officers walked out of their private security jobs during the Lynx game, these athletes paid no true financial price for speaking out politically. That seems to have changed, and some athletes are not pleased, including Mercury forward Mistie Bass.
Liberty forward Tina Charles said last week the team had agreed to wear the black shirts for the rest of the year. Though that may change following the league's fines.
Professional athletes have been moved to take more public stances on news events in recent weeks. During the ESPY Awards last week, NBA players Carmelo Anthony, Chris Paul, Dwyane Wade, and LeBron James called on fellow athletes to use their voices to speak out against racial injustice.