Who Is Theresa May?
The U.K. home minister was elected to Parliament less than two decades ago. On Wednesday, she'll take over her as her country's new prime minister.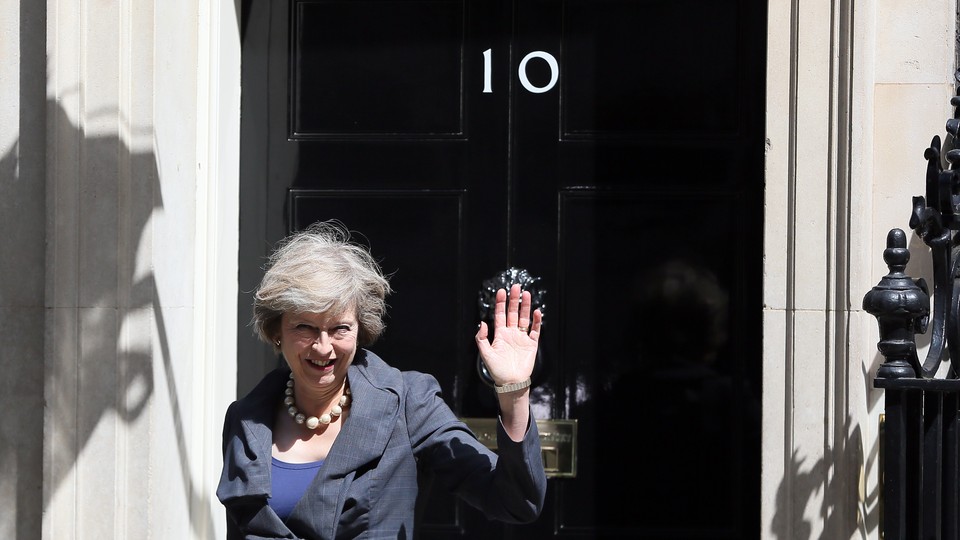 Theresa May, the U.K.'s longest-serving home secretary in more than a century, is set to to take over as prime minister at a particularly crucial time for her country. She has earned a reputation as a tough, quiet, and capable politician—traits that she'll no doubt need as she navigates the U.K.'s future after the country's vote last month to leave the European Union.
May has said that as prime minister she won't invoke Article 50 of the Treaty of Lisbon this year, which would set in motion official talks for the U.K. to break away from the EU. She made clear Monday that despite having supported Britain's continued membership in the bloc prior to the vote, "Brexit means Brexit and we're going to make a success of it." She previously said the U.K. needs to establish its own negotiating position and secure a deal that controls the free movement of people from within the EU, which the bloc's membership mandates, while "ensuring that we've got the best deal possible in trade in goods and services."
May's work on restricting immigration to the U.K. is perhaps what she's best known for. She has said she is committed to reducing net migration to the U.K. to tens of thousands annually. Last year it stood at around 300,000—split evenly between EU and non-EU citizens. As home secretary, she put in place a policy that prevents U.K. citizens who earn less than 18,600 pounds a year (about $24,000) from bringing their non-EU spouses or children to the country (the policy is being challenged in the supreme court); and under her, the Home Office sent vans with a giant sign that read "Go Home or Face Arrest" across the country to get those in the U.K. illegally to leave; about 11 did (the policy has been abandoned). The Guardian points out that one of her main achievements was the deportation of the radical Islamic cleric Abu Qatada to Jordan despite concerns that he would be tortured there.
"Mrs May served for six years at the Home Office, traditionally a graveyard of political reputations," the Financial Times noted. "She was not only a survivor, but was also said to be one of the very few ministers strong enough to say no to David Cameron." Still: "The office of prime minister presents a challenge on a different scale."
At 59, May would be Britain's oldest incoming prime minister since Jim Callaghan in 1976 (he was 64). She would be also be the country's first female prime minister since Margaret Thatcher, who was elected in 1979 and stepped down in 1990. Like Thatcher, she is known for her toughness in what is still a male-dominated profession.
"She has coped with being one of only a small number of women in the upper echelons of the Tories' for 17 years," the BBC notes in a profile of May, "and has been prepared to tell her party some hard truths—famously informing activists at the 2002 conference that "you know what some people call us: the nasty party."
Born in October 1956, the former Teresa Brasier mostly attended a state-run school (unlike her immediate predecessor, Cameron, who attended the elite institution Eton) and St. Hugh's College, Oxford, where she met her future husband, Philip May. The couple do not have children—a fact that was raised by Andrea Leadsom, her rival for the Conservative Party's leadership, who remarked that she herself had "a very real stake in the future of our country" by virtue of "being a mum." The massive backlash to those comments contributed to Leadsom's withdrawal from the race on Monday, paving the way for May's election as the Conservative Party's leader. And when Cameron congratulated her, announced he would step down Wednesday, and hummed his way back into 10 Downing Street, May was all but Britain's next prime minister.
Her ascent, from new member of Parliament from Maidenhead in 1997 to home secretary in 2010 to the country's next leader this week, has taken less than two decades. For those looking in, her success appears rooted in her ability to maintain poise amid political chaos. May has not hidden her ambitions, but when the Conservatives returned to power last year, it looked unlikely that she would contest the leadership race until 2020. But that changed when Cameron called a referendum on Britain's membership in the EU, and the British people voted to leave. Cameron, who had staked his legacy on staying in the EU, announced he was stepping down, setting up a contest to replace him. The chief Brexit campaigner, Boris Johnson, was seen by many as the front-runner to be the next prime minister, but he withdrew when a man who said he'd back him, Michael Gove, announced he was running. In the end, after two rounds of voting, only May and Leadsom remained. On Monday, only May was left. As Dan O'Connell, the British broadcaster, said on Twitter:
Imagine becoming Prime Minister by saying pretty much nothing. Theresa May just sat and waited while everybody else destroyed themselves.

— Dan O'Connell (@danocdj) July 11, 2016