When Athletes Take Political Stands
Despite criticism from the public, teams are supporting expressions of activism by professional athletes.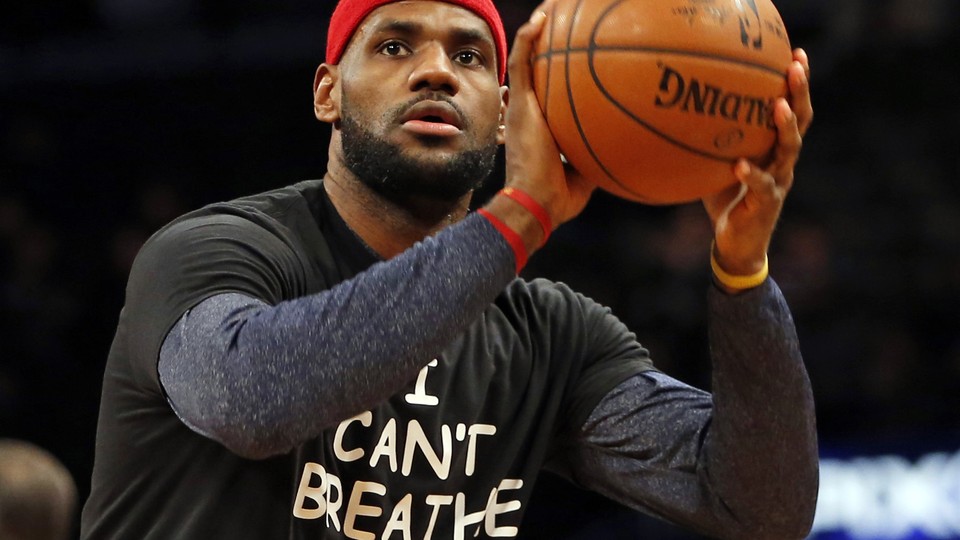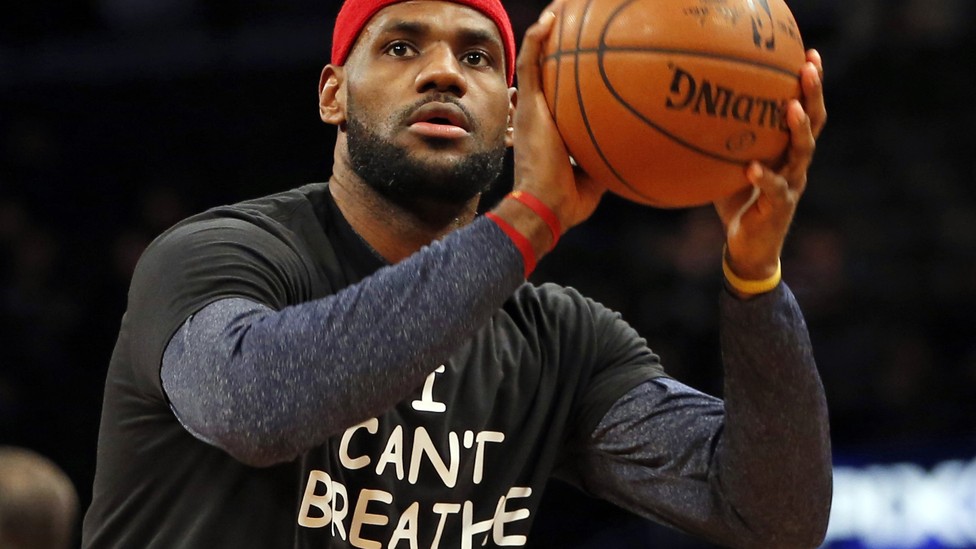 It was a somber moment before the Minnesota Lynx WNBA team took the court on Saturday night. Four players, standing in front of the press before the game started, wore black shirts that on the front said, "Change starts with us, justice and accountability"; on the back were the names Philando Castile and Alton Sterling, the crest of the Dallas Police Department, and the words "Black Lives Matter."
"If we take this time to see that this is a human issue and speak out together, we can greatly decrease fear and create change," said Maya Moore, one of the team captains and the 2014 league MVP. "Tonight we will be wearing shirts to honor and mourn the losses of precious American citizens and to plead for change in all of us."
Moore said they wanted to speak out against racial profiling that many activists said led to the death of Sterling, who was shot in Baton Rouge, Louisiana, and Castile, who was shot last week by a police officer in suburban St. Paul, not far from where the Lynx were playing in Minneapolis. Moore also denounced the "senseless ambush" of Dallas police when five officers were killed by a lone gunman.
Lynx forward Rebekkah Brunson said she was wearing the shirt "to honor and mourn the loss of precious American citizens and to plead change for all of us."
But their message wasn't accepted by everyone. Four off-duty Minneapolis police officers, who were working private security at the Lynx game, quit amid the show of activism from the players. Bob Kroll, the president of the union that represents Minneapolis police officers, praised them for walking off the job.
"If [the players] are going to keep their stance, all officers may refuse to work there," he told The Minneapolis Star Tribune on Tuesday.
But how effective could this threat be? It doesn't seem to have swayed the players, or the Minnesota Lynx organization. During the news conference, the team was even tweeting some of the players' quotes, embracing their activism.
Political activism among athletes is not new. Bill Russell, Jim Brown, Lew Alcindor (who later changed his name to Kareem Abdul-Jabbar), and other black athletes met with Muhammad Ali in Cleveland in 1967 to see whether his objections, at great personal cost, to the Vietnam War as a conscientious objector were serious. That meeting, in which the heavyweight champion would eventually gain the support of the athletes who attended, would later be called the Ali Summit and has remained a pivotal moment in athlete activism.
Curtis McClinton, who played for the Kansas City Chiefs and attended the meeting, would later tell The Cleveland Plain Dealer:
We knew who we were. We knew what we had woven into our country, and we stood at the highest level of citizenship as men. You name the value, we took the brush and painted it. You raised the bar, we reached it. You defined excellence, we supersede it. As a matter of fact, we defined it.
There were other instances, too: During the 1968 Summer Olympics in Mexico City, gold medalist Tommie Smith and bronze medalist John Carlos, two American black runners, raised their black-gloved fists in the air during the playing of the "Star Spangled Banner." The two men were expelled from the Games for the act.
But this sort of political activism was largely absent among professional athletes in the decades that followed. As President Obama said in 2014, among well-paid athletes there was the notion of "just be quiet and get your endorsements and don't make waves." Indeed, Michael Jordan, when asked during his playing days why he wasn't more political, is reported to have (apocryphally) quipped: "Republicans buy sneakers, too."
Recently, though, there have been examples of athletes taking a stand on national issues—coinciding with several high-profile cases in which white police officers killed black men.
In 2014, Derrick Rose, who at the time played for the Chicago Bulls, wore a T-shirt that said, "I Can't Breathe," the words repeated by Eric Garner as he died while being taken down with a chokehold by Staten Island police. Shortly thereafter, LeBron James and Kyrie Irving of the Cleveland Cavaliers and Jarrett Jack, Alan Anderson, Deron Williams, and Kevin Garnett of the Brooklyn Nets wore the same shirt when they played each other in New York.
James viewed the protest as his obligation as a professional athlete, telling the reporters then:
It's just to understand what we're going through as a society. I've been quoted over and over as far as what's going on, it's more of a notion to the family. More than anything. As a society we have to do better. We have to be better for one another, don't matter what race you are.
James had previously led a protest in 2012 when he was with the Miami Heat, wearing hoodies to commemorate the death of Trayvon Martin.
Some athletes want more activism from their colleagues on the court and fields. On Friday, New York Knicks forward Carmelo Anthony wrote a long Instagram post, featuring a photo of that meeting between the four black athletes in 1967, urging fellow athletes to do more than just march in rallies or post on social media. It hasn't worked, he says.
I'm calling for all my fellow ATHLETES to step up and take charge. Go to your local officials, leaders, congressman, assemblymen/assemblywoman and demand change. There's NO more sitting back and being afraid of tackling and addressing political issues anymore. Those days are long gone. We have to step up and take charge.

We can't worry about what endorsements we gonna lose or whose going to look at us crazy. I need your voices to be heard. We can demand change. We just have to be willing to.
This sort of activism will inevitably face pushback of the kind seen  Saturday night in Minneapolis. Indeed, when Cleveland Browns wide receiver Andrew Hawkins wore a shirt that said, "Justice for Tamir Rice And John Crawford III" before a game in December 2014 to protest the deaths of two unarmed black people, the president of the union that represents Cleveland police was outraged. Jeff Follmer, the union chief, said:
It's pretty pathetic when athletes think they know the law. They should stick to what they know best on the field. The Cleveland Police protect and serve the Browns stadium and the Browns organization owes us an apology.
The Browns would not apologize. Neither would the St. Louis Rams organization after some its athletes walked onto the field with their hands up, commemorating the protests in nearby Ferguson, Missouri. The organizations supported their athletes' political expression. As did the Minnesota Lynx organization.