Meeting Refugee Goals
The U.S. is more than halfway toward meeting its target of admitting 10,000 Syrian refugees by the end of the fiscal year. The number represents about 0.2 percent of the 4.8 million Syrian refugees worldwide.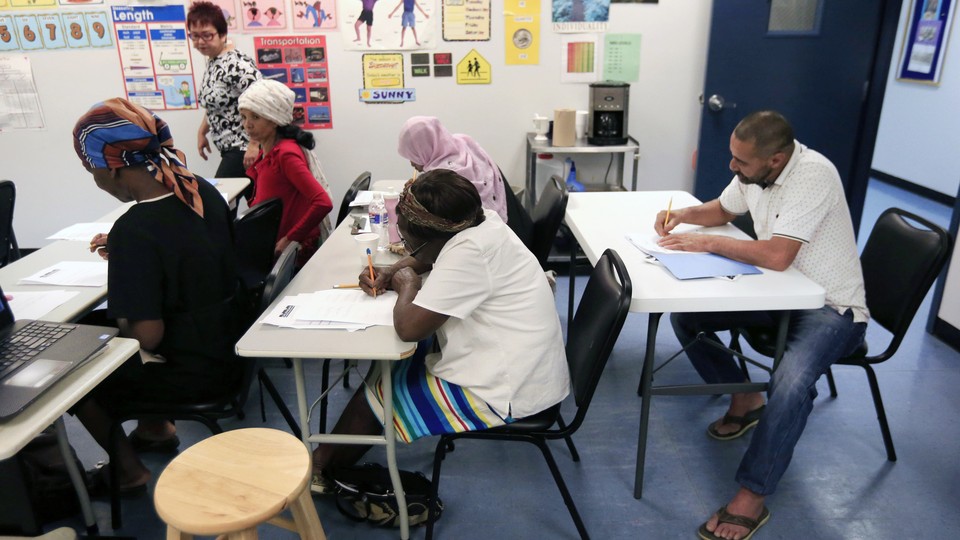 The U.S. is one step closer to meeting its goal of accepting 10,000 Syrian refugees this fiscal year.
The U.S. State Department, in new figures released Tuesday, said 2,406 Syrian refugees entered the country in June. Over the previous eight months, a total of 2,805 Syrians were accepted. In all, with three months to go in the fiscal year, which ends September 30, the U.S. has accepted 5,211 refugees.
Last year, President Obama pledged to take in 10,000 Syrians amid the massive refugee crisis spawned by that country's civil war. But the U.S., unlike European countries reeling under the influx of the newcomers, has a strict standard on the refugees it lets in. The U.S. can reject asylum-seekers on grounds such as health, criminal activity, and links to terrorism. As I've previously reported:
The process of bringing refugees to the U.S. is handled by three agencies: the State Department, which leads the program, USCIS at the Department of Homeland Security, and the Office of Refugee Resettlement at the Department of Health and Human Services. …

It takes anywhere from 18 to 24 months or even longer to process a case from referral or application to arrival in the U.S.
With Tuesday's figures, the U.S. has three months to admit another 4,789 Syrian refugees to meet Obama's goal.
In a statement, Eleanor Acer of Human Rights First said: "The Obama Administration has made progress in addressing some of the backlogs and delays that have hampered its ability to resettle refugees, but with three months left in the fiscal year, it is still far from meeting its goal of resettling at least 10,000 Syrian refugees this fiscal year."
The 10,000 refugees represent about 0.2 percent of more than 4.8 million refugees created by the more than five-year-long Syrian civil war.