What's Going On in Turkey?
President Recep Tayyip Erdogan announced a three-month state of emergency following last week's coup attempt.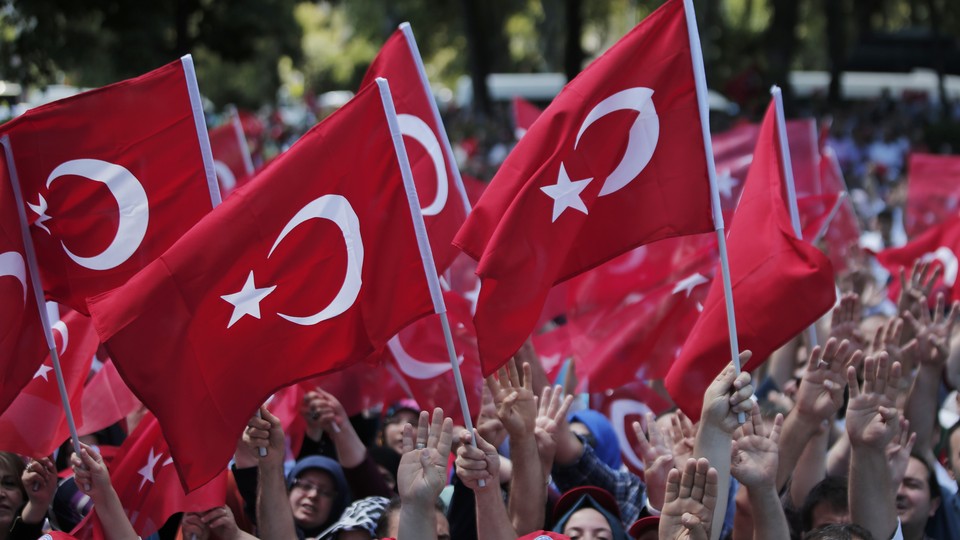 Here's what we know Wednesday:
—The president has announced a three-month state of emergency as the purge of educational institutions, the media, police, and security forces following last Friday's coup attempt continues.
—The government has asked the U.S. to extradite Fethullah Gulen, the Pennsylvania-based cleric, whom it accuses of being behind the coup.
—A group of Turkish military officers said late Friday it was taking over the country in order to restore democracy.
—We're live-blogging the major updates. All updates are in Eastern Daylight Time (GMT -4).
---
4:29 p.m.
Turkey will temporarily suspend its adherence to the European Convention on Human Rights, Deputy Prime Minister Numan Kurtulmus said Thursday.
Hurriyet quoted Kurtulmus comparing the suspension to the French government's response to recent terrorist attacks there.
The human-rights treaty binds all 47 members of the Council of Europe, an broader multinational body that exists alongside the European Union.
Article 15 of its text allows members to deviate from its requirements in times of emergency, "provided that such measures are not inconsistent with its other obligations under international law."
---
Updated July 20 at 4:29 p.m.
Turkish President Recep Tayyip Erdogan has announced a three-month state of emergency following last week's coup attempt.
The move follows a crackdown on the military, judiciary, civil service, and educational institutions, and a purge of those people suspected to be sympathetic to Fethullah Gulen, the Pennsylvania-based cleric.
---
7:46 a.m. Wednesday
Turkey's Higher Education Board, which is known by its initials BOK, has suspended the assignments of Turkish academics overseas, and asked those academics who work abroad to return home. This, according to Hurriyet, is part of the investigation into those with links to last week's coup attempt. Here's more:
The universities have until August 5 to comply.
---
3:03 p.m. Tuesday
President Obama, in a phone call to Turkish President Recep Tayyip Erdogan on Tuesday, condemned last week's attempted coup, offering his Turkish counterpart and the country's authorities any assistance they may need to investigate the incident.
Obama, though, cautioned that any investigation and prosecution of the coup instigators should "be conducted in ways that reinforce public confidence in democratic institutions and the rule of law," the White House said.
Congratulating the Turkish people for taking to the streets in support of democracy, Obama said he supported the continuation of Turkish democracy.
---
11:53 a.m. Tuesday
The purge of Turkish institutions continues following last week's coup attempt. Here's the state-run Anadolu news agency:
Earlier the Ministry of National Education said it dismissed 15,200 personnel over their alleged links to the Gulenist movement, which the government says it behind the coup.
Separately, Anadolu reported:
For more on Gulen, go here.
---
3:15 p.m.
Erdogan, in an interview with CNN said Turkey would file within days a formal extradition request for Fethullah Gulen, the Pennsylvania-based cleric who the Turkish government has accused of orchestrating the coup attempt. When asked what would happen if the U.S. declines to extradite Gulen, a permanent U.S. resident, Erdogan said:
He also told CNN he would approve reinstating capital punishment if Turkish lawmakers vote in favor of doing so. Such a move would disqualify Turkey from its long-cherished desire to join the European Union, membership in which is open to those countries that no longer have the death penalty.
---
1:45 p.m.
Anadolu, the state-run news agency, has retracted its story that Akin Ozturk, the former air force chief, admitted to being behind the coup.
Anadolu has deleted the story and the tweet in which it announced Ozturk's confession, but you can see it below.
---
12:34 p.m.
Anadolu, the Turkish state-run news agency, is reporting that the country's former air force chief has admitted to being behind the coup.
Akin Ozturk is one of 112 generals and admirals held over the coup plot, the news agency added.
---
9:06 a.m. Monday
Turkey is continuing its crackdown on those who carried out last Friday's unsuccessful coup attempt. The Interior Ministry has suspended 8,777 officials in connection with the unrest. Here's more from Hurriyet, the Turkish newspaper:
Prime Minister Binali Yildirim said those who attempted the coup killed 208 people, including 60 police officers, three soldiers, and 145 civilians; 1,491 people were wounded, he said. Twenty-four coup plotters were killed, he said, and 50 were wounded.
The prime minister said 7,543 people had been detained after the attempt, including 100 police officers, 6,038 soldiers, 755 judges and prosecutors, and 650 civilians. Of these, 316 have been arrested, he said.
Yildirim reiterated his call for the U.S. to hand over Fethullah Gulen, the Turkish cleric who lives in Pennsylvania. John Kerry, the U.S. secretary of state, said Sunday the U.S. would examine evidence against Gulen if Turkey handed it over. Yildirim on Monday suggested relations with the U.S. could be hurt over  the issue. "Even questioning our friendship may be brought to the agenda here. Nonetheless, our Justice Ministry is conducting the necessary work," he said. "Is there better evidence than this? We will be a little bit disappointed if our friends say 'show us the evidence' while there are members of this organization which is trying to destroy a state and a person who instructs it."
The European Union, which had called for democracy and rule of law to prevail as the coup was underway, called on Turkey to respect the rule of law.
"We are the ones saying today rule of law has to be protected in the country, there is no excuse for any steps that take the country away from that," Frederica Mogherini, the EU's foreign-policy chief, said in Brussels.
Johannes Hahn, the EU's enlargement commissioner who is in charge of dealing with Turkey's bit to join the bloc, suggested the Turkish government prepared a list before the coup of people to be rounded up.
"I mean, (that) the lists are available already after the event indicates that this was prepared and at a certain moment should be used," he said.
---
3:37 p.m. Sunday
More than 6,000 people, including Erdogan's top military aide, have been arrested in the aftermath of the coup attempt. The Foreign Ministry raised the death toll to 290; more than 100 of who played a role in the attempted putsch. At a funeral Sunday for those killed by the coup plotters, Erdogan said: "We will continue to cleanse the virus from all state institutions, because this virus has spread. Unfortunately like a cancer, this virus has enveloped the state."
Senior Turkish officials—both military as well as civilian—have also been arrested.
Colonel Ali Yazici, Erdogan's top military aide, was detained, as was General Bekir Ercan Van, the commander of the Incirlik air base. The base is used by the U.S. in its operations against ISIS in Syria and Iraq. Alparslan Altan, a senior Turkish judge, is also reported to have been detained.
Erdogan reiterated that Fethullah Gulen, his rival who heads the Hizmet movement, was behind the coup attempt. Gulen, who live in Pennsylvania, has denied the allegations and during the coup attempt had urged democracy to be restored. Erdogan also said he wanted the U.S. to extradite Gulen. John Kerry, the American secretary of state, said Turkey should first "present us with any legitimate evidence that withstands scrutiny."
---
4:50 p.m. Saturday
The coup's aftermath is reportedly disrupting operations at Incirlik air base, a major U.S. military base located in southern Turkey. The base serves as the primary hub for U.S.-led air operations against ISIS.
"Be advised that local authorities are denying movements on to and off of Incirlik Air Base. The power there has been cut. Please avoid the air base until normal operations have been restored," the U.S. embassy in Turkey advised U.S. citizens in the country.
Pentagon officials told the New York Times that the Turkish government has also closed its airspace to military aircraft, effectively halting U.S.-led air operations over Iraq and Syria launched from Incirlik.
---
4:21 p.m.
At least 265 people died during the coup attempt, Turkish officials told multiple news outlets. Officials also provided the first details on their identities: 161 civilians and police officers as well as 104 "coup supporters." It's not clear whether any pro-government military personnel were included in the toll.
---
2:05 p.m.
Erdogan addressed his supporters in Istanbul Saturday afternoon and spoke about the coup's perpetrators in greater detail.
In an important statement on civil-military relations, the Turkish president placed blame on a small faction of officers, which he described as a "tumor," instead of the military as a whole. That would be a shift from other coups in recent Turkish history, which enjoyed broader support within the country's armed forces.
Erdogan also demanded President Obama extradite Fethullah Gulen, a Turkish cleric living in Pennsylvania and a political foe of Erdogan's, for his alleged role in orchestrating the attempted coup.
Gulen, for his part, denied any role in the attempted coup. Speaking with a group of journalists from his Pennsylvania home Saturday, he voiced suspicions about Erdogan and his possibly complicity in events.
"There is a possibility that it could be a staged coup and it could be meant for further accusations" against Gulen's sympathizers in Turkey, Gulen told reporters.
It's not clear whether Washington will agree to Erdogan's demand. U.S. Secretary of State John Kerry told reporters in Luxembourg said the United States would be "completely supportive" of the Turkish government's investigations.
Speaking more specifically about Gulen, Kerry said the U.S. hadn't received an extradition request from Ankara. His remarks, reported by Reuters, said "legitimate evidence that withstands scrutiny" would be needed to extradite Gulen—a possible indication Washington won't hand over the cleric without convincing proof of his role.
---
8:54 a.m.
Turkey's government appears to be purging the judiciary following the coup.
Turkish broadcasters report the country's High Council of Judges and Prosecutors removed 2,745 judges from office on Saturday. Five members of the council itself were also removed, according to the state-run Anadolu news agency. It's not clear whether those members' removal preceded or followed the wider purge.
Saturday's purge comes after the Turkish parliament passed a sweeping judicial reform bill on July 1 that removed "troublesome" judges and gave Erdogan and the Justice Ministry greater influence over their replacements.
---
6:33 a.m.
Binali Yildirim, the Turkish prime minister, called Thursday night's coup attempt a "stain on democracy." He said 161 people were killed and 1,440 wounded in the attempt. Nearly 3,000 people were arrested, he said, adding the democratically elected government is back in control.
On Thursday, President Recep Tayyip Erdogan had said the coup plotters would pay the "highest price," and Yildirim said Friday the country would rethink its ban on capital punishment to ensure coups are not attempted again.
Meanwhile, the Greek military says eight people apparently involved with the coup attempt landed on Greek territory and requested asylum. Turkey has demanded their return.
---
6:29 a.m.
Good morning. We're backing blogging the updates from Turkey where the coup attempt appears to have failed.
---
12:39 a.m.
That's a wrap for our liveblog tonight. Coverage will resume here at 9 a.m. Eastern time Saturday.
---
12:21 a.m.
As Erdogan and the Turkish government reassert control over Turkey, more details are emerging on the coup's toll. Agence-France Presse says at least 60 people have died during the uprising, citing a Turkish presidential official.
Multiple news outlets are also reporting at least 336 people have been arrested for allegedly participating in the plot so far, a figure that is likely to rise as the government reassumes power.
---
Updated on July 16 at 11:56 p.m.
It's now daytime in Turkey, and it looks like the attempted coup is unraveling.
Erdogan just addressed a massive crowd of supporters in Istanbul, where he said the coup had been defeated. The Turkish president sounded a defiant note as his forces tried to reassert control in the country's two major cities.
"In Turkey, armed forces are not governing the state or leading the state. They cannot," he said.
Erdogan also accused "those in Pennsylvania" of "betrayal," an unambiguous reference to the Gulen movement and its leader Fethullah Gulen, a Muslim cleric and preacher who resides in the Poconos.
It's been hours since the coup organizers have released a public statement or shown any semblance of control. But there are still reports of air and ground skirmishes in both Ankara and Istanbul.
"The government is not leaving the state," Erdogan said. "We will be prepared to die."
---
11:03 p.m.
In the coup's early hours, U.S. Representative Brad Sherman, a Democrat from California and a member of the House Foreign Affairs Committee, tweeted what seemed to be a message of support for those overthrowing the Turkish government.
Serdar Kilic, Turkey's ambassador to the United States, fired back at Sherman a few hours later on Twitter.
---
10:36 p.m.
At least 42 people have died in Ankara during the attempted coup, Turkish broadcaster NTV is reporting, citing the local prosecutor's office. The number is the first official death toll from the Turkish capital.
---
10:30 p.m.
Turkish Prime Minister Binali Yildirim said more than 130 people have been arrested in relation to the coup, Reuters is reporting. Yildirim also told local media outlets the parliament building in Ankara has been secured and that legislators will reconvene Saturday afternoon.
---
9:32 p.m.
Three of the European Union's highest-ranking officials—European Commission President Jean-Claude Juncker, European Council President Donald Tusk, and EU foreign policy high commissioner Federica Mogherini—just released a statement on the coup attempt in Turkey.
---
9:28 p.m.
Erdogan is currently addressing the nation for a second time since the coup began, this time in front of a TV camera in Istanbul.
"This uprising was carried by a minority of the military that can't stand unity of the country," he said. "They are going to pay for it in the harshest way."
"It's clear we have to cleanse the military," he added.
Erdogan spoke alongside supporters in front of a massive portrait of Mustafa Kemal Ataturk, Turkey's modern founder.
---
9:16 p.m.
Hillary Clinton, the presumptive Democratic presidential nominee, has released a statement on the events that are unfolding in Turkey. Here's what she said:
We'll add statements from other political leaders as we receive them.
---
9:10 p.m.
The Associated Press is reporting "large crowds" greeted Erdogan after he landed at Istanbul's Ataturk International Airport. It's a dramatic reversal of fortune for the Turkish president, who was forced to address the nation through an iPhone held up to the camera by a state-television broadcaster only hours ago.
Turkey's state-run Anadolu news agency tweeted a photograph of Erdogan with supporters, reportedly taken at the airport.
---
9:00 p.m.
It's worth pointing out that the military, in this case, isn't a monolithic institution. Although some troops are engaged in the coup attempt, other senior officers have condemned the attempted takeover, and pledged their allegiance to the government.
"Those who are attempting a coup will not succeed," General Zekai Aksakalli, the commander of the military special forces, told NTV. "Our people should know that we will overcome this."
Others, however, fired on pro-Erdogan protesters and appear to have taken over some news organizations, including CNN-Turk.
Anadolu, the state-run news agency, also reported the deaths of two civlians in firing by those taking part in the attempt coup.
---
8:50 p.m.
The Turkish military is taking over CNN Turk, the Turkish-language arm of the broadcaster.
It's not immediately clear whether these soldiers belong to the faction staging the coup against Erdogan or those loyal to him. Hurriyet reports a group of soldiers entered its building, and took several journalists hostages.
On Facebook, the network is broadcasting a livestream of an empty studio.
---
8:25 p.m.
Multiple news outlets are reporting Erdogan's plane just landed in Istanbul. His location was a mystery as events unfolded over the last few hours, with some rumors claiming he was seeking asylum in Berlin or London.
Erdogan's return suggests the coup's organizers may be losing what control of events they had, especially in Istanbul. The situation is less clear in Ankara, the nation's capital, where press reports suggest some exchanges of gunfire and bombings are taking place.
---
8:22 p.m.
Turkey's state-run Anadolu news agency is reporting a bomb has struck the Turkish Parliament building in Ankara. It's not clear which side is responsible, how much damage has been done, or whether there were any injuries.
A Turkish politician tweeted photos of some of the damage from within the building.
---
7:45 p.m.
Events are still ongoing, but pro-government sources are claiming the coup's plotters have been foiled. A Twitter feed run by the Turkish embassy in Washington, D.C., shared the following message:
---
7:41 p.m.
In a statement, NATO's top official echoed President Obama's words of support for Turkey's democratic institutions while also avoiding citing Erdogan by name.
"I call for calm and restraint, and for full respect for Turkey's democratic institutions and its constitution," NATO Secretary-General Jens Stoltenberg said. "Turkey is a valued NATO ally."
On Twitter, Stoltenberg said he spoke with the Turkish foreign minister about the situation.
---
7:23 p.m.
The U.S. must cut off funding to Turkey if the coup is successful. The Foreign Assistance Act outlaws the U.S. from giving money to any overthrown governments until democracy is restored. At least in theory, that's what's supposed to happen.
The U.S. did not follow this during the 2013 uprising in Egypt. The aid continued (with a short suspension to the military) and the $1.5 billion the U.S. sends Egypt flowed unabated. The U.S. got around this by not technically labeling what happened in Egypt a coup.
The U.S. military sends between $3 million and $5million each year in military aid to Turkey. It also sends hundreds of millions in aid each year for counterterrorism ($943,099) and for Syrian refugees ($1.5 million). In all, Turkey receives $112,197,206. That money could stop flowing if Erdogan's isn't restored to power. But during the successful 1980 coup in Turkey, aid not only continued, it increased.
---
7:16 p.m.
The Press Office of the Turkish Embassy in D.C. is describing Friday's events in perhaps the strongest terms yet.
---
7:13 p.m.
A statement from the Alliance for Shared Values, the Gulen-affiliated group, condemned the coup attempt.
Erdogan has accused Gulen's supporters of being behind the coup attempt.
---
7:11 p.m.
President Obama spoke with Secretary of State John Kerry Friday evening about the unfolding situation in Turkey. While Kerry agreed to keep Obama updated on the attempted coup, both men "agreed that all parties in Turkey should support the democratically elected Government of Turkey, show restraint, and avoid any violence or bloodshed," according to the White House. The U.S. government will continue to monitor the safety of U.S. citizens in Turkey.
---
7:07 p.m.
There are reports from both Ankara and Istanbul of troops opening fire.
Here's the AP:
And BuzzFeed:
At least 17 people have been killed in Ankara, where the helicopters were reported to have fired on the Gölbaşı Special Ops headquarters, a police facility.
It's worth pointing out here that these events have not been confirmed, but are being widely reported on social media by people on the ground.
---
6:45 p.m.
Former Turkish Prime Minister Ahmet Davutoglu told Al Jazeera the coup that is underway is being conducted by "illegal methods" and is "an attack against democracy."
"Turkey is a democracy," he said. "There was a clear democratic process. There is no question of legitimacy in Turkey."
Davutoglu was forced out of power by Erdogan in May after the president wanted a tighter grip on power. He was replaced by Binali Yildirim.
---
6:32 p.m.
The coup, if successful, poses serious questions for European policy toward Turkey. Angela Merkel, the German chancellor, has made Turkey, and Erdogan, the centerpiece of the European Union's refugee policy. Under a deal negotiated earlier this year between the bloc and Turkey, each refugee who entered Europe illegally would be repatriated to Turkey in exchange for a legally registered Syrian refugee in a Turkish refugee camp.
Europe, especially Germany, has buckled under the strain of the more than 1 million refugees who entered Europe last year and the tens of thousands who have done so this year. But the overwhelming majority of the more than 4 million refugees created by the Syrian civil war live in camps in Turkey, where the security condition has deteriorated in recent months due to a combination of mass-casualty attacks attributed to the Islamic State as well as Kurdish separatist groups, which Ankara regards as terrorists.
Also in question is Turkey's long-standing request to join the EU. The bloc admits only democracies and—opposition from many European countries to Turkey's membership notwithstanding—the country's human-rights record has long been a stumbling bloc to admission, as has its suppression of opposition groups. No matter the outcome of the coup—whether it succeeds or Erdogan cracks down on the perpetrators—Turkish democracy seems destined to deteriorate even further.
---
6:25 p.m.
There are reports of gunfire on the bridge across the Bosphorous in Istanbul, the BBC reports.
---
6:19 p.m.
It is worth noting that according to the Foreign Assistance Act, the United States is legally required to cut off foreign aid to a country where the military has staged a successful coup. If this coup in Turkey succeeds, it would likely complicate the fight against ISIS, in which Turkey is a key ally, as well as other regional diplomatic endeavors.
---
5:59 p.m.
Twitter rejected reports that the social media site had been blocked in Turkey amid the attempted coup.
---
5:56 p.m.
We're getting more international reaction on the events in Turkey:
---
5:46 p.m.
News of a coup in Turkey came as a surprise to the world, but not as great a surprise as it might have been in some countries. In the second half of the 20th century, the nation fell into a pattern of semi-regular military coups, and by that rhythm, it was in fact overdue. Previous coups came in in 1960, 1971, 1980, and 1997, so that the 19-year gap between the last uprising and today was notably long.
Modern Turkey was founded by Mustafa Kemal, a general in the Turkish Army who was later formally granted the surname "Ataturk," or father of the Turks. Ataturk set about an aggressive program of modernizing and "Westernizing" the country, pushing religion to the margins, banning certain apparel like headscarves and fezes, and converting Turkish from Arabic to Latin script. But that secularism has always remained tenuous. Many Turks, especially rural ones, are religious, and not all of the reforms have remained popular.
The military has long seen its role as safeguarding Ataturk's secularist agenda, and when it worries the government is shifting too far away, it has tended to take action. The first coup, in 1960, was a response to two currents: Prime Minister Adnan Menderes was both making overtures to Moscow and opening up to religion, reopening shuttered mosques, allowing the call to prayer to be sung in Arabic and more. A few dozen officers launched a coup in May 1960. Menderes was executed the following year after being convicted of violating the constitution.
The military relinquished control to civilians in 1965, when Süleyman Demirel was elected. But by 1971, growing unrest had emboldened Islamists, and the military again stepped in. This time, it did not launch tanks but instead delivered an ultimatum to Demirel, demanding "the formation, within the context of democratic principles, of a strong and credible government, which will neutralize the current anarchical situation and which, inspired by Atatürk's views, will implement the reformist laws envisaged by the constitution." Demirel resigned; the military did not directly take control.
Nine years later, amid continued instability, the military again intervened, this time seizing power and holding it for three years. There followed a period of relative political stability. But in 1997, generals decided to depose Prime Minister Necmettin Erbakan, the head of an Islamist party. The military again enacted a coup by memo, forcing Erbakan's resignation and banning him from politics.
Turkey has thus occupied a strange position in world politics: Although it is prone to coups d'etat, Western governments have often cheered the coups on, with varying degrees of enthusiasm, because they are in the service of a secular agenda. Periodic deposition of democratically leaders has, somewhat paradoxically, been treated as a small price to pay for ensuring liberalism.
Already, some analysts are shruggingly embracing the latest coup as a way to rid the country of the increasingly autocratic President Recep Tayyip Erdogan. But what is not clear yet in the latest coup is whether it fits the same pattern of secular Kemalists clamping down on Islamism. There is speculation that the coup's leaders may in fact be loyal to Fethullah Gulen, an enigmatic Muslim leader who's currently in exile in Pennsylvania—that's certainly what Erdogan claimed in his FaceTime address to the nation. Gulen is a former Erdogan ally who was essential to his rise, but the men have since broken. Whether Western leaders would be as eager to embrace a Gulenist coup as a Kemalist coup is unclear, though concerns about how Turkish instability could affect the civil war in Syria might render that question irrelevant: For outsiders, any leaders—whether Gulenist or Kemalist—may be preferable to ISIS.
---
5:35 p.m.
Mahir Zeynalov, a Washington, D.C.-based reporter for Today's Zaman, is tweeting Erdogan's comments:
---
5:29 p.m.
There are conflicting reports about Erdogan's whereabouts. He was reported to be flying back to Ankara, though it's unclear if he will be able to land there, given the airports have been taken over by the military. He was supposed to make a statement on state TV, also now controlled by the armed forces, and had to make a comment via FaceTime:
---
5:22 p.m.
The White House says President Obama's national security team has briefed him on the unfolding situation.
---
5:15 p.m.
More from the State Department:
---
5:15 p.m.
As news broke about the coup attempt in Turkey, Secretary of State John Kerry said he was following updates.
"I don't have any details at this time," he said. "I hope there will be stability and peace and continuity within Turkey. But I have nothing to add with respect to what has transpired at this moment."
---
5:11 p.m.
There are conflicting reports about Erdogan. It was reported that he was flying back to Ankara. He tried to make a statement on state TV, but that has been taken over by the military, so he was apparently forced to resort to FaceTime.
---
5:11 p.m.
The Turkish military has seized the Turkish Radio and Television officers, the national public broadcaster of Turkey.
And the military has apparently imposed a nationwide curfew, and taken the army chief hostage.
---
5:08 p.m.
The U.S. State Department is acknowledging an "attempted uprising" in Turkey and urged American citizens to remain vigilant.
---
5:02 p.m.
If Friday marks the end of Erdogan's leadership, it will complete a stunning arc over the course of two decades: from political disgrace to the leadership of the nation; from the toast of the globe and the beacon of hope for Western leaders to pariah and avatar of repression and autocracy.
Erdogan served as mayor of Istanbul in the 1990s as part of an Islamist party, but was barred from politics and imprisoned in 1998, a victim of the periodic crackdowns on religious parties that have characterized the Turkish state since its founding. He returned to politics with the AKP, or Freedom and Justice Party, a more moderate party that melded Islamism with modernizing impulses. Erdogan became prime minister in 2003. The rise of the AKP initially fed speculation that the military, a staunchly secular institution loyal to the precepts of the founder of modern Turkey, Mustafa Kemal Ataturk, might launch a coup, as it had done many times in the past.
But Erdogan managed to strike a middle path, drawing in some liberals who applauded his modernizing steps, as well as more conservative and religious voters. He kept the military at bay, in some cases prosecuting generals for alleged coups. His "Turkish model" was highly lauded abroad, with Western leaders and analysts hoping it might represent a successful fusion of Islamist politics with liberal democratic principles—a fusion that came to be seen as ever more necessary as Islamism became entrenched across the Middle East. President Obama in particular grew close to Erdogan, holding up him as a model.
But Erdogan's liberalism only went so far. As his tenure lengthened, he broke with the enigmatic religious leader Fethullah Gülen, a longstanding ally who is now exiled in Pennsylvania. It soon became apparent that his goal was not a liberal democracy but a sort of revival of Ottomanism. Erdogan grew increasingly autocratic, cracking down on the media and drawing power to himself, working to transform the Turkish presidency—traditionally a relatively weak position, compared to the prime ministership—into a strong one. He became president in 2014, but the civil war in neighboring Syria and increasing tensions with Kurds encouraged him to grab even more power. By earlier this year, reporters were referring to Erdogan as being "on a march to dictatorship." Even if Erdogan is able to survive the coup and reassert control, the Turkish model is dead—and so are any hopes that Erdogan might be a liberalizer or a democrat.
---
4:54 p.m.
Mahir Zeynalov, a Turkish political analyst, took photos of people rushing to ATMs upon hearing news of the coup.
---
4:44 p.m.
Erdogan's relationship with the military has been fraught in recent years. He cracked down on the institution, traditionally the main power-broker in the country, in a bid to consolidate power. The most famous of these instances is the so-called Ergenekon coup plot trials. In that 2013 verdict, many high-ranking army members, journalists, and academics were handed hundreds of years of imprisonment  and several aggravated life sentences. Hurriyet noted at the time:
But an appeals court overturned many of those convictions in April because prosecutors had been unable to prove that Ergenekon actually existed. The military was long Turkey's most respected institution, but the Ergenekon convictions dulled some of the respect the military enjoyed.
---
4:40 p.m.
In a statement, the military said it took over the country for "democratic order" and "human rights." The statement added:
"Turkish armed forces, in order to re-establish constitutional order, democracy, rights and freedoms, rule of law, safety and security of the Turkish nation and the state, has taken over all governmental responsibilities of the Republic of Turkey."
---
4:39 p.m.
There are reports of gunfire, as well as of an explosion in Ankara:
---
4:31 p.m.
The U.S. is a major ally of Turkey, which is a NATO member. The U.S. maintains an air base in Incirlik, where it houses nuclear weapons. The U.S. has not yet reacted to the events unfolding in the country.
Erdogan is reportedly on vacation with his family in Bodrum, an Aegean resort.
---
4:26 p.m.
Back in October, Soner Cagaptay, the director of the Turkish Research Program at the Washington Institute, wrote for The Atlantic that Turkey was in a state of turmoil. Cagaptay argued the political polarization, government instability, economic slowdown, and threats of violence could build up to a catastrophe. It was up to Erdogan, he wrote, to calm the situation. At this point, it's unclear if Erdogan succeeded.
---
4:23 p.m.
A March article from the American Enterprise Institute asked, "Could there be A coup in Turkey?" Here's the relevant section about Erdogan:
---
4:16 p.m.
In a statement on national television, Prime Minister Binali Yildirim said his government would not allow this coup attempt to win and that he would uphold democracy.
Turkey has a history of coup attempts, the last occurring in 1997 when the Islamist Welfare party, which made large gains in the 1995 election, was banned from politics for five years. Al Jazeera outlines the past coups staged by the military, which views itself as the "guardian of Turkish democracy," in 1960, 1971, 1980, and 1997.
---
4:14 p.m.
The Turkish government often imposes a media blackout at times of crisis, but there are reports of a more widespread blackout of websites.
---
4:07 p.m.
There appears to be a coup attempt in Turkey, the country's prime minister said Friday.
---
4:06 p.m.
Here's the video of low-flying aircraft:
---
4 p.m.
There are reports late Friday of troops and low-flying aircraft in the Turkish capital, Ankara, and Istanbul. It's unclear what is happening there.
Hurriyet, the Turkish newspaper, reported the military has blocked the entrances of bridges going into the European section of Istanbul.
This is a developing story and we'll update it as we learn more.