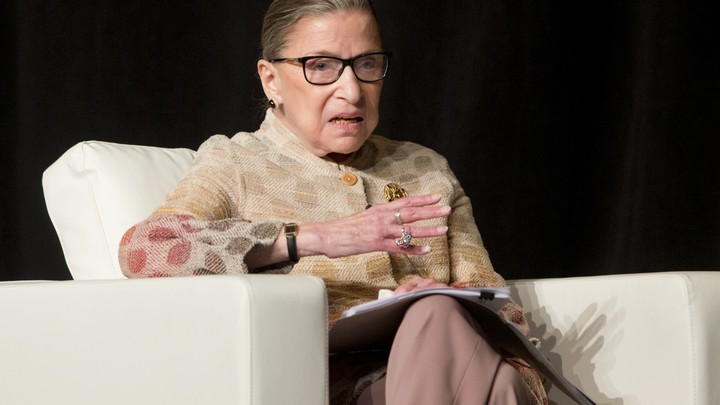 NEWS BRIEF The war of words between Donald Trump and Ruth Bader Ginsburg continues: Early Wednesday, the presumptive Republican presidential nominee appeared to question the mental health of the associate justice of the U.S. Supreme Court, and called on her to step down.
Justice Ginsburg of the U.S. Supreme Court has embarrassed all by making very dumb political statements about me. Her mind is shot - resign!

— Donald J. Trump (@realDonaldTrump) July 13, 2016
That followed Ginsburg's criticism of Trump in interviews with three news organizations. She told CNN Wednesday:
He is a faker. He has no consistency about him. He says whatever comes into his head at the moment. He really has an ego. ... How has he gotten away with not turning over his tax returns? The press seems to be very gentle with him on that.
And earlier this week, Ginsburg, 83, told The New York Times:
I can't imagine what this place would be—I can't imagine what the country would be—with Donald Trump as our president. For the country, it could be four years. For the court, it could be — I don't even want to contemplate that.
She even mused to the newspaper that "it's time for us to move to New Zealand" if Trump were elected.
Last week, Ginsburg told The Associated Press, in another interview, that she didn't "want to think about … [the] possibility," of a Trump presidency, "but if it should be, then everything is up for grabs."
Trump's initial response also came to the Times:
I think it's highly inappropriate that a United States Supreme Court judge gets involved in a political campaign, frankly. I think it's a disgrace to the court and I think she should apologize to the court. I couldn't believe it when I saw it.
Trump added that Ginsburg's comments were "beneath the court. … And I would hope that she would get off the court as soon as possible."
Such public criticism by a Supreme Court justice of a politician, especially the presumptive standard bearer of one of the two main political parties, is rare, as my colleague Matt Ford has noted. Indeed, Paul Ryan, the Republican House speaker, called Ginsburg's remarks "out of place" and "inherently biased." The Times, in an editorial published Wednesday, apparently agreed, calling on Ginsburg to "drop the political punditry."
We want to hear what you think about this article. Submit a letter to the editor or write to letters@theatlantic.com.