Erdogan vs. the Turkish Media
President Recep Tayyip Erdogan has ordered the arrests of 42 journalists after a recent coup attempt in the country.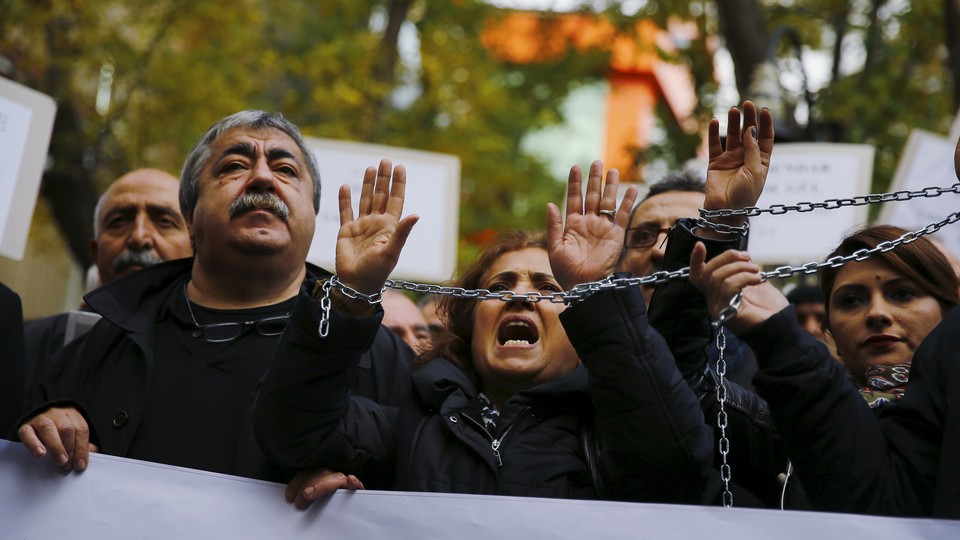 NEWS BRIEF Turkish police arrested 42 journalists Monday, including a popular commentator and a former parliament member, on suspicion of cooperating with the recent coup attempt that left hundreds head and the country's leadership in limbo.
Since the July 15 putsch, President Recep Tayyip Erdogan has ordered the arrests of 13,000 people, including members of the military, police, academia, and judiciary. They can be held for up to 30 days before being charged with a crime. Erdogan ties them to the U.S.-based Muslim cleric Fethullah Gulen who he says orchestrated the coup attempt. Reuters explains:
In his first decree since the state of emergency was declared, Erdogan ordered the closure of thousands of private schools, charities and foundations with suspected links to Gulen, who denies involvement in the coup.

Gulen, who has lived in self-imposed exile in the United States since 1999, says the coup may have been orchestrated by Erdogan himself.
Erdogan's recent actions, which include granting himself new powers to sign laws without parliamentary approval and considering the idea of reintroducing the death penalty, puts Turkey's, and Erdogan's, ambitions of joining the European Union at risk, something Turkey has been striving for years. EU Commission President Jean-Claude Juncker said Monday the country "is not in a position to become a member any time soon and not even over a longer period."
These are far from the first arrests Erdogan has ordered for journalists. Since being elected president in 2014, there have been dozens of others, and some have been charged with espionage. As my colleague Krishnadev Calamur has reported, opposition newspapers have been seized and foreign journalists have been deported in Erdogan's presidency, as well.