The Stranded Modern-Day Viking Ship
A Duluth, Minnesota-bound re-created Viking ship from Norway is stuck in Michigan unless it gets $400,000.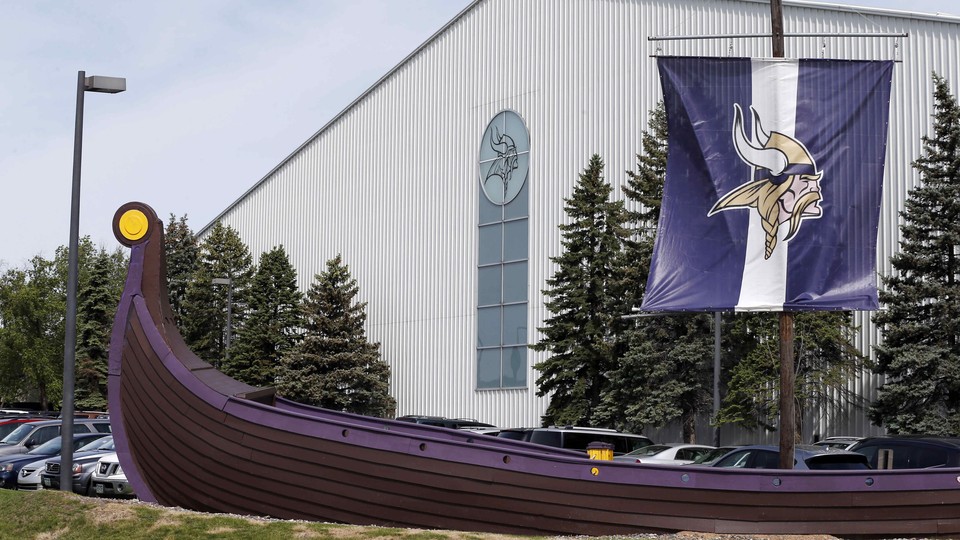 NEWS BRIEF Vikings—not the folks at the U.S. Bank Stadium—probably didn't travel to Minnesota during the time of Leif Eriksson. But they're trying to now.
Academics have long dismissed the "discovery" of a rune-covered stone by a Swedish-American farmer in the western part of the state in 1898, calling it a forgery. But Vikings did arrive in North America around A.D. 1000 in an expedition led by Eriksson.
He heard from an Icelandic trader that there was land west of Greenland. And so he went, along with 35 others. They eventually settled in a land of meadows, rivers, and wild grapes, which was likely present-day Newfoundland in Canada. He was so fond of this region, and the wine he made with those grapes, that he named it Vinland, or "Wineland."
Today, a new band of norsemen attempting to re-create Eriksson's transatlantic journey are sailing from Norway to Duluth, Minnesota, by mid-August in the world's largest Viking ship built in modern times, called the Draken Harald Hårfagre.
When he traveled to North America, Eriksson and the other Vikings didn't have to pay much to make the journey (with the exception of his brother's life by the hands of the indigenous population). But these modern-day Vikings have some big costs of their own: a $400,000 fee to pay for a pilot who can get them through the Great Lakes, required by the U.S. Coast Guard. And there's no more room in the ship's budget.
Björn Ahlander, the ship's captain, says, "it is a pity if we cannot pursue this expedition." It also has people who were expecting the ship's arrival in a frenzy, The Minneapolis Star Tribune notes:
The news has officials in Duluth, Green Bay, and Chicago scrambling to ensure the Draken is able to make its final ports of call. Meanwhile, outraged supporters have started an online petition at Change.org calling for the fees and pilot requirement to be waived. The petition had nearly 7,500 electronic signatures by Tuesday evening.

Tall Ships Duluth executive producer Craig Sam­borski called the developments disappointing, but said efforts are underway to ensure the Draken arrives in Duluth. They include lobbying the U.S. Coast Guard to grant a waiver and finding more money in the budgets to help cover the cost.
But until it gets the funds, this oak-hulled vessel with a 3,200-square-foot sail will remain docked in Bay City, Michigan, on the coast of Lake Huron, after finishing its journey through Canadian waters where the pilot is not required.
When Eriksson was returning to Greenland, carrying with him the spoils of grapes and timber from Vinland, a land to which he would never return, it is said his boat came across a group of Icelanders stranded at sea. The incident earned him the name "Leif the Lucky." This ship today could use some of that luck.