The Latest Setback for Prosecutors in the Freddie Gray Case
A judge tossed an assault charge, but Lieutenant Brian Rice still faces charges of manslaughter, reckless endangerment, and misconduct.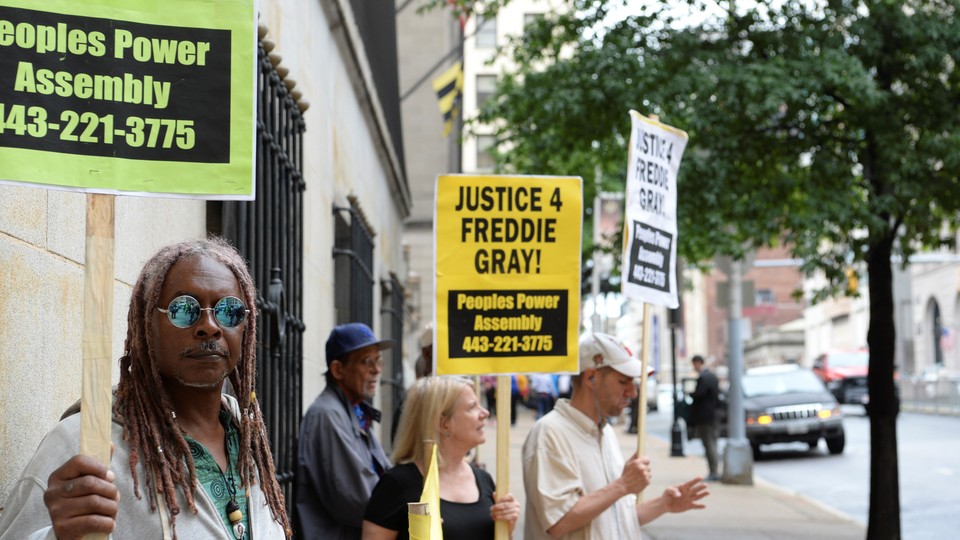 NEWS BRIEF A judge in Baltimore has dealt yet another setback to the beleaguered case against officers in the death of Freddie Gray.
Judge Barry Williams on Monday tossed out an assault charge against Lieutenant Brian Rice after prosecutors rested on the third day of Rice's trial. Rice, who initially spotted Gray and ordered officers to chase him the day he was arrested, is the highest-ranking officer of the six charged in the case. Rice still faces charges of manslaughter, reckless endangerment, and misconduct. Gray, a 25-year-old black man, died in April 2015 after being mortally wounded while riding in a police van.
Pros. had to show Rice used van as instrument of assault at time he put Gray in van. Judge says no evidence Rice did that. Assault dismissed

— Paul McGrew (@McGrewFox45) July 11, 2016
Amid riots after Gray's death, Baltimore City State's Attorney Marilyn Mosby quickly brought charges against the six officers, winning praise from activists but condemnation from police and wariness from some legal observers. Those hesitations have been borne out: Prosecutors have struggled badly so far. The first trial ended up in a hung jury, though the state's attorney plans to retry the case. The next two have ended with acquittals, including the trial of Officer Caesar Goodson, who was charged with second-degree depraved-heart murder, the most serious charge. Rice, like Goodson, has opted for a bench trial, in which the judge pronounces the verdict, rather than a jury hearing the case.