The Evacuation of Washington's Union Station
The U.S. capital's transportation hub was briefly cleared out Wednesday after reports of a potential threat.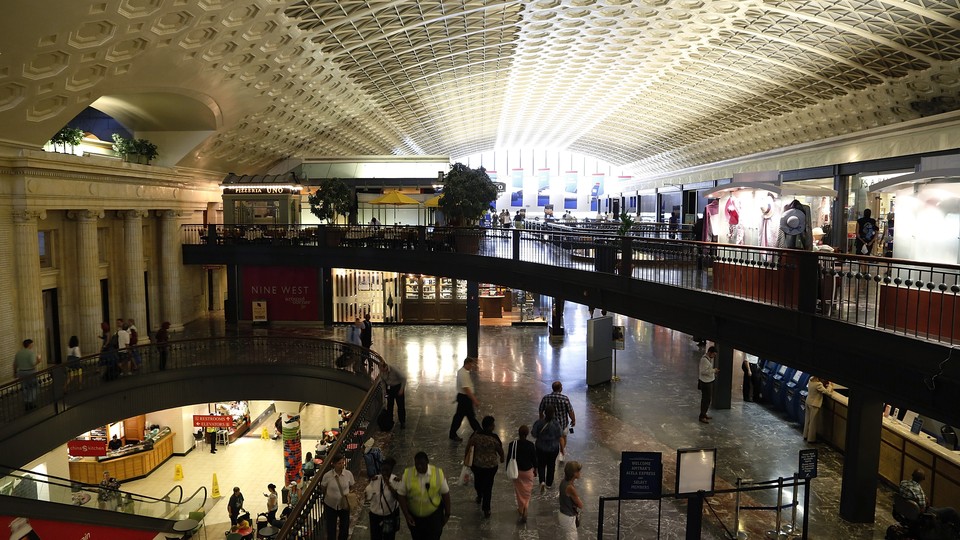 Washington, D.C.'s main train station was briefly evacuated Wednesday during end-of-day rush hour following reports of a suspicious package, according to police and reports on social media.
People outside of Union Station posted video footage at about 5:30 p.m. local time showing hordes of people leaving the building, and police sirens could be heard in the background. Police swept the station, and about half an hour later said no threat was found. People were then allowed back inside.
Here's the scene from the evacuation:
Metro Police said on Twitter officers investigated the suspicious package with the help of police dogs:
MTPD K-9 units are assisting AmtrakPD w/investigation of package in Amtrak portion of station. Metro service operating unaffected. #wmata

— Metro Transit Police (@MetroTransitPD) July 27, 2016
Union Station has a number of transportation services, including the Washington metro, Amtrak, the MARC commuter rail service, and buses. It also houses shops and restaurants.
About 40 million people visited Union Station each year, including 15.5 million local residents, according to its website. The website estimates 75 percent of all Capitol Hill employees pass through the station each day.