The Clinton-Kaine Debut
Hillary Clinton and her running mate Tim Kaine made their opening pitch to voters ahead of next week's Democratic National Convention.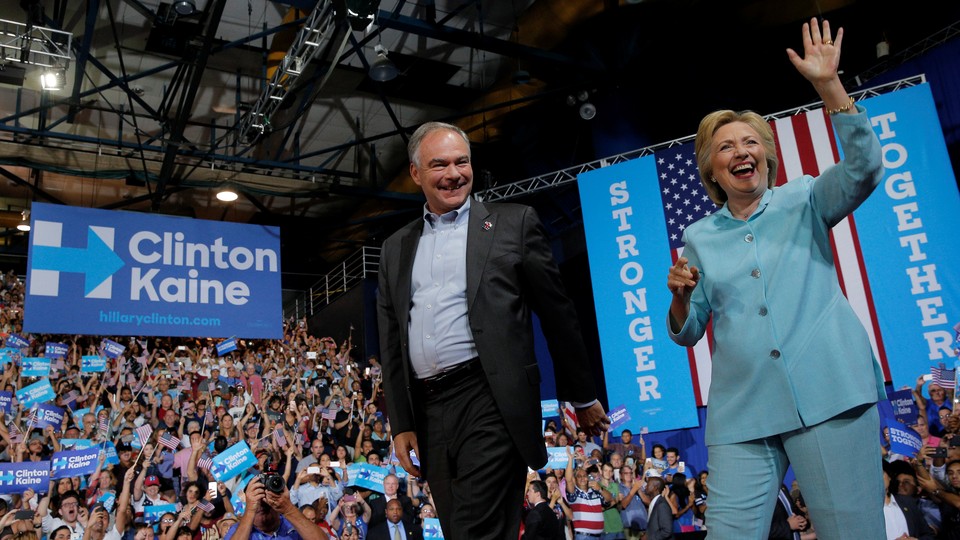 Now, the hard part.
In their first joint appearance as running mates, presumptive Democratic nominee Hillary Clinton pitched Virginia Senator Tim Kaine and herself as more positive alternatives to Donald Trump and the Republican Party he now controls.
The hour-long Saturday rally at Florida International University in Miami presented the Democratic ticket as an optimistic choice for America—a stark contrast with the angry, dark vision presented by Trump in Cleveland last Thursday.
"Donald Trump may think America's in decline," Clinton told the crowd, "but he's wrong. America's best days are still ahead of us, my friends."
But the focus of the rally was Kaine himself, who made his second appearance with Clinton this month and his first since being selected as her running mate. To that end, the likely Democratic nominee spoke at length about Kaine's character and fitness for office.
"The most important qualification when you are trying to make this really big choice is, 'Can this person step up to be president?'" Clinton said. "Well, at every stage of Tim's career, the people who know him best have voted to give him a promotion."
Kaine, a largely centrist senator and former Virginia governor known for his affability, took the stage and began addressing the crowd in Spanish, a strong but symbolic contrast to the Republican candidate.
But Kaine also went after Trump in more direct terms, attacking his judgment and business record.
"From Atlantic City to his so-called university, he leaves a trail of broken promises and wrecked lives wherever he goes," Kaine told the audience. "We can't afford to let him do the same thing to our country."
Clinton also went on the attack. Responding to Trump's "I alone can fix it" message during his acceptance speech on Thursday, she drew direct comparisons between her opponent and foreign "despots, dictators, [and] authoritarians."
"We fought a revolution because we did not want one man making all the decisions for us," she added, to cheers.
The rally largely served as the first introduction of Kaine to a national audience, one that precedes his primetime speech to the Democratic National Convention in Philadelphia on Wednesday.
Both Clinton and Kaine highlighted his biography and accomplishments: a legal career focusing on fair-housing cases, his time as a Catholic missionary in Honduras, and his "backbone of steel," as Clinton phrased it, against the NRA after the Virginia Tech University shooting in 2007 when he was governor. When he spoke of the tragedy, emotion clouded his voice.
Clinton also described Kaine in terms she used to deflect criticism about her own centrism from Vermont Senator Bernie Sanders in the primary. "When I say he's a progressive who likes to get things done, I mean it," she said.
Kaine's selection is unlikely to sway Sanders's more left-leaning supporters, many of whom remain wary of Clinton. His past support of the Trans-Pacific Partnership and his more moderate approach to financial regulation are among the most common complaints.
But Clinton, perhaps aiming for party unity, also drew a sharp contrast between herself and her running mate versus their November opponents.
"Tim Kaine," she said, "is everything that Donald Trump and Mike Pence are not."