The Injuries to the Texas Governor
Greg Abbott received severe second- and third-degree burns last week while in Wyoming, but he still traveled to Dallas in the wake of the deadly shootings to urge unity.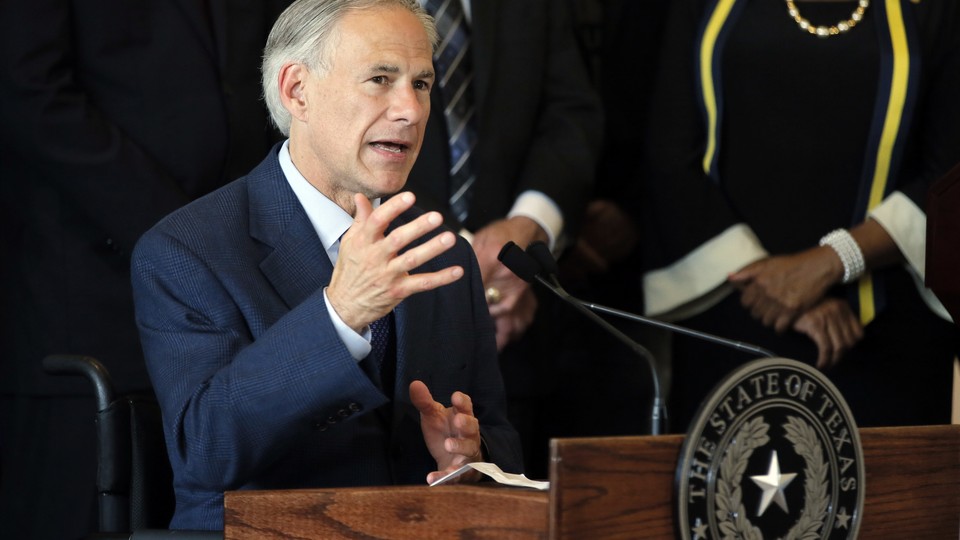 NEWS BRIEF Texas Governor Greg Abbott received extensive second- and third-degree burns in an accident involving hot water while on vacation last week with his family in Wyoming, his office told local media. Despite those injuries, Abbott traveled to Dallas following the killing of five police officers by a sniper last Friday and urged unity.
The Austin American-Statesman has more:
And he talked of healing, giving not the slightest indication of how his own ravaged body was, even as he spoke, struggling mightily to heal from fresh and grievous wounds.
The governor is expected to make a full recovery, but Matt Hirsch, his communications director, told the newspaper it's unclear if Abbott will attend the Republican National Convention, which gets underway next Monday in Cleveland.
Abbott's remarks after the Dallas shootings provided much-needed comfort in the wake of the killings. He said:
In the coming days, there will be those who foment distrust and fan the flames of dissension.

To come together—that would be the greatest rebuke to those who seek to tear us apart.

There is far more that binds us together. We see that great strength in times of tragedy, in times of great need. Whether fire or flood or the acts of depraved individuals, Texans are the first to open their hearts, their homes, their wallets to offer charity and love.
In 1984 Abbott, then 26, was out running in Houston when a tree limb fell on him, crushing his spine. He has used a wheelchair since that time.