The Truck Bombing in Northern Syria
ISIS claimed responsibility for the blast that killed nearly 50 people in the city of Qamishli.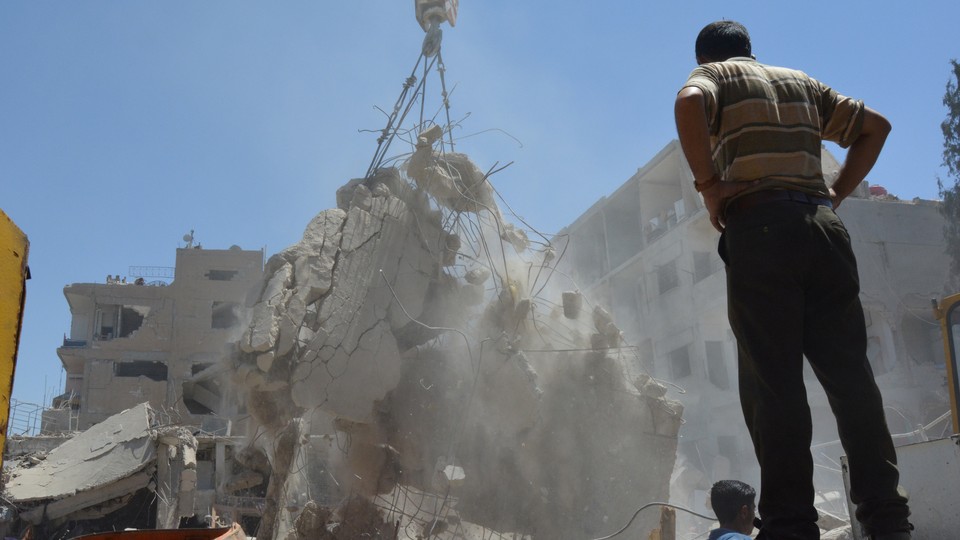 NEWS BRIEF A truck bomb claimed by ISIS has killed nearly 50 people in a predominately Kurdish city in northern Syria. It is the worst bombing in the area in years.
The Syrian Arab News Agency, the state-run Syrian agency, reported an explosive-laden truck blew up in Qamishli, followed by a motorcycle packed with explosives that struck the same area. Footage of the blast showed a gray cloud of smoke rising from near buildings with their exterior walls blown out, cars on fire, and people running. SANA reported that at least 140 people were injured.
The bomb hit near a Kurdish military headquarters, possibly targeted because the U.S. has backed Peshmerga fighters against ISIS in northern Syria. As Reuters reported:
Kurdish forces control much of Hasaka province, after capturing vast areas from the jihadist group last year. The Kurdish YPG militi, which has proved the most effective partner for a U.S.-led coalition battling Islamic State, is also involved in fighting the extremists farther west, in Aleppo province.
The area, a major supply route to move people and weapons, was controlled by ISIS until Kurdish forces drove the extremists away. In retaliation ISIS has bombed the area repeatedly, most recently in April, killing six members of the Kurdish internal security force; as well as in July, when a suicide bomb killed 16.