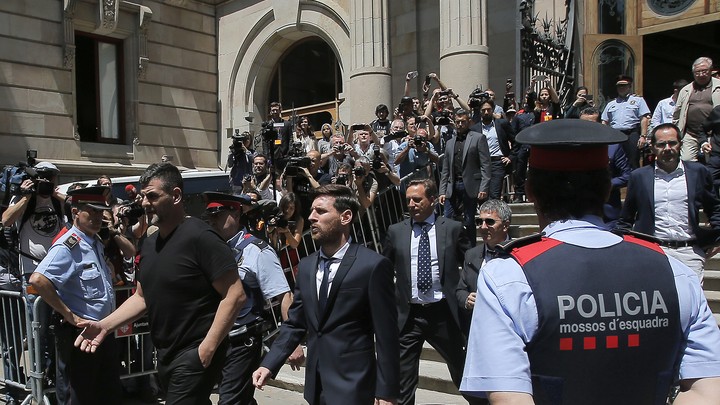 Updated at 2:47 p.m. ET
NEWS BRIEF
Lionel Messi, the FC Barcelona and Argentina soccer superstar, has been sentenced by a Spanish court to 21 months in prison for tax fraud, but won't have to serve time.
Lionel Messi sentenced to 21 months in prison for tax fraud but likely to avoid jailhttps://t.co/pgd4Hm0meo pic.twitter.com/jZVCOVIXka

— BBC Sport (@BBCSport) July 6, 2016
His father, Jorge Messi, was also given a suspended sentence for the charge of defrauding Spain of about 4.1 million euros ($4.5 millio) between 2007 and 2009. The BBC adds that under the Spanish legal system, prison terms under two years can be served under probation.
Messi said late Wednesday that he'll appeal to Spain's Supreme Court.
The Messi press release in English where it confirms he will appeal to the Supreme Court pic.twitter.com/v6QLS8xadG

— Guillem Balague (@GuillemBalague) July 6, 2016
We want to hear what you think about this article. Submit a letter to the editor or write to letters@theatlantic.com.