A Custom of Revenge Killing in Spain
A bullfighter died in Spain over the weekend, and activist are outraged over a custom that calls for the death of not just the bull in the ring, but its mother, too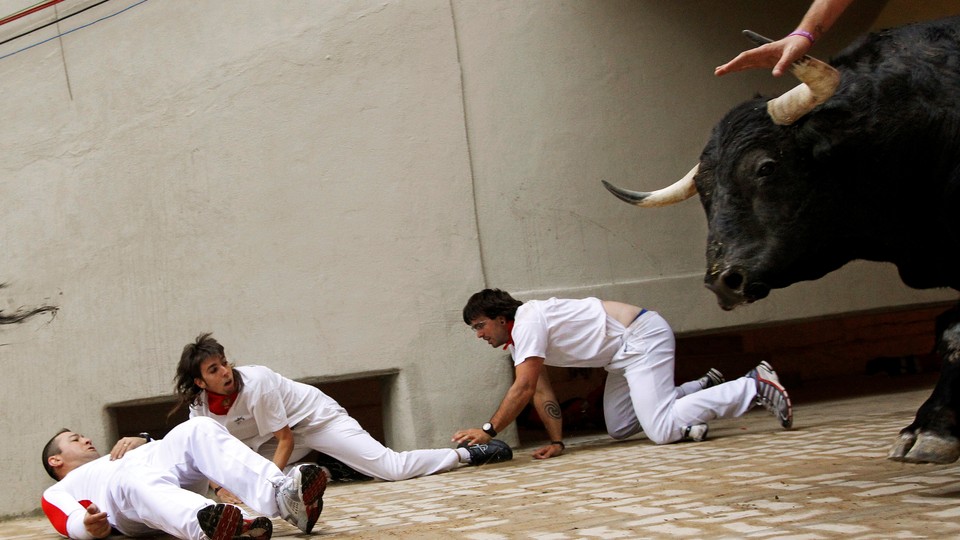 There is no notion of a fair fight in the bull ring. In the Spanish town of Teruel, in the eastern region of Aragon, bullfighter Victor Barrio died Saturday in front of a crowded stadium after a bull's horn gored him in the chest. But that was not the only reason people were upset Tuesday.
The 29-year-old fighter died in the ring's infirmary after being caught in the leg by the bull's horn, lifted into the air, then gouged again on the ground. He was the first bullfighter to die in Spain in 30 years; his wife watched it all from the stadium. Lorenzo, the bull who gored Barrio, is already dead because of the injuries he sustained in the ring. But in keeping with bullfighting custom, his mother may also be killed.
"Kill off the bloodline," is what they call the practice.
As El País put it:
The lineage of Lorenzo, the murderer bull, ends with him. As tradition dictates, the ranchers of Los Maños de casta Santa Coloma, should send to slaughter his mother, Lorenza.
The threat on the cow's life started the hashtag: #SalvemosALorenza (#SaveLorenza). It also launched a website to save her life.
The incident, as well as news the bull's mother would be killed, reignited calls for an end to bullfighting, a Spanish tradition since medieval times.
PACMA, the Spanish animal-rights' group, wrote on its Facebook account that, "No rite, tradition or custom based on a succession of deaths, fed by the blood and hatred, can be good for any society."
Still, it may be too late for a movement to save the cow.
ABC, one of Spain's largest newspapers, said it had reached out to the ranchers who owned Lorenzo and his mother, and they confirmed the cow was dead of natural causes. The article's headline read: "Lorenzo's mother sacrificed to age."