Russia Makes Its Own Rio
The country will host a tournament Thursday for track-and-field athletes barred from the Olympics for doping.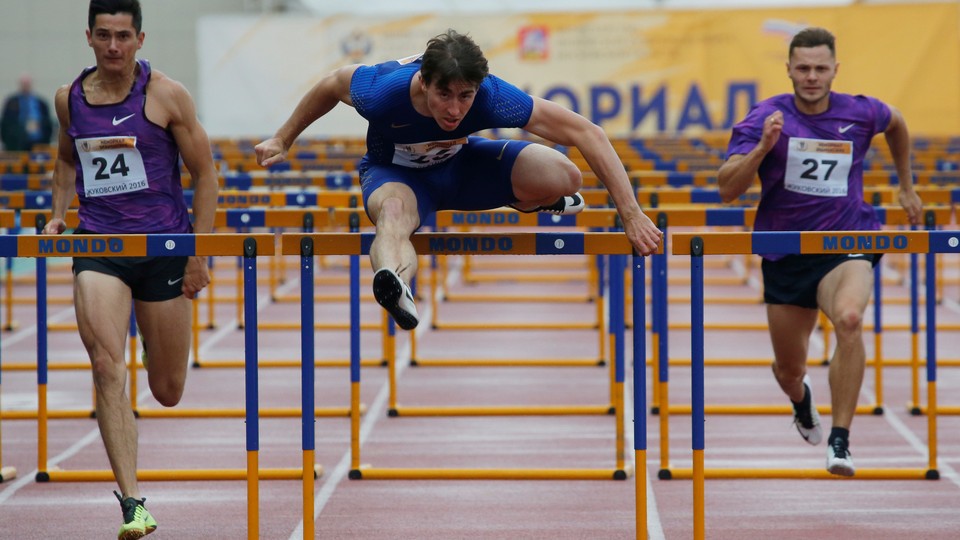 NEWS BRIEF What do you do when dozens of your athletes are banned from competing in the Olympics because of doping?
Host your own Olympics, of course.
Russia will hold a tournament for the track-and-field athletes who international sports officials last month barred from participating in the upcoming summer Olympics in Brazil, Yuri Borzakovsky, the head coach of Russia's national team, told state-run news outlet TASS Wednesday. The event, which will take place at a Moscow stadium Thursday, will feature 135 athletes.
The lineup, according to TASS:
The track-and-field athletes who will compete in Moscow on Thursday include hurdle racer Sergei Shubenkov, incumbent world champion in a 110-meters race; high jumpers Maria Kuchina, Olympic Champion Ivan Ukhov and Daniil Tsyplakov; javelin throwers Dmitry Tarabin and Vera Rebrik; triple jumper Yekaterina Koneva.
After the International Association of Athletics Federations (IAAF) decided in June to kick out Russian track-and-field athletes over widespread use of performance-enhancing drugs—and after the International Olympic Committee (IOC) supported that decision—Russia braced itself for a potential blanket ban on its athletes from this year's games. An investigation by the World Anti-Doping Agency (WADA) had found that the Russian government operated a state-sponsored doping program between 2011 and 2015, during summer and winter Olympic games, including the Sochi games in 2014. Testing of old samples from Russian athletes who competed in earlier games had revealed the presence of illegal drugs. But on Sunday, the IOC chose not to ban all Russian athletes from Rio, and instead decided to require the athletes accused of doping to appeal to international federations, or the governing bodies, of their respective sports to determine whether they can participate.
Thirteen individual Russian athletes have so far been barred from Rio by those governing bodies, AFP reported Wednesday. They include seven swimmers, two weightlifters, three rowers, and one wrestler. One of the swimmers, Yulia Efimova, said this week she would appeal her ban.
Shubenkov, Kuchina, and Ukhov—three of the athletes competing in Thursday's special tournament in Moscow—were among 68 athletes of the track-and-field program who appealed the June ban, but were rejected.