The Olympic Terror Threat
Brazilian police arrested 10 people in connection with a potential terrorist attack at next month's Rio games.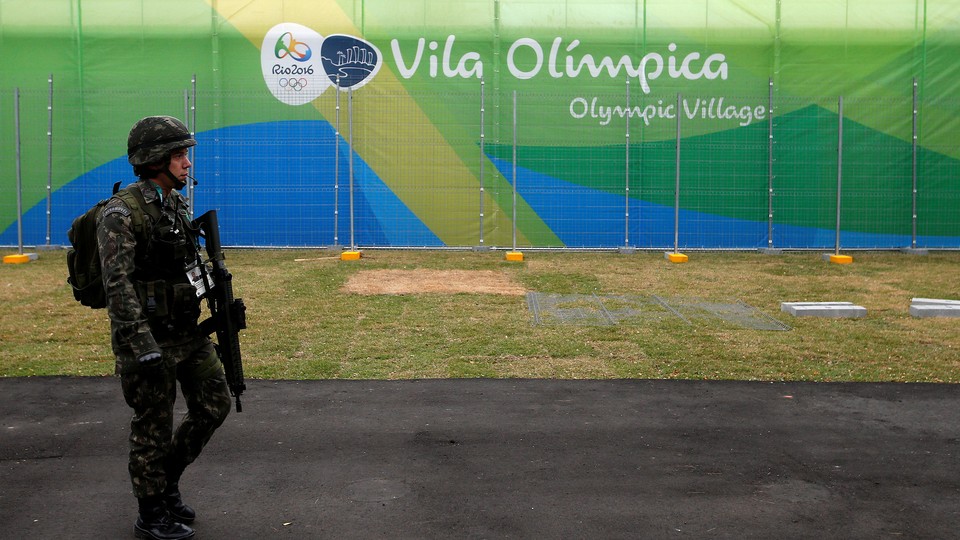 NEWS BRIEF Brazilian police arrested 10 people they say were planning to strike at next month's Rio Olympics in the name of the Islamic State.
Officials say they believe the individuals, detained Thursday, belonged to a group that supports ISIS. Brazil's Justice Minister Alexandre de Moraes said the suspects are all Brazilian citizens, residing in several of the country's states, Reuters reported. They did not know each other, and used online communication—like WhatsApp and Telegram, which allow users to send encrypted messages—to discuss an attack.
The justice minister said the group did not have direct contact with ISIS leaders, but had pledged allegiance to the terrorist organization. They had not yet acquired weapons. More from Reuters:
"It was an absolutely amateur cell, with no preparation at all, a disorganized cell," the minister said, adding that authorities decided to intervene when the group started to plan actions.
The arrests come several days after the SITE Intelligence Group, which monitors potential jihadist activity on the internet, reported a group in Brazil had pledged allegiance to Abu Bakr al-Baghdadi, the self-proclaimed leader of ISIS, on Telegram.
The Brazilian government—already battling negative publicity because of the Zika virus that has kept away visitors and athletes—has boosted security in Rio since last week's attack in Nice, France, where a driver plowed a truck through crowds during Bastille Day celebrations, killing dozens. Interim Brazilian President Michel Temer attempted to reassure visitors about the security measures during the games. "We have reinforced security very much in the city and you can come without worries," he said in a video Monday.
The games begin August 5 and more than 500,000 foreign visitors are expected.