The Retirement of Tim Duncan
The five-time NBA champion and 15-time All-Star amassed more than 1,000 career wins.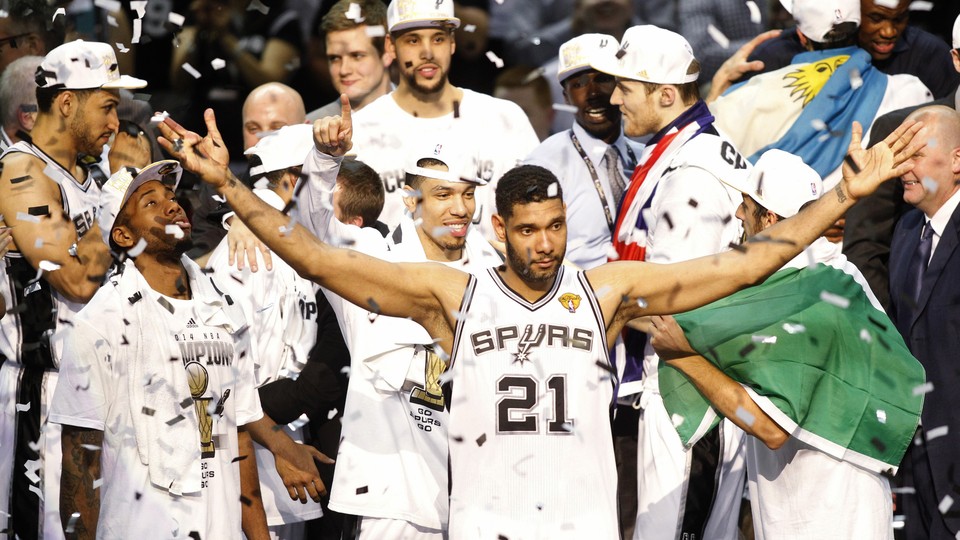 NEWS BRIEF Five-time NBA champion Tim Duncan is retiring from professional basketball.
Duncan, a 15-time All-Star, played his entire 19-year career for the San Antonio Spurs. In each of those seasons, the Spurs made the playoffs. He is the only player in the history of the league to win a championship in three different decades.
The Spurs, announcing his retirement, highlighted more of his contributions to the team:
Along with teammates Tony Parker and Manu Ginobili, Duncan is part of the NBA record for most wins by a trio in both the regular season (575) and postseason (126). Duncan and Gregg Popovich have the most wins by a player-coach duo in NBA history (1,001) and the Spurs forward finishes his career in San Antonio as one of just three players in NBA history, along with John Stockton and Kobe Bryant, to spend 19 seasons with one franchise.
Since joining San Antonio in 1997 as the first overall pick in the NBA Draft, the Spurs have amassed an impressive .710 winning percentage, tallying 1,072 wins. Duncan is one of only three players in NBA history to win 1,000 regular-season games, and no team in the four major professional sports (basketball, baseball, football, and hockey) has had a better winning percentage than the Spurs during Duncan's tenure.