Remembering Elie Wiesel
The acclaimed writer of Night and Nobel Peace Prize laureate died Saturday at age 87.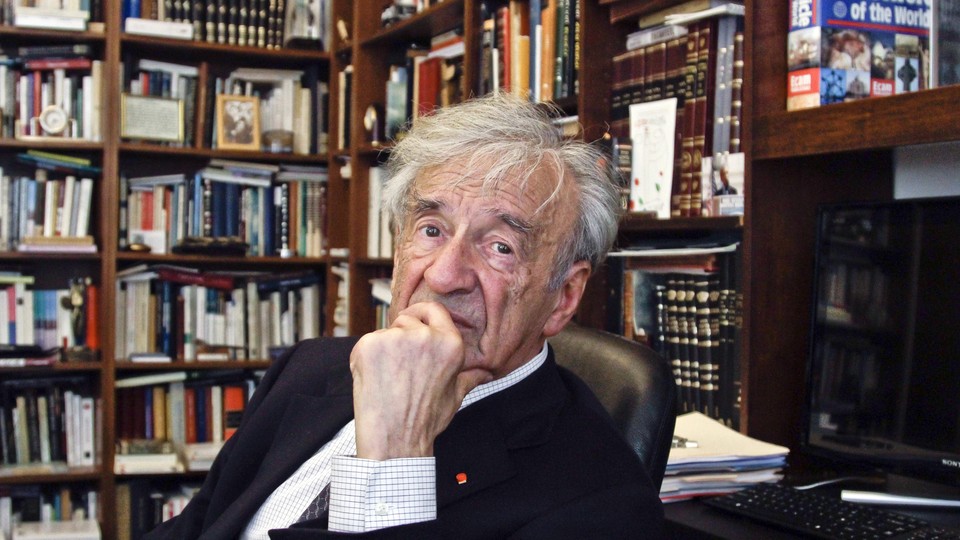 Elie Wiesel, the American Jewish writer and activist whose haunting accounts of survival in the death camps of Nazi Germany became the foremost narratives of the Holocaust, died on Saturday. He was 87 years old.
"Elie Wiesel was one of the great moral voices of our time, and in many ways, the conscience of the world," President Obama said in a statement. "Elie was not just the world's most prominent Holocaust survivor, he was a living memorial."
His death was announced by Yad Vashem, Israel's museum of the Holocaust, on Twitter.
Wiesel, born in Romania in 1928, was among the millions of European Jews rounded up and sent to concentration camps by Nazi Germany and its allies during World War II. Only a teenager at the time, he and his family were first deported to Auschwitz, where he was assigned to a labor camp, and then to Buchenwald shortly before its liberation by the U.S. Army in April 1945.
Ten years after the war ended, Wiesel wrote Night, his first written work on his experiences within the camps. The searing account of his and his father's struggle to survive amid genocide and inhumanity became a touchstone of Holocaust literature and a staple of public-school curricula in the United States. It was the first of over 50 books he wrote over the following decades.
Wiesel also became an activist against racism and discrimination, eventually earning the Nobel Peace Prize in 1986. In his acceptance speech, he spoke of the need to keep the Holocaust's memory alive to prevent future genocides.
"We must always take sides. Neutrality helps the oppressor, never the victim. Silence encourages the tormentor, never the tormented. Sometimes we must interfere," he said. "When human lives are endangered, when human dignity is in jeopardy, national borders and sensitivities become irrelevant. Wherever men or women are persecuted because of their race, religion, or political views, that place must—at that moment—become the center of the universe."
Eliezer Wiesel was born on September 30, 1928 in Sighet, a Transylvanian town with a large Jewish community nestled in the Carpathian Mountains of central Europe. His parents, Shlomo and Sarah Weisel, were Hasidic Jews and shopkeepers of a grocery store.
Romania had taken control of the town after World War I. Neighboring Hungary, then controlled by a fascist dictatorship, annexed the region in 1940. As the Holocaust entered its final stage four years later, Hungarian officials began rounding up Hungarian Jews at Berlin's command. The Jews of Sighet, including Wiesel's family, were deported the day before Passover. Wiesel was 15 years old.
From there, a train shipped him, his parents, his three sisters, and thousands of others to the Auschwitz-Birkenau death camp in Nazi-occupied Poland. SS officers placed him and his father in one line and the rest of his family in another. It was the last time Wiesel saw his mother and youngest sister alive. He later recounted his arrival in Night:
Never shall I forget that night, the first night in camp, that turned my life into one long night seven times sealed.

Never shall I forget that smoke.

Never shall I forget the small faces of the children whose bodies I saw transformed into smoke under a silent sky.

Never shall I forget those flames that consumed my faith forever.

Never shall I forget the nocturnal silence that deprived me for all eternity of the desire to live.

Never shall I forget those moments that murdered my God and my soul and turned my dreams to ashes.

Never shall I forget those things, even were I condemned to live as long as God Himself.

Never.
Wiesel and his father worked in the labor camps, sparing them immediate death in the crematoria. The Red Army soon neared the camp during the bitter winter of 1944, forcing its evacuation. Nazi officers forced Wiesel and the other laborers on a death march into Germany. Many died in the snows. They reached the Buchenwald concentration camp in January, where Wiesel's father died soon afterward of dysentery.
The following spring, the U.S. Third Army picked up a radio SOS message from a small resistance cell in Buchenwald during its push into German territory. American soldiers reached the camp on April 11 and liberated the prisoners, including the 16-year-old Wiesel. He and a group of other orphans were sent to France by train to be cared for by a local Jewish organization.
Wiesel, traumatized by the horrors he witnessed, did not share his story at first. Nor did millions of other survivors who struggled with the enormity of what they had endured.
"In the beginning, survivors didn't speak because people refused to listen," he said in an interview with The Atlantic in 2012. "When I began to write, it was to tell other survivors to write. All we have is words."
After studying at the famed Sorbonne, Wiesel began to write as a journalist for French and Yiddish publications in the newly founded Israel and in Europe. While living in Paris, his friend Francois Mauriac, a noted French author, encouraged him to write about his experiences. The ensuing 100-page book was titled La Nuit for its French publication in 1958.
An English translation followed in 1960, titled Night. The short but unsparing work, recounted in chilling detail from Wiesel's experiences, was one of the first literary works to seriously address the Holocaust and ponder its implications for humanity. It was also a commercial success, eventually selling 10 million copies. Wiesel moved to the United States and eventually became an U.S. citizen in 1964, taking up residence in New York City and immersing himself in the epicenter of American Jewish life.
With the prominence that came from his writing, Wiesel also turned to activism. His efforts often focused on oppressed groups throughout the world, ranging from South Africa under apartheid to Jews living in the Soviet Union. During the March for Survival in 1980, a Medicins Sans Frontieres protest in Thailand that hoped to draw attention to a humanitarian crisis in neighboring Cambodia, a reporter asked Wiesel why he had joined the cause.
"I came here because nobody came when I was there," he replied.
His efforts eventually led to a Nobel Peace Prize in 1986. Wiesel used the opportunity to praise dissidents, including Nelson Mandela, Lech Walesa, and Andrei Sakharov. He also highlighted the plight of beleaguered minority groups throughout the world.
"We must remember the suffering of my people, as we must remember that of the Ethiopians, the Cambodians, the boat people, Palestinians, the Mesquite Indians, the Argentinian 'desaparecidos'—the list seems endless," he said after the announcement.
In these groups and others, Wiesel saw echoes of the genocide he survived. But he also frequently cautioned against casual comparisons to it. As the Holocaust became more prominent in the collective consciousness—a cultural shift in which he played a major role—Wiesel also grew concerned about its portrayal. By the 1980s, he criticized what he saw as a "period of general de-sanctification of the Holocaust" in television and film.
"Auschwitz represents the negation and failure of human progress; it negates the human design and casts doubts on its validity," he wrote in a 1989 essay. "Then, it defeated culture; later, it defeated art, because just as no one could imagine Auschwitz before Auschwitz, no one can now retell Auschwitz after Auschwitz. The truth of Auschwitz remains hidden in its ashes."
To that end, Wiesel also played a more direct role in how countries remembered the Holocaust. In 1978, President Jimmy Carter appointed him to lead a committee that proposed the creation of the U.S. Holocaust Memorial Museum in the nation's capital. Wiesel spoke at the center's dedication in 1993, where he also urged President Bill Clinton to intervene in the Balkans as Yugoslavia's disintegration gave way to war and ethnic cleansings.
In Romania, the country of his birth, Wiesel chaired a commission created in 2002 by President Ion Iliescu to study the country's role in the Holocaust. In the Wiesel Commission's report two years later, the members proposed a Holocaust Remembrance Day and a formal acknowledgement of the killings, as well as changes to the national curricula to educate future generations on their lessons.
In his later years, Wiesel also dedicated himself to speaking out on behalf of Israel, where he traveled often in his early adulthood. Although he did not make aliyah, the term for Jewish immigration to Israel, he visited the country frequently and spoke of it with deep affection. "When a Jew visits Jerusalem for the first time, it is not the first time," he told an Israeli newspaper in 2010. "It is a homecoming."
That role also made him a prominent critic of the country's foes. In 2014, Wiesel took out a full-page ad in the New York Times accusing Hamas of "child sacrifice" for its role in civilian casualties. He also became a fervent opponent of the Iranian government, especially during the tenure of President Mahmoud Ahmedinejad, a prominent Holocaust denier, and urged Congress to reject the nuclear accord negotiated with Tehran by the Obama administration. Israeli prime ministers twice asked him to consider being nominated for the country's presidency, once in 2007 by Ehud Olmert and again in 2014 by Benjamin Netanyahu.
Throughout his entire adult life, Wiesel never forgot those who died in the crematoria of Auschwitz or on the marches to Buchenwald. Instead, he kept them close, serving a reminder of the horrors of which humanity is capable—and the constant need to safeguard against them.
"No one is as capable of gratitude as one who has emerged from the kingdom of night," he said in his Nobel Peace lecture in 1986. "We know that every moment is a moment of grace, every hour an offering; not to share them would mean to betray them. Our lives no longer belong to us alone; they belong to all those who need us desperately."