The Release of DeRay Mckesson
The prominent Black Lives Matter leader was freed from jail Sunday after he and about 100 other protesters were arrested over the weekend.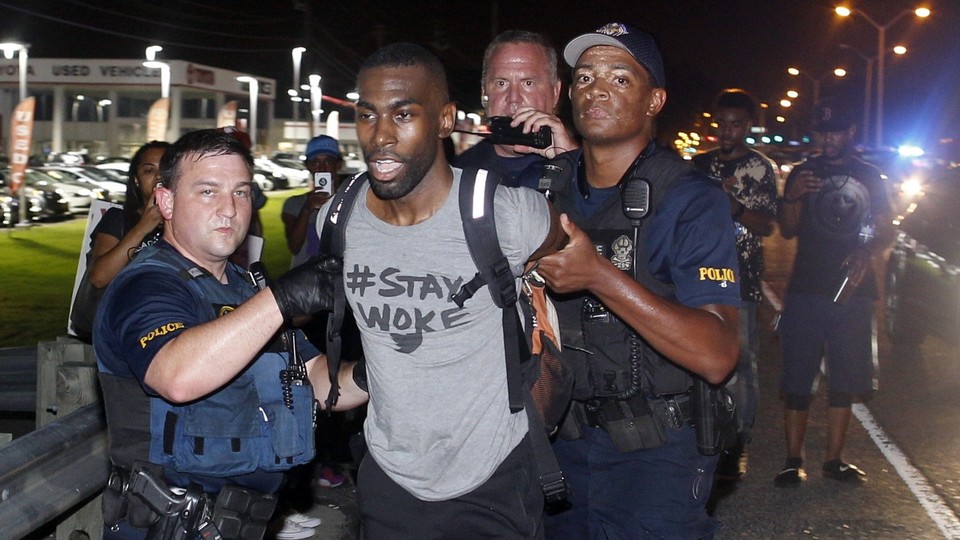 NEWS BRIEF DeRay Mckesson, the prominent Black Lives Matter leader, was released from jail Sunday following his arrest during protests in Baton Rouge, Louisiana, over the fatal shootings of black men by police.
The protest was one of many across the U.S. over the weekend. Combined with arrests in Baton Rouge, police also took into custody about 100 demonstrators in St. Paul, Minnesota. In both cities last week, the death of black men were captured on video. Officers in Baton Rouge killed Alton Sterling, 37, outside a convenience store on Tuesday. A day later, Philando Castile, 32, was shot and killed during a traffic stop in Falcon Heights, a suburb of St. Paul.
Mckesson and others were outside police headquarters in Baton Rouge when officers arrested him. He often wears bright-red shoes at protests, and The Advocate reported that he was recording when an officer said, "You with the loud shoes––if you step back into the street you'll be arrested."
As The Advocate reported:
On the video, Mckesson can be heard talking with fellow protesters and describing what he said was provocative police behavior against protesters.

"The police in Baton Rouge have been truly awful tonight," Mckesson said on the video. "They have provoked people, they chase people just for kicks. The police have been violent tonight. The protesters have not."

Moments later, someone shouts, "This is the police, you're under arrest! Don't fight me! Don't fight me!"

Mckesson responds: "I'm under arrest, y'all!" before the camera is knocked to the ground.
Mckesson was arrested on one count of simple obstruction of a highway. He and others had been demonstrating outside police headquarters, and officers said they asked Mckesson to stay out of a nearby road so they did not interfere with traffic. But Mckesson denies this. He said the area where they stood had no sidewalk, which made staying out of the road impossible. He told The New York Times he believed police unlawfully arrested him, saying they created a  "context of conflict they could exploit."
Mckesson is one of Black Lives Matter's most recognizable leaders, and this year the 31-year-old unsuccessfully ran for mayor of Baltimore, where he lives.