The Olympics Have Always Been Political
Russian President Vladimir Putin says Russia's critics are mixing sports and politics, but the combination is as old as the games themselves.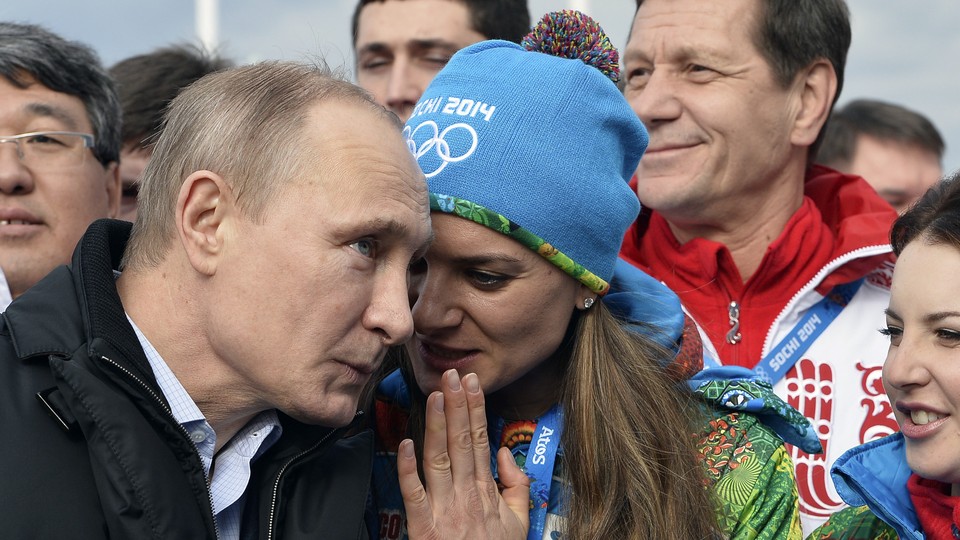 Russian President Vladimir Putin has always recognized the power of sports. In 2007, with energy prices steadily rising, and Russia's economy bolstered by oil earnings, he flew to Guatemala City to meet with the International Olympic Committee (IOC). There he wooed officials in English and in French, promising an Olympic Games on a scale never seen before.
His work paid off when Russian won the bid to host the 2014 Olympics in Sochi. Before the games began, Putin emphasized his desire that politics and sports remain separate—though the Russian leader appeared to dabble in one while promoting the other. At a news conference before the games opened in January 2014, many of the questions reporters asked centered on a Russian law that banned "gay propaganda," as well as on corruption in the run-up to the games.
One Chinese reporter asked Putin if foreign scrutiny of the Russian legislation and corruption were "manifestations of the Cold War?" Yes, Putin said, before complaining of reporters asking so many political questions. The Olympics, he said, "are intended to depoliticize the most pressing international issues and open additional ways to build bridges."
It is a sentiment he repeated after the Sochi games, and reiterated when faced with a total ban from next month's Rio games on all Russian athletes because of a widespread state-sponsored doping program. Such a ban, Putin said, would be a "dangerous recurrence of politics interfering in sport."
The IOC ultimately allowed Russian athletes to compete in Rio, though its track-and-field competitors are barred because of the doping revelations (Russia will host its own games for them).
Ever since a Russian whistle-blower revealed the doping scandal in 2014, up to this month when a 100-page investigative report found Russia's spy agency helped its athletes dope, Putin has said sports and politics should be kept separate, and complained they were being combined as a foreign ploy to smear Russia. But the world has always mixed politics and sports, and Putin's Russia is one of the worst offenders.
"Putin has spent his entire administration in office taking various measures to project an image of strength for Russia," Michael Newcity, a senior research scholar in Slavic and Eurasian studies at Duke University, told me.
Putin has projected this strength by invading Ukraine, by defending Syria's president, and through sports.
During the Soviet era, the state controlled and promoted sport. In 1949, the USSR's sport committee's goal was to "spread sport to every corner of the land, raise the level of skill and, on that basis, help Soviet athletes win world supremacy in major sports … ." That goal succeeded by most standards. Soviet athletes dominated global sports (despite allegations of doping). The Soviet Union is no more and Russia is no longer communist, but the state still very much controls sports, and intertwines it with politics to this day.
Russia was, in Newcity's words, a "basket case" when Putin assumed power in 1999, and Russians yearned once again for something to take pride in. Under Putin, Russia's economy grew, boosted by rising energy prices. Disposable income doubled and the country boasted a healthy middle class. The country was one-quarter of the famed BRIC nations (along with Brazil, India, and China), celebrated as a rising economic giant.  
"The Sochi Olympics were kind of a coming out party as a great power––that the Russian economy was booming, and it was their opportunity tell the world they are back," Newcity said.
Putin loves sports. He's a black belt in Judo. And sports became central to his plan to show off a restored Russia. To wrangle the 2014 Sochi Olympics, Putin personally oversaw the details, soliciting the help of Russia's wealthiest men to dangle the promise of a Sochi transformed into a winter resort. It's safe to say he did this. Putin outspent the Beijing Olympics by nearly $10 billion, making them the most expensive ever.
Putin and Russia aren't alone, however, in this attempt to use sporting events to showcase might. The world has always equated the fastest, strongest, most- winning country in the world with the most economically successful, most politically potent. The best proving ground to do that is the Olympics.
Jonathan Grix and Donna Lee, the authors of "Soft Power, Sports Mega-Events and Emerging States," wrote that it doesn't matter how authoritarian (China) the country's government is, or how stark its income equality (Brazil), sports express a universal likability.
By hosting international sporting events they can show the world that they are guardians of universal norms and, in so doing, can construct attraction by illuminating truths such as fair play that have universal appeal.
Winning, like hosting, is another way to showcase geopolitical relevance. The 1936 Berlin games were largely an international advertisement for Adolf Hitler's Germany and his policies, but are best remembered for Jesse Owens's four gold medals.
Conversely, boycotting the games or banishing a country from competition has been a way to protest, or to shun the politics of a state. The IOC banned South Africa from competition for 21 years during the apartheid era. In the Cold War, in 1980, the U.S. refused to compete in Moscow to protest the Soviet invasion of Afghanistan; Russia returned the favor in the 1984 Los Angeles games.
And that's just the 20th century. Politics, and political banishment in the Olympics date back to its ancient Greek version. The city-state of Elis, which controlled the ancient games, remained neutral in disputes and wars. But during the Peloponnesian War in 424 B.C., Elis sided with Athens and banned Athens's rival, Sparta, from competing in the 89th Olympiad. Given that history, it may be there never was hope of an Olympic Games devoid of politics, something George Orwell believed was inseparable from any international competition.
"Sport," Orwell argued, "is war minus the shooting."
"And how could it be otherwise?," he wrote." I am always amazed when I hear people saying that sport creates goodwill between the nations, and that if only the common peoples of the world could meet one another at football or cricket, they would have no inclination to meet on the battlefield. Even if one didn't know from concrete examples (the 1936 Olympic Games, for instance) that international sporting contests lead to orgies of hatred, one could deduce it from general principles."
Those general principles are once again in full display ahead of the Rio games where much of the pre-Olympics attention is on Russia's doping scandal, Putin's dismissal of it all as an attempt to malign his country, and his repeated calls for politics and sport not to mix.
"The other sportsmen," he told those Russian athletes being allowed to participate in the games, "understand that the quality of their medals will be different."