The Baton Rouge Police Shooting: What We Know
Louisiana's governor says Gavin Long, the gunman who shot and killed three officers Sunday, came to the state to kill law enforcement officers.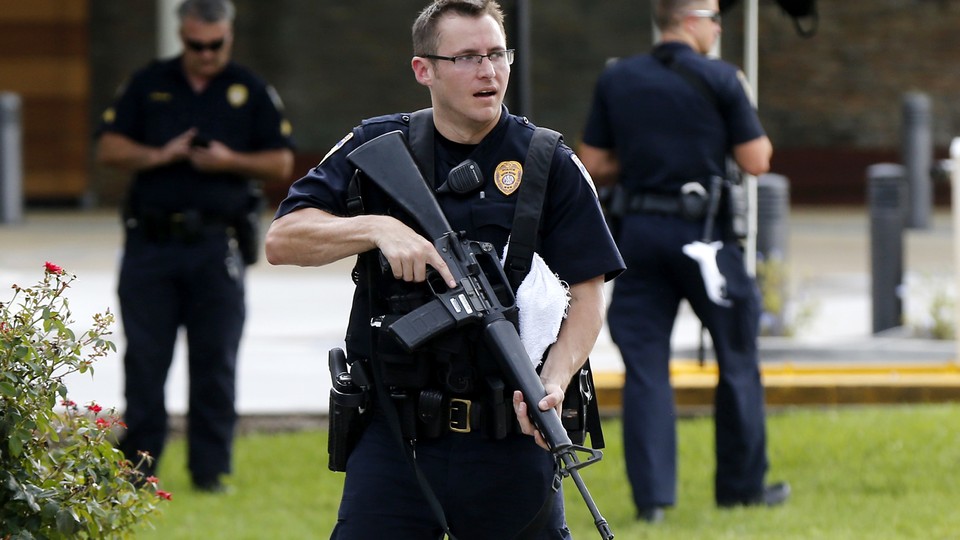 What we know on Monday:
—Governor John Bel Edwards said Monday that Gavin Long came to Louisiana specifically to kill law enforcement.
—Earlier Monday, Louisiana State Police identified Long as the gunman who on Sunday killed three officers and wounded three others. Long was killed in the face-off with police.
—The incident comes less than two weeks after Alton Sterling's shooting death by Baton Rouge police officers on July 5, sparking both local and national protests. There's no evidence of a connection between the two events so far.
—We're live-blogging the major updates. All updates are in Eastern Daylight Time (GMT -4).
---
4:19 p.m.
Governor John Bel Edwards said Monday that Gavin Long, the Kansas City man identified as the gunman who killed three police officers in Baton Rouge Sunday, came to Louisiana specifically to kill law enforcement.
"He came in here from somewhere else to do harm to our community," Edwards told reporters, adding, "That's what he attacked, the very fabric of our society. That is not what justice looks like… It's just pure, unadulterated evil."
Investigators are still trying to determine why Long, who had been in the city for several days ahead of the attack, specifically chose Baton Rouge. Colonel Mike Edmonson of the Louisiana State Police, who outlined the timeline of the attack, said Long was the only shooter in what was a "calculated act." Long was armed with three weapons—an IWI Tavor, SAR, 5.56-caliber rifle; a Stag Arms, M4 Variant, 5.56-caliber rifle; and a handgun.
Police arrived on the scene after someone called 911 to report "a dude with a rifle" walking behind buildings in the area. When police engaged Long, he shot two Baton Rouge police officers, killing one and injuring another. A sheriff's deputy, also on the scene, took cover behind a dumpster before engaging Long in gunfire. As the deputy tried to assist the injured officer, Long shot and killed him, and then shot and killed the injured officer.
"My deputy went down fighting," said Sheriff Sid Gautreaux.
After Long engaged another group of deputies, injuring two of them, including one who is in critical condition, a member of the SWAT team shot and killed Long from 100 yards away. One East Baton Rouge sheriff's deputy with wounds to the head and stomach is in "very critical condition," Gautreaux said.
Baton Rouge Police Chief Carl Dabadie said his department's "militarized tactics saved lives" in the incident. "We are up against a force that is not playing by the rules," he said.
Baton Rouge Mayor Kip Holden noted he received phone calls this morning from the mayors of Dallas and Orlando, two cities that have been struck with their own violence.
---
8:11 a.m.
Mike Edmonson, the superintendent of the Louisiana State Police, has told reporters this morning that the gunman's "movements, his direction, his attention was on police officers."
Using the word "ambush" to describe the attack that killed three officers, Edmonson said the gunman "certainly was seeking out police officers." He declined to elaborate.
The gunman, as we reported earlier this morning, has been identified as Gavin Long, a former Marine from Kansas City, Missouri.
---
July 18 at 7:23 a.m.
Louisiana State Police on Monday definitively identified the gunman as Gavin Long of Missouri.
Multiple news reports say he is a former U.S. Marine from Kansas City, Missouri. Long was black and Sunday, the day of the shooting, was his 29th birthday. Here's The New York Times:
According to military records released by the Marine Corps, Mr. Long served as a data network specialist and was a sergeant when he left the Marines in 2010. He enlisted in his hometown, Kansas City, Mo., in 2005, and was deployed to Iraq from June 2008 to January 2009, his records show. They also show a number of commendations, including the Good Conduct Medal.

On a social media site registered under the name Gavin Long, a young African-American man who refers to himself as "Cosmo" posted videos and podcasts and shared biographical and personal information that aligned with the information that the authorities had released, so far, about the gunman.
In one video, posted on YouTube, the man promotes violence as a response to the deaths of young black men at the hands of the police. The Kansas City Star has more details about Long, including on the his high school years.
Authorities have identified those officers who were shot on Sunday. They are Montrell Jackson, 32, a 10-year veteran of the Baton Rouge Police Department; Matthew Gerald, 41, who had been with the department for less than a year; and Brad Garafola, 45, a East Baton Rouge Sheriff's deputy.
Officials in Louisiana are expected to offer more information Monday about Long and his motives.
---
Louisiana law-enforcements officials have not publicly disclosed the gunman's identity. But multiple news outlets, including the New York Times, identify him as Gavin Long, a 29-year-old black man from Missouri and a former U.S. Marine.
---
5:17 p.m.
Presumptive Democratic presidential nominee Hillary Clinton released a statement on the shooting, offering condolences and urging people to "stand together to reject violence."
---
5:13 p.m.
President Obama gave brief remarks from the White House on Sunday's shooting, saying he's offered state and local officials "the full support of the federal government."
Obama stressed the gunman's motive wasn't yet known. But he condemned the killing of law-enforcement officials. "Attacks on police are attacks on all of us and the rule of law that makes society possible," he said.
He also urged people avoid making "careless accusations" about the incident and to resist "overheated" political rhetoric, especially ahead of the Republican and Democratic national conventions over the next two weeks.
"We need to temper our words and open our hearts," he said. "All of us."
"It is up to all of us to make sure we are part of the solution, and not part of the problem." —@POTUS speaks on the attack in Baton Rouge.

— The White House (@WhiteHouse) July 17, 2016

---
4:46 p.m.
David W. Brown, who's covering the shooting in Baton Rouge for us, reports Louisiana Governor John Bel Edwards is meeting with state National Guard officials.
Two-star, one-star La. National Guard generals were just escorted into a restricted area where Gov John Bel Edwards is waiting. #BatonRouge

— David W. Brown (@dwbwriter) July 17, 2016
---
4:12 p.m.
Louisiana Governor Mike Bel Edwards and a group of state and local law-enforcement officials are holding a press conference in Baton Rouge on Sunday's shooting.
Mike Edmonson, the superintendent of the Louisiana State Police, said there is no active-shooter scenario in Baton Rouge. He said he believed the suspect who was shot and killed was the man who shot the officers. There is "no other shooter held up in the Baton Rouge area," he said.
Edmonson also confirmed three officers had died and three were injured. Two of the injured officers had non-life-threatening injuries.
The shootings began, he said, when officers responded to a report of an armed man wearing black near a convenience store. The suspect was eventually killed, he said.
One of the Baton Rouge Police officers killed Sunday was 41 years old; the other was 32. The sheriff's deputy who was killed was 44 years old, Sid Gautreaux, the East Baton Rouge sheriff, said.
"It's unjustified, it's unjustifiable," Bel Edwards said. "The hatred just has to stop."
State officials offered no details on the dead shooter's identity or his possible motive.
---
3:25 p.m.
In a statement, Attorney General Loretta Lynch said agents from the FBI and the Bureau of Alcohol, Tobacco, Firearms, and Explosives were on the scene.
Here's more:
For the second time in two weeks, multiple law enforcement officers have been killed in the line of duty.  There is no place in the United States for such appalling violence, and I condemn these acts in the strongest possible terms.  I pledge the full support of the Department of Justice as the investigation unfolds.  Our hearts and prayers are with the fallen and wounded officers, their families, and the entire Baton Rouge community in this extraordinarily difficult time.
---
2:55 p.m.
In a statement, President Obama strongly condemned the shootings in Baton Rouge. "These are attacks on public servants, on the rule of law, and on civilized society, and they have to stop," he said. Obama has been repeatedly criticized by Republicans in recent weeks for what they see as a lack of leadership, but his statement was clear and unambiguous:
We may not yet know the motives for this attack, but I want to be clear: there is no justification for violence against law enforcement. None. These attacks are the work of cowards who speak for no one. They right now wrongs. They advance no cause. The officers in Baton Rouge; the officers in Dallas—they were our fellow Americans, part of our community, part of our country, with people who loved and needed them, and who need us now—all of us—to be at our best.

Today, on the Lord's day, all of us stand united in prayer with the people of Baton Rouge, with the police officers who've been wounded, and with the grieving families of the fallen. May God bless them all.
---
2:44 p.m.
DeRay Mckesson, one of the Black Lives Matter movement's most prominent leaders, responded to Sunday's shooting in a New York Times interview.
"I'm waiting for more information like everybody else," he said. "I have more questions than answers"

"The movement began as a call to end violence. That call remains."
Mckesson was among those arrested last week during a protest over Alton Sterling's death on July 5. The Baton Rouge District Attorney's office announced Friday no charges would be filed against him or many of the other arrests made during the demonstration.
---
2:28 p.m.
In Cleveland, police officers are watching the situation in Baton Rouge closely.
Steve Loomis, the president of the Cleveland Police Patrolmen's Association, said that he would ask Ohio's Governor John Kasich to suspend the open carry of firearms in Cleveland's Cuyahoga County during the convention, Fox 8 reported. He also asked that officers not be deployed alone on street corners, asking instead that they be assigned in threes. A departmental spokesperson told Fox 8's Peggy Gallek that officers will be deployed in pairs in police cars.
Kasich's office quickly rebuffed the request:
Law enforcement is a noble, essential calling and we all grieve that we've seen attacks on officers. Ohio governors do not have the power to arbitrarily suspend federal and state constitutional rights or state laws as suggested...
Loomis's opposition to open carry is a reminder that the issue divides even those on the right. Loomis also went on Fox on Sunday to assign blame for the shootings in Baton Rouge, even before a suspect has been identified. "The president of the Untied States validated a false narrative and the nonsense that Black Lives Matter and the Media are pressing out to the public … The president has blood on his hands and it will not be able to come washed off."
---
1:41 p.m.
Texas Governor Greg Abbott, whose state saw five police officers killed in a shooting less than two weeks ago, called Louisiana Governor John Bel Edwards to offer his condolences, Texas Tribune's Patrick Svitek reports.
.@GovAbbott spoke today w/ @LouisianaGov, per Abbott's office. "They discussed their shared grief about the back-to-back similar tragedies."

— Patrick Svitek (@PatrickSvitek) July 17, 2016
---
1:33 p.m.
Presumptive Republican presidential nominee Donald Trump issued a brief statement about the shooting on Facebook:
We grieve for the officers killed in Baton Rouge today. How many law enforcement and people have to die because of a lack of leadership in our country? We demand law and order.
We'll update with further statements from major political officials when we receive them.
---
1:19 p.m.
The Advocate's Elizabeth Crisp reports the White House has been in contact with local officials about the shooting.
---
12:46 p.m.
While we await more information on what's happening in Baton Rouge, it's worth bearing in mind these words from Steve Hardy, a reporter with The Advocate newspaper.
Not sure how shooting started. No word when asked if robbery or police ambush

— Steve Hardy (@SteveRHardy) July 17, 2016
---
12:22 p.m.
The East Baton Rouge Sheriff's Office has posted the latest information. Here it is:
---
12:18 p.m.
The East Baton Rouge Sheriff's Office has provided a timeline of what happened Sunday. It does not provide details on how many people were shot or about the number of fatalities.
William Daniel, the city's chief administrative officer, has confirmed three law-enforcement officers were killed in Sunday's shooting.
---
12:14 p.m.
Governor John Bel Edwards, in a statement, called the shootings "unspeakable and unjustified." Here's his statement, in full:
---
12:08 p.m.
Two police officers and one sheriff's deputy have been killed, the Baton Rouge Mayor's Office says.
---
12:06 p.m.
The Advocate and WAFB, both news organizations based in Baton Rouge, are reporting that the scene of the shootings is active, but contained.
---
11:58 a.m.
Though we don't know the exact circumstances of the shooting, our colleague J. Weston Phippen wrote a piece last week about the occasions in which police have deliberately been targeted, resulting in changes to how departments around the country work. "Over the past 50 years, four officers have died on a single day on three separate occasions—most recently in 2009," Weston wrote. He added:
After each of these killings, police departments across the country asked what could have been done differently to protect officers. But it was one day in 1970 when four officers were killed that had the most impact on that question. The incident is known as the Newhall Massacre, named for the town where two criminals murdered four California Highway Patrol officers, about an hour north of Los Angeles. From that April day forward, the U.S. taught its officers to be more cautious, and it trained police in tactics that reflected this new attitude. Shooting deaths of police officers have dropped steadily since the 1970s, in large part because of Newhall.
The full article is worth reading.
---
11:55 a.m.
The Mayor's Office has confirmed two officers have been killed in the shooting.
Mayor's office confirms 2 police officers have been killed in Baton Rouge shooting. They say stay home. Stay off the streets.

— Rebekah Allen (@rebekahallen) July 17, 2016
Here's a tweet from The Advocate newspaper, citing the Baton Rouge Police Department:
Along with police officers, Sheriff's Office deputies may be among those shot in Baton Rouge, BRPD spokesman says.

— The Advocate (@theadvocatebr) July 17, 2016
"Common sense needs to prevail," Mayor Kip Holden said, according to WAFB TV.
---
11:50 a.m.
It's worth pointing out here that the news reports we're getting from Baton Rouge are preliminary. There has been no official word on the number of people killed. We'll verify the accounts we're getting before posting them here.
---
11:46 a.m.
Baton Rouge has been the scene of massive protests—some of them violent—following the killing earlier this month of Alton Sterling, a 37-year-old black man whose killing by a police officer was captured on video. The nature of Sunday's shooting is as yet unclear, but they also come just days after a sniper in Dallas targeted police officers during a protest rally in that city, killing five of them
---
11:30 a.m.
A gunman reportedly shot multiple police officers in Baton Rouge, Louisiana, on Sunday.
At least two Baton Rouge police officers are dead after the shooting, The Advocate reported, citing city-parish officials.
East Baton Rouge Parish mayor-president Kip Holden told CNN that the toll was "three officers dead possibly," although the situation remains fluid.
Details about the shooting itself are scarce. Local news station WBRZ reported a man "dressed in black with his face covered" began shooting indiscriminately at about 9 a.m. local time at a convenience store near the police department headquarters.
The shooting comes less than two weeks after Baton Rouge officers shot and killed Alton Sterling on July 5. Videos of his death prompted protests locally and nationwide.
We'll update this article with more details when they become available.