The Pokémon Go Armed Robbery
As teens and nostalgic millennials lost their collective minds over a new app, a handful of users in Missouri found another, more sinister purpose for it.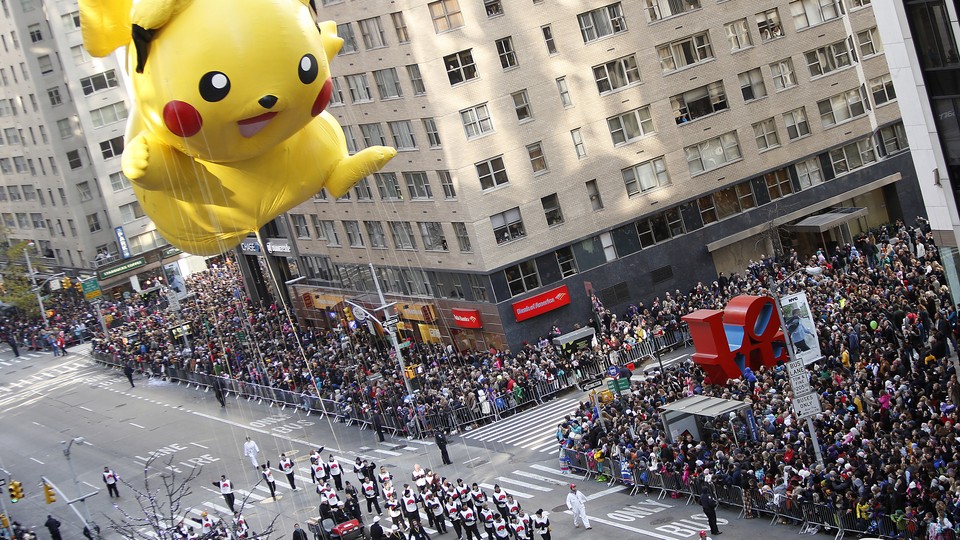 NEWS BRIEF Teens and nostalgic millennials have spent the past few days losing their minds over the reincarnation of Pokémon, the classic game and cartoon from the early 2000s, as a new mobile app that allows them to catch 'em all. But a handful of users in Missouri found another, more sinister purpose for the app over the weekend.
At about 2 a.m. Sunday, police in the city of O'Fallon responded to a report of an armed robbery. They arrested four people in connection with the crime, confiscated a handgun, and learned the suspects had used Pokémon Go to lure their victims. The O'Fallon Police Department described the robbery in a Facebook post, which quickly confused readers.
"Many of you have asked how the app was used to rob victims, the way we believe it was used is you can add a beacon to a pokestop to lure more players," the department wrote in an update to its post. "Apparently they were using the app to locate ppl [sic] standing around in the middle of a parking lot or whatever other location they were in."
What?
Let's start with what Pokémon Go is: It's a free app for iOS and Android devices, developed by California-based Niantic. It was released last week in the United States, Australia, and New Zealand and quickly rose to the top of Apple's free apps list. So many people were using it in its first few days that its servers crashed repeatedly.
Players exist as avatars, and to move those avatars around in the game, they have to walk around in the real world—through their homes, offices, city streets, anywhere—traveling across the land, searching far and wide. Pokémon Go uses GPS to figure out where players are. Eventually, a wild Pokémon appears. And this is the part that has people squeeing with joy: When players encounter a Pokémon on screen, they can choose to see it in augmented reality. The app taps into the phone's camera, and the character is shown against the backdrop of the real world. Players can then "photograph" the Pokémon. To capture it, chuck a Pokéball at it.
As for how the suspects in the Missouri armed robbery might have used the app to their advantage, let's go to Bryan Menegus at Gizmodo, who explains the app's GPS-related features:
Aside from wandering around to catch monsters, the game involves walking to "gyms" and "PokéStops", which are where Pokémon battle each other and where items are collected, respectively. Gyms and PokéStops are supposed to be linked to local landmarks. The trouble is that Niantic imported these "landmarks" from their earlier game, Ingress, where those locations were created and tagged by players, and seemingly never reviewed before becoming an integral element of a game for children.
Menegus says the app has led players to some strange places, including strip clubs and cemeteries. On Thursday, the app led a teenager in Wyoming to a bridge, where she discovered a body face down in the river below it.
Pokémon Go could also lead to injury, if some players are not careful. Mike Schultz, a 21-year-old from New York, told the AP last week he fell off his skateboard while using the app and cut his hand on the sidewalk. "I just wanted to be able to stop quickly if there were any Pokémons nearby to catch," he said. "I don't think the company is really at fault."
Back in O'Fallon, Missouri, police have identified and released the mug shots of three adult male suspects in the armed robbery. They have been charged with first-degree robbery and armed criminal action.