Trump's Wall Goes Up (in Miniature)
Plastic Jesus, the Los Angeles street artist, built a tiny wall around the GOP presidential nominee's star on the Hollywood Walk of Fame.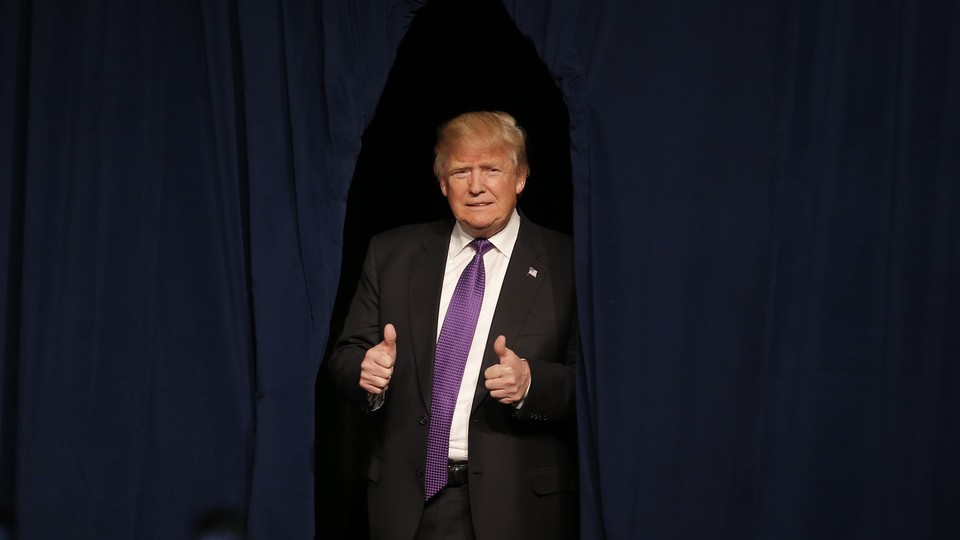 NEWS BRIEF Donald Trump, the Republican presidential nominee, got his wall––or at least, a wall. Plastic Jesus, the Los Angeles street artist described as the "Banksy of L.A." enclosed Trump's star on the Hollywood Walk of Fame with a six-inch barbed wire gray wall.
The piece of street art appeared Tuesday afternoon, and is a reference to Trump's call for a wall along the U.S.-Mexico border. The artist's wall closes off Trump's square, and features tiny American flags, and signs in Spanish and English that read, "Keep Out." Here's a picture:
Plastic Jesus is a British-born street artist. His last work, in April, replaced "No Parking Anytime" signs with "No Trump Anytime" signs all across L.A., as well as in Washington, D.C., outside the Capitol, and in New York outside Trump Tower. He has also criticized discrimination in Hollywood with a pop-up art installation placed on L.A.'s Melrose Avenue. That piece featured two sinks, one labeled "White," and the other "Colored." Beneath the "colored" sign, the artist placed a sink with the plumbing exposed. Beneath the "White" sign was a fancy vanity mirror with champagne on the counter next to an Academy Award.
This tiny wall is actually the second Trump-inspired art instillation this month. Two artists, David Gleeson and Mary Mihelic, built a small portion of wall from 52 cinder blocks, about 70 miles from the real U.S.-Mexico border, near Jacumba Hot Springs, California.