Six Years for Oscar Pistorius
The Olympian faced up to 15 years in prison for killing his girlfriend, Reeva Steenkamp, in 2013.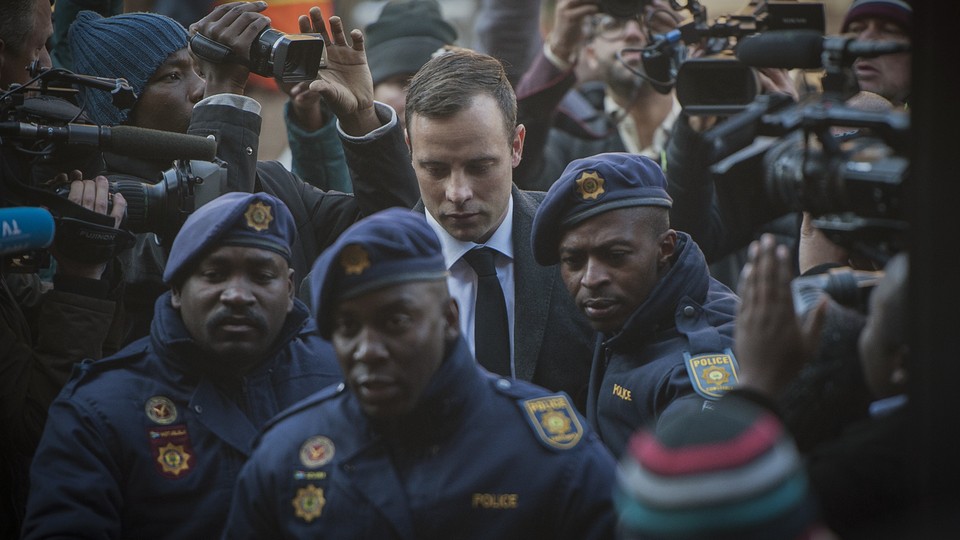 NEWS BRIEF
South African Olympian and Paralympian Oscar Pistorius has been sentenced to six years in prison for the murder of his girlfriend in 2013, potentially bringing an end to a legal saga that saw the man dubbed "blade runner" initially convicted of manslaughter for the killing of Reeva Steenkamp.
In 2014, a court found Pistorius guilty of shooting Steenkamp dead through a locked toilet door on February 14, 2013. He argued he thought she was an intruder, and the court convicted him of manslaughter, the equivalent of culpable homicide, and sentenced him to five years in prison. But he was released a year into his sentence, and allowed to spend the rest of his term under house arrest—until last December. That's when a South African court overturned the Olympian's manslaughter conviction, and convicted him of murdering Steenkamp.
Pistorius faced up to 15 years in prison. Prosecutors could still appeal Wednesday's six-year prison term, and if they do, Pistorius's attorneys say, they would appeal, as well. Pistorius has served one year in prison over his manslaughter  conviction. Under South African law, he must serve half his new prison term before being eligible for parole.
Pistorius was taken to prison Wednesday to begin his sentence.