The 'O Canada' Lone-Wolf Controversy
A quartet that sung the Canadian national anthem at the All-Star Game on Tuesday altered the lyrics to include a reference to "All Lives Matter."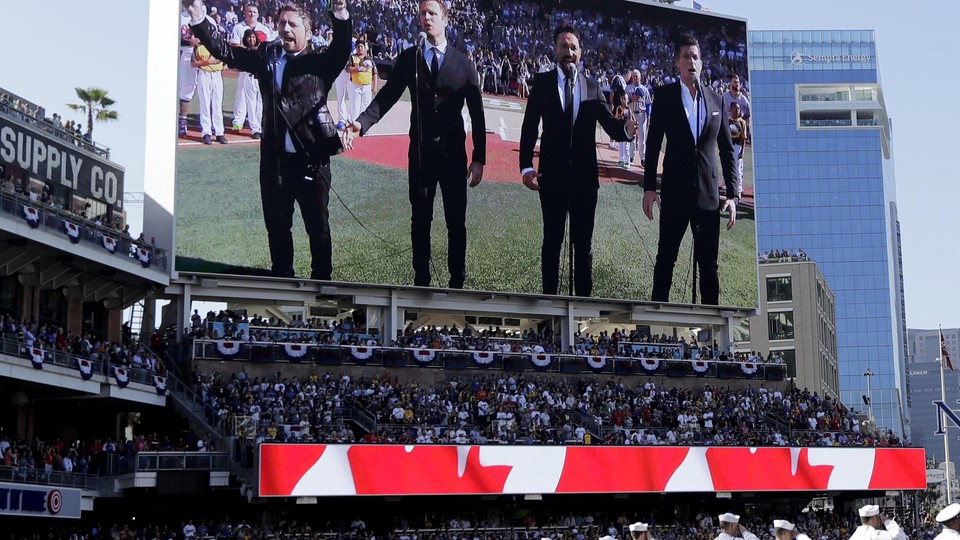 A Canadian quartet has become a trio—at least for now. At the All-Star Game on Tuesday, The Tenors, the platinum-album selling, British Columbia-based quartet, sang an altered version of "O Canada," which swapped in words that referenced "All Lives Matter."
The switch came during the middle part of the anthem, normally sung in French. The original lyrics go:
"With glowing hearts we see thee rise. The True North strong and free."
But Tuesday it went:
"We're all brothers and sisters. All lives matter to the great."
The modified lyrics were sung by quartet member Remigio Pereira; the other three members wordlessly harmonized. The alteration and slight to the Black Lives Matter movement passed largely unnoticed to the crowd at Petco Park. But Pereira also held a paper-sized sign with "All Lives Matter" written on its back that shocked the American crowd when it appeared on the scoreboard's screen. The other members of the quartet called Pereira's act that of a "lone wolf." On the group's Twitter, they posted an apology:
The anthem was not broadcast in the U.S. But it was in Canada, and people on social media criticized the group.
The Tenors formed in 2007, and have played more than 150 television spots, the 2010 Olympics, and alongside Elton John, Sting, and Neil Young. And while the other band members quickly denounced Pereira's actions, Pereira defended himself on Twitter, where he called himself a spokesman for the "human race and the lives of all sentient beings." Pereira does not shy away from personal opinion. On his Instagram he regularly he defends the theory of a flat Earth.
The debate over the terminology on whose lives matter is controversial. Those who support the term "All Lives Matter" say they believe it represents everyone. But defenders of Black Lives Matter say "All Lives Matter" misses their point—that they are often unfairly—and disproportionately—targeted by law-enforcement authorities around the country. President Obama has explained the difference: "I think the reason that the organizers used the phrase 'black lives matter' was not because they were suggesting nobody else's lives matter. There is a specific problem that is happening in the African-American community that's not happening in other communities," he said. "And that is a legitimate issue that we've got to address."