The Jihadist Split in Syria
Al-Qaeda's branch in the country has announced it would break away from the larger jihadist movement.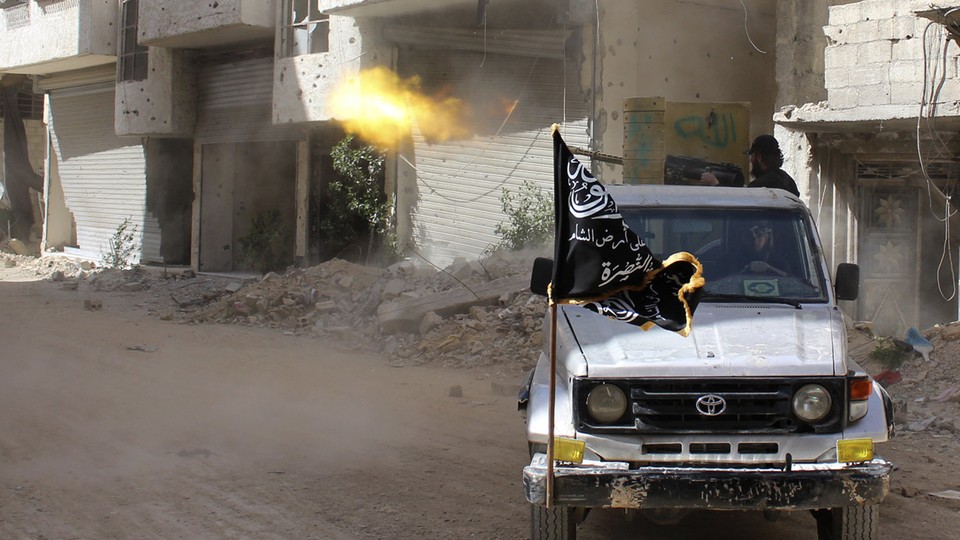 NEWS BRIEF Jabhat al-Nusra, the Syrian jihadist group, has reportedly announced it would split from al-Qaeda, the BBC reported Thursday, citing a video message from the group's leader.
The BBC said the recording was the first ever by Abu Mohammed al-Julani. In the video, al-Julani says the Sunni militant group, which is fighting against the Syrian government, would change its name to Jabhat Fath al-Sham. The BBC translates that to "Front for the Conquest of Syria." More:
In the recording aired by al-Jazeera's Arabic news channel, Mr al-Julani thanked the "commanders of al-Qaeda for having understood the need to break ties".
Analysts are divided on the potential significance of the separation and its consequences for al-Qaeda, which has struggled to maintain its allure in the face of a rising Islamic State, a group that favors a combination of heinous acts of violence and jihadist propaganda.
Some analysts say Jabhat al-Nusra may be seeking to avoid air strikes that target al-Qaeda affiliates.
Jabhat al-Nusra, also known as al-Nusra Front, emerged in Syria in late 2011. Charles Lister, a senior fellow at the Middle East Institute and author of "The Syrian Jihad," wrote in a paper this month that since then, Jabhat al-Nusra "has transformed itself from an unpopular outsider accused of [Islamic State]-like brutality towards one of the most powerful armed actors in the Syrian crisis."
While the Islamic State has in the last two years become the focal point of most counterterrorism operations, "it is arguably Jabhat al-Nusra in Syria—and perhaps the al-Qaida movement more broadly—that looks more likely to survive over the long term and to threaten local, regional and international security interests," he said.