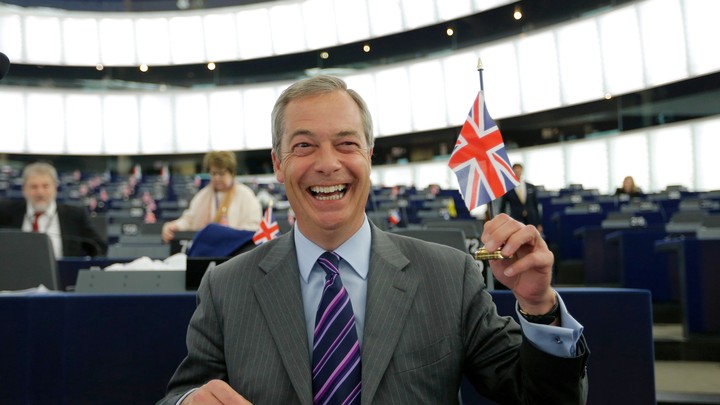 British politician and Brexit proponent Nigel Farage has resigned as leader of the United Kingdom Independence Party (UKIP), less than two weeks after a national referendum threw the United Kingdom out of the European Union and into political and economic chaos.
Farage said at a press conference in Westminster Monday he entered politics to "get Britain out of the EU," and not to become "a career politician." Now that voters have chosen to leave the 28-member bloc, "I now feel that I have done my bit," he said.
"During the referendum campaign, I said, 'I want my country back,'" he said. "Now what I'm saying today is, 'I want my life back.'"
It is the third time in a decade Farage has resigned as leader of UKIP, the right-wing party skeptical of the EU and its immigration policies. Farage said he would watch the negotiations between the UK and EU, which will determine the UK's formal exit within two years, "like a hawk."
Farage is the latest pro-Brexit campaigner to step back from the limelight after the historic vote. Boris Johnson, the former London mayor, said last week he would not run for prime minister after David Cameron, the leader of the Conservative party who urged Britons to vote to remain in the EU, announced he would resign from the office in October.
Douglas Carswell, UKIP's sole member of parliament. Carswell told the BBC's Daily Politics show Monday that Farage's rhetoric on immigration "went too far," The Guardian reported.
"And it's not just morally wrong, it's electorally disastrous," Carswell said. "This is a decent, generous country. People have a legitimate right of feel a sense of anger with their politicians but the answer to that is not to play on people's fears and anger but to promise the hope of something better."
On Twitter, Carswell's response to Farage's resignation was far shorter:
😎

— Douglas Carswell MP (@DouglasCarswell) July 4, 2016
We want to hear what you think about this article. Submit a letter to the editor or write to letters@theatlantic.com.