Attack in Nice: What We Know
France's prime minister was booed Monday in Nice, an apparent reflection of the nation's frustration after the third major terrorist attack since January 2015.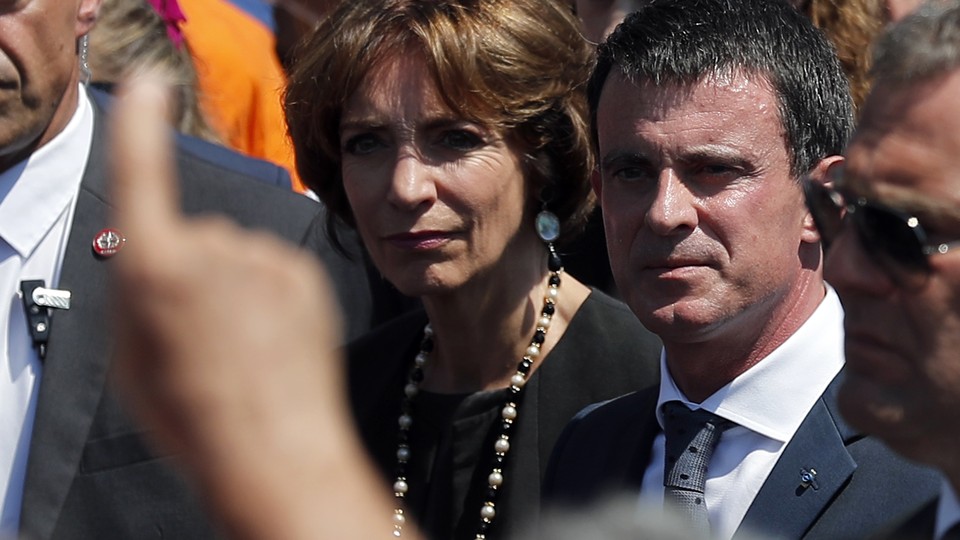 What we know Monday:
—France's prime minister was booed Monday at a ceremony in Nice to mark a minute's silence for the 84 people who were killed late Thursday after a truck drove into the crowds celebrating Bastille Day.
—ISIS claimed responsibility for the attack, but the French interior minister said no links had yet been been found between the attacker, identified as Mohamed Lahouaiej Bouhlel, and the terrorist group.
—We're live-blogging the major updates. All updates are in Eastern Daylght Time (GMT -4).
---
July 21 at 1:12 p.m.
Paris prosecutor Francois Molins gave new details about the attack's planning Thursday, saying it had been in the works for months and that five alleged accomplices were in custody. The Los Angeles Times has more:
---
July 18 at 10:21 a.m.
Prime Minister Manuel Valls was booed by crowds Monday during a memorial service on Nice's Promenade des Anglais. Some in the crowd yelled "murderer," others shouted for him to resign before the minute's silence, which was marked across the nation. There's much frustration in France following the Nice attack, the third major terrorist attack in France since January 2015. Valls and French President Francois Hollande were also booed Friday during a visit to the site of the attack.
Meanwhile, French authorities announced the arrest of an Albanian couple Sunday in connection with Nice attacker Mohamed Lahouaiej Bouhlel, said Agnes Thibault Lecuivre, a spokeswoman for the anti-terrorism prosecutor. They are among six people detained following the attack—three of who were transferred to the SDAT, France's counterterrorism task force.
Bouhlel's estranged wife was also arrested in connection with the attack, though she was released Sunday morning. Her attorney told CNN that she hadn't had contact with him as they were in the midst of divorce proceedings. The couple have three children.
French Interior Minister Bernard Cazeneuve said investigators have yet to establish a link between the attacker and ISIS, which claimed responsibility for the attack Saturday.
---
July 16 at 6:45 a.m.
The Islamic State claimed responsibility for the attack via it Amaq news agency. It said the attack was carried out by a "soldier of the Islamic State." Here's more from the SITE intelligence group, which monitors ISIS and other groups:
---
3:07 p.m.
President Obama, speaking at the White House Friday, pledged to stand with France, saying terrorism "is a threat to all of us." Recognizing the harm that single individuals can have, he told a group of diplomats at a reception in the East Room that the world must be vigilant against ISIS, and that together, "We are going to destroy this vile terrorist organization."
It's worth pointing out that no one has yet claimed responsibility for the attack.
Obama again cautioned against grouping all Muslims together after these attacks.
"We cannot give in to fear or turn on each other," he said. "We cannot let ourselves be divided by religion."
---
1:50 p.m.
Francois Molins, the Paris prosecutor, also provided details of what exactly happened Thursday night in Nice. The attacker, he said, rented the truck on July 11 and was scheduled to return it July 13.
Here's more from the Guardian:
Many of these facts were reported earlier by French news organizations using anonymous sources; they are now being publicly confirmed.
---
12:57 p.m.
President Obama has ordered all flags at the White House, public grounds, and buildings across the country, and federal and military buildings abroad lowered to half-staff to honor the victims of the terrorist attack in Nice until July 19. The flags were recently lowered for the shooting in Dallas last week.
---
11:20 a.m.
President Obama will address the attack in Nice at an event at the White House Friday at 3:10 p.m. There, he is hosting the Diplomatic Corps Reception in the East Room. We'll report on his comments here.
---
11:12 a.m.
Francois Molins, the Paris prosecutor, held a news conference in which he said 10 children were killed in the Nice attack.
He said "202 people were injured, including 52 who are now in critical care." Of these 52, he said, "25 are still in intensive care." The numbers, Molins added, are preliminary.
Here's more (via the Guardian):
He also, the BBC reported, confirmed the identity of the driver. The name is the same as those being reported earlier: Mohamed Lahouaiej Bouhlel, a 31-year-old French citizen of Tunisian origin.
Authorities have raided Bouhlel's home in Nice in search of evidence.
---
10:46 a.m.
The Tour de France will continue Friday, despite the attack in Nice. The cycling race, now in Stage 13, passes through the south of France from Bourg-Saint-Andéol to Caverne du Pont d'Arc, three hours west of the deadly incident.
There was a moment of silence before the racing began Friday. Christian Prudhomme, the race's organizer, explained why the race would go on:
Thousands of fans came out to cheer on cyclists, as event security continues to stay vigilant.
---
10:40 a.m.
The French health ministry says 188 people were hospitalized after the attack. Of these, it said, 48 are in a state of "absolute urgency." Earlier Friday Hollande said 50 people are "between life and death."
---
9:34 a.m.
Leaders from across the Arab and Muslim world are condemning the attack. The Gulf Cooperation Council (GCC) said its stands in solidarity with France and the victims of Thursday's attack. The GCC's secretary general, Abdullatif bin Rashid Al-Zayani, called it a "criminal and cowardly incident whose perpetrators were stripped from all moral and human values." Al-Azhar, the leading Sunni Islam center of learning in Cairo, called the attacks vile, and said that it, "affirms the importance of uniting efforts to eliminate terrorism and rid the world of its evil."
Saudi King Salman also said his country joined in "the rejection of terrorism in all its forms and manifestations and the importance of international efforts to confront and eliminate it." Ahmed Gheit, chief of the Arab League, called the incident a "craven terrorist attack."
---
9:28 a.m.
French President Francois Hollande, flanked by Prime Minister Manuel Valls and Marisol Touraine, the social-affairs minister, is speaking in Nice. He said many foreign nationals and children are among the dead. He says at least 50 people are injured. He also thanked the police officers who responded to the attack and killed the truck driver.
His remarks in English (via the BBC):
---
9:06 a.m.
Interpol says it is sending a team to Nice to help with identifying the victims of the attack.
---
8:37 a.m.
Family members of the two Americans killed in Nice have identified them as Sean Copeland, 51, and his 11-year-old son, Brodie. They were on a European vacation the Austin American Statesman reported. The family, in a statement, to the newspaper:
---
8:10 a.m.
We're learning more about the nationalities of the victims of the attack. The Swiss Federal Office of Police said a Swiss citizen was among the dead. It did not provide other details, though Swiss news reports have named a woman as the victim. The Armenian Foreign Ministry said two Armenian citizens were also killed. The Russian Foreign Ministry said at least one Russian was killed in the attack. These numbers are in addition to the the two Americans the U.S. State Department said were killed.
---
7:34 a.m.
Several European countries announced Friday security measures, including the tightening of their borders with France, following the attack.
The German Federal Police said: "In coordination with the French security authorities, the federal police are strengthening their control in the area of cross-border traffic into France."
Spain increased security along its more than 400-mile border with France and put in place additional steps. Italian Interior Minister Angelino Alfano said his country would boost measures along the border, as well. Belgium, which was targeted in deadly attacks by militants in March, said security would be increased ahead of its own National Day celebrations, held July 21. In London, Mayor Sadiq Khan said the U.K.'s capital would review its security measures following the attack.
---
7:18 a.m.
The mood in Nice, and indeed around the world this morning, is summed up by this man who was photographed Friday along the city's waterfront.
---
7:13 a.m.
Among the dead are two Americans, the U.S. State Department said, without naming them. BuzzFeed News has named two Americans, a man and his 10-year-old son from Austin, Texas, as among those killed. It cited a relative, as well as the local baseball league. It's unclear if the State Department's toll refers to the same people being named by BuzzFeed.
---
5:23 a.m.
Overnight, the Interior Ministry raised the death toll from 80 to 84.
Several witnesses have said the truck driver drove at a high speed, zigzagging through the crowds. These accounts have not been independently confirmed.
It's also worth reiterating that no one has officially yet claimed responsibility for the attack, though it was certainly celebrated on jihadist websites, including those linked to the Islamic State.
Several French news organizations, as well as Reuters, are identifying the driver of the truck as a French-born man of Tunisian origin. He was 31 years old and known to police for petty crimes, they reported, citing unidentified sources. Investigators are working to determine if he was working alone.
---
5:16 a.m.
Manuel Valls, the French prime minister, said starting Saturday France will observe three days of mourning. Here are his comments (the translation's from the BBC):
"France," he added, "will not allow itself to be destabilized."
He also said the Paris prosecutor's office was in charge of the investigation.
---
5:14 a.m.
Good morning. We're continuing our updates of Thursday's deadly attack in Nice.
---
12:50 a.m.
That's a wrap for updates tonight. Our coverage will resume here Friday morning at 8 a.m. Eastern time.
---
Updated on July 15 at 10:28 p.m.
At least 80 people have now died in the attack, French Interior Minister Bernard Cazeneuve just announced. 18 more people are gravely injured.
---
9:48 p.m.
President Francois Hollande in a televised statement confirmed that 77 people had been killed in Nice, include several children.
"It's France in its entirety that is being targeted by Islamic terrorism," he said.
He said the state of emergency, which was scheduled to end July 26, will be extended by three months. That state of emergency was imposed after last November's Paris attacks.
"We will intensify our airstrikes in Syria and Iraq," he said. "We will continue to strike those who threaten us."
---
9:40 p.m.
Christian Estrosi, the Nice mayor, tweeted that flags in the city will fly half-staff Friday. He also announced the cancellation of a scheduled concert by Rihanna, as well as of a jazz festival that was set to begin Saturday.
---
9:31 p.m.
News of the Nice attack is dominating the Friday editions of the French newspapers.
Here's Le Figaro:
---
9:27 p.m.
Hillary Clinton, the presumptive Democratic presidential nominee, told CNN: "Clearly, what is happening is terrorist groups are seeing that they have opportunities inside France for both home-grown terrorism and importing terrorists." She added:
It's worth pointing out here that no one has yet claimed responsibility—nor have French officials publicly described it as a terrorist attack.
---
9:24 p.m.
Several witnesses have come forward to describe what they saw tonight in Nice.
Hali McField of Fort Lauderdale, Florida, told CBS News, said she "watched a bunch of people running away" from the scene, screaming. Wassim Bouhlel, a Nice native, told the AP, he saw the truck drive into the crowd. "There was carnage on the road," he said. "Bodies everywhere."
Colin Srivastava, a Briton, told the BBC he saw several hundred people running toward him "looking panic-stricken." He ran along with them, he said, until the police came by and said: "Run, now."
Katie Shaw, an Australian tourist, told the Australian Associated Press: "We had no idea what was going on. Then all we could hear was gunshots. My friend just grabbed me and we all went out the back stairs and had to sprint out staying low with guys ushering us away from the foreshore."
---
8:41 p.m.
Christian Estrosi, the former mayor of Nice and current regional president, says 77 people are dead in the "terrible attack."
---
8:40 p.m.
Last week, as we reported, a French parliamentary inquiry examining the 2015 Paris attacks recommended that the country's many intelligence agencies be merged to create a single agency. Georges Fenech, the commission's president, said all the suspects involved in the two sets of attacks had been known to authorities. The commission also found the state of emergency imposed after the November attacks had a "limited impact" on security.
---
8:24 p.m.
The Associated Press reports the Paris prosecutor's office has opened a terrorism investigation into the incident in Nice. French media outlets are also reporting the country's anti-terrorism department is also investigating the incident.
---
7:55 p.m.
President Obama has issued a statement condemning "what appears to be a horrific terrorist attack in Nice, France" and pledging U.S. assistance in the investigation.
---
7:15 p.m.
Citing events in France, presumptive Republican nominee Donald Trump says he will delay his previously scheduled announcement of his running mate.
---
7:03 p.m.
French news organizations, including France 24, are reporting that the truck's driver got out of the vehicle and began shooting. The driver has been killed, the Interior Ministry's spokesman said. Pierre-Henry Brandet also said an investigation will determine if the truck's driver acted alone.
---
6:49 p.m.
President Obama's national security team briefed him Thursday evening about the incident in Nice and he will continue getting updates, the White House said.
---
6:48 p.m.
France 24, the English-language French broadcaster, is reporting that the death toll in Nice is 60. Its source is a police prefect.
---
6:45 p.m.
Donald Trump, the presumptive Republican presidential nominee, called it "a horrific attack" in a tweet.
We'll add other political reaction as we see them.
---
6:42 p.m.
Thursday's attack coincides with an announcement by Hollande that France was lifting its state of emergency on July 26. It was imposed shortly after last November's Paris attacks.
---
6:38 p.m.
Facebook has activated its Safety Check for users in Nice, allowing them to tell friends and family they are safe.
The social media site launched this service in 2014 in the case of natural disasters and crises, including terrorist attacks. Once a person checks in, it notifies all Facebook friends with a notification.
---
6:35 p.m.
Officials have asked everyone in Nice to remain indoors. Users on Twitter have begun using the hashtag #PortesOuvertesNice, or #OpenDoorsNice, to open their doors to those who are seeking shelter.
---
6:25 p.m.
France was the scene of two major terrorist attacks in 2015. The attack in January of that year on Charlie Hebdo magazine, a supermarket, and other locations killed 17 people. In November, attacks across Paris killed 130 people.
---
6:23 p.m.
French President Francois Hollande condemned the attack as a "criminal act," according to FranceTVinfo.
---
6:18 p.m.
This isn't the first time someone has driven into crowds in France, causing casualties. There were at least two such events in 2014—one in Nantes and the other in Dijon. Those incidents occurred within days of each other in December of that year and injured several people. The method has also been used by Palestinians in Israel, injuring dozens.
---
6:17 p.m.
The Associated Press, citing a French official, is calling it an attack.
---
6:02 p.m.
Agence France-Presse, the French news agency, is citing an official as saying 30 people are dead.
It's still unclear why the truck drove into the crowd.
---
5:58 p.m.
The city on the French Rivera had been celebrating Bastille Day, the day the infamous prison in Paris was stormed in 1789. A mere half hour before the reported fatalities, Christian Estrosi, the mayor, had tweeted images of the celebrations.
He later reported "dozens of deaths" in the city.
---
5:43 p.m.
A local official is tweeting that there are "dozens of deaths."
These are initial reports, and the numbers may well change.
---
5:22 p.m.
Images posted on Twitter appear to show casualties at the scene.
---
5:20 p.m.
People in Nice, France, can be seen running in panic after a vehicle reportedly crashed into them.
This is a developing story and we'll update it as we learn more.