A New Sandy Hook Elementary School
This fall when students attend the school, which became the center of the American debate over gun violence, they will walk into a building designed with safety in mind.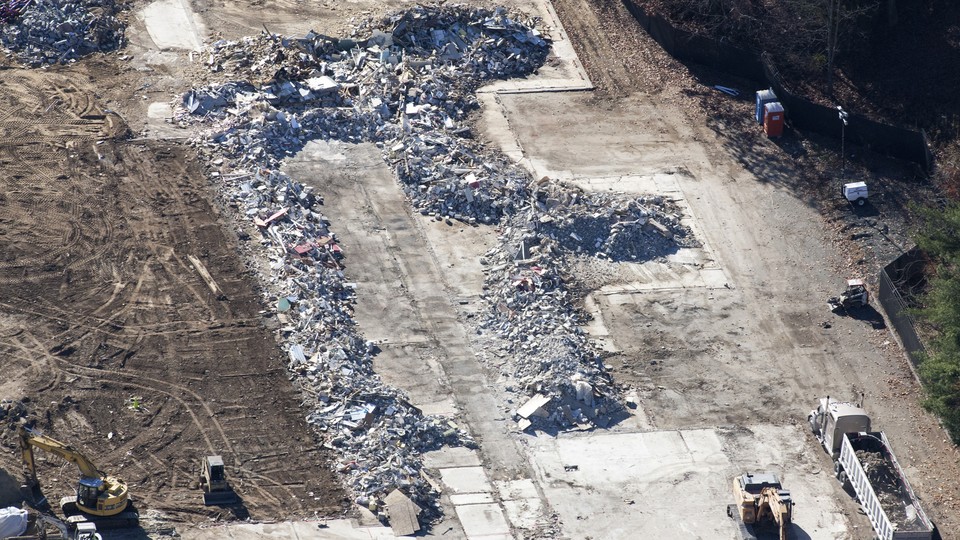 NEWS BRIEF The old Sandy Hook Elementary School in Newtown, Connecticut, was demolished after a gunman shot 20 first-graders in December 2012. In its place rose a new school, built on the same grounds, but different enough that it wouldn't serve as a reminder of the rampage, and designed to be much safer.
The new school spans 86,000-square-feet. It cost $50 million, and is scheduled to open next month. On Friday, however, the school will open briefly for the media, the children who will attend the school, and their parents.
As the Associated Press reported, safety was the major consideration in the new design:
The new school, funded by a state grant, has safety features such as impact-resistant windows and state-of-the-art video monitoring. Its ground floor is elevated, making it harder to see inside classrooms from the outside. It has been landscaped to ensure anyone approaching the school is visible to those inside and can enter via one of three pedestrian bridges that cross the landscaping.
The school year begins August 29, and the school will serve kids in pre-kindergarten through fourth grade. About 390 students will attend the school. Of those, 70 were students at the old school.
Half of the school's staff was there for the shootings, when 20-year-old Adam Lanza ran through the building with a Bushmaster XM15 assault rifle and killed 20 children ages 6 and 7 years old, as well as six school staff members. The new school will not include a memorial.