The Russian 'Traitors' Competing in the Olympics
Russians are criticizing two sportswomen cleared to compete in Rio as neutral athletes after their compatriots were banned over the widespread use of performance-enhancing drugs.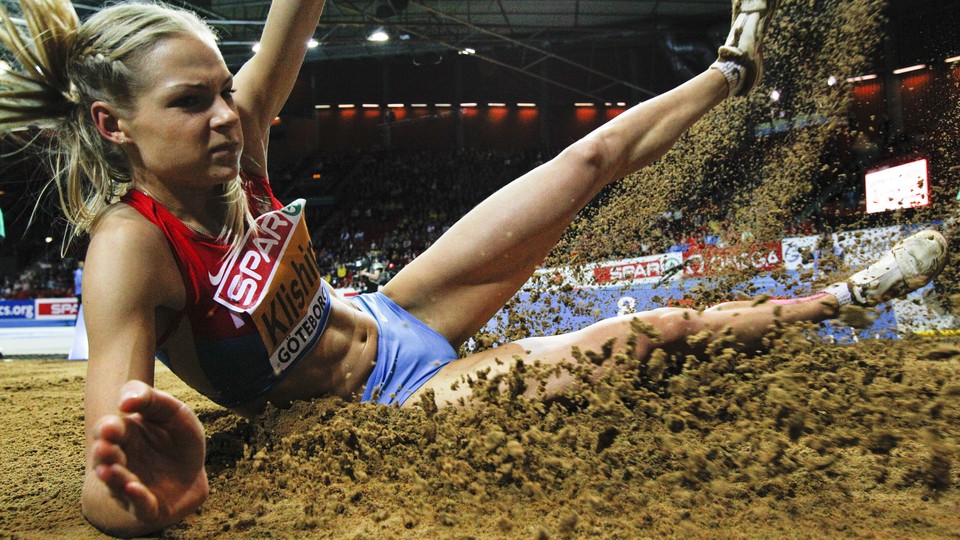 NEWS BRIEF All of Russia's track-and-field team will sit out next month's Rio Olympics because of the widespread and system-wide doping that was recently uncovered—except for two who won't compete under the Russian flag. The first to announce she would attend Rio as a neutral athlete was 800-meter sprinter Yuliya Stepanova, whom the International Association of Athletics Federations (IAAF) cleared earlier this month.
A few days ago, the IAAF announced it would also allow Russian long-jumper Darya Klishina to compete as a neutral athlete. And just like Stepnova, Klishina has come under massive criticism. A popular journalist compared her to the Russians who helped Nazis in World War II. Some critics called her a "traitor and scum." The Moscow-based newspaper Argumenty I Fakty pulled some of these excoriations together from social media:
"It seems that the jumper jumped so well that she jumped out of the country ... the fans in Russia will not be with you, " - opined  Nikolai Ivanov .

"You have decided to act under a neutral flag? For you, this is not humiliating? Can you really change nationality, " - says Igor Kljukvin .
The duo weren't the only Russian athletes to apply for neutral status. More than 130 track-and-field competitors applied to compete under no nation's flag, saying they weren't involved in the doping scandal. Of those, the IAAF has denied 67 requests, and approved two: Stepanova and Klishina's. The rest are still up for review.
Stepanova was allowed to compete as a neutral athlete because she helped uncover the scandal in 2014 that brought about the ban on Russian track-and-field athletes. For that, Russian President Vladamir Putin called her "Judas." The IAAF said it allowed Klishina to compete, because she met the "exceptional eligibility criteria." Although it did not say specifically why it approved Klishina's request, the IAAF said it looked at whether the athletes were tainted by the Russian Athletic Federation's "failure to put in place adequate anti-doping systems because they have been subject to other, fully adequate systems outside of the country for a sufficiently long period … "
And indeed, Klishina has lived in the U.S. for three years.