The Aftermath of a Shooting Live-Streamed In Minnesota
Police pulled Philando Castile over for a broken taillight in a suburb of St. Paul, and shot him dead as his girlfriend sat beside him.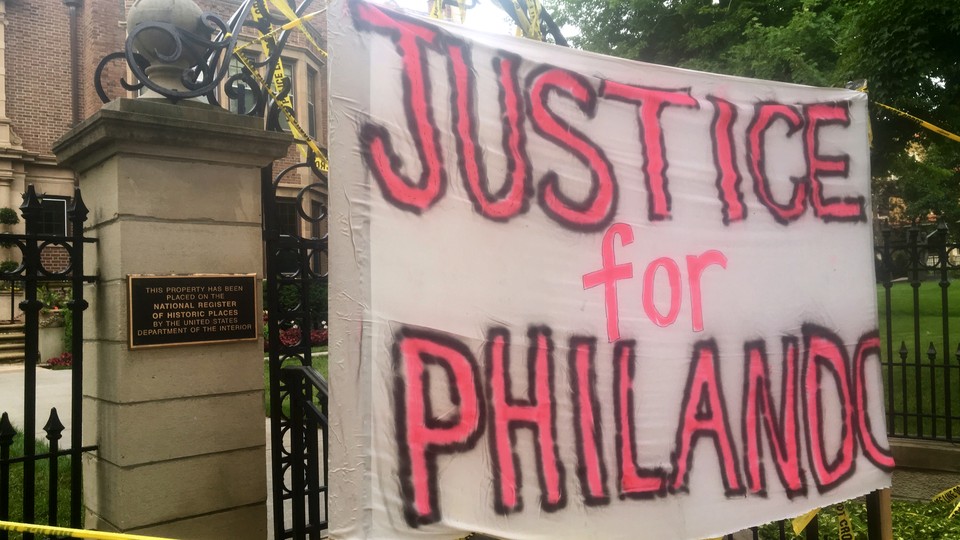 NEWS BRIEF Police in Minnesota shot and killed a black man Wednesday night who had been pulled over for a broken taillight, the aftermath of which was live-streamed by his girlfriend who sat in the passenger seat beside him .
The man was pulled over in a suburb of St. Paul around 9 p.m., by an officer with the St. Anthony Police Department. The video shows the man's car stopped along the road, him leaning back in his seat, his white shirt covered in blood. Beside him a woman who says she's his girlfriend calmly narrates what happened, while a frantic officer stands outside the driver's-side window with his gun drawn, yelling, "I told him not to reach for it! I told him to get his hands up!"
The man was identified by friends as Philando Castile, a 32-year-old cafeteria supervisor at a local Montessori school.
As The Minneapolis Star Tribune reported, the woman said just before Castile was shot:
… the officer "asked him for license and registration. He told him that it was in his wallet, but he had a pistol on him because he's licensed to carry. The officer said don't move. As he was putting his hands back up, the officer shot him in the arm four or five times."
Castile was taken to a local medical center, where he later died.
Around midnight, a small protest started at the scene where Castile was shot, and by 2 a.m. it had moved to the governor's residence, the Star Tribune reported. About 100 people stood outside the gates, shouting Castile's name, as well as that of Jamar Clark, an unarmed black man killed in November by Minneapolis police.