The Charges Against Brazil's Lula
The former president was charged with obstruction of justice in the widening scandal at Petrobras.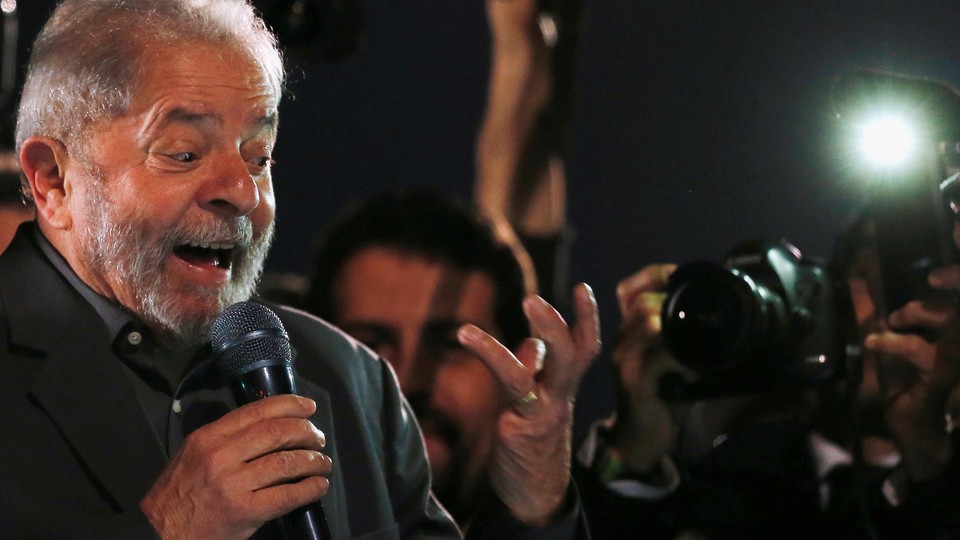 NEWS BRIEF Luiz Inacio Lula da Silva, the man who presided over Brazil's economic miracle in the early 2000s, became the highest-profile casualty of the widening corruption scandal at Petrobras, the state-run oil firm. A federal court in Brasilia formally charged Friday the former Brazilian president with obstruction of justice in the case.
Lula was previously under investigation in various jurisdictions in a sprawling corruption investigation focused on state-run oil company Petroleo Brasileiro SA but is now officially a defendant.
In March, as we previously reported, Lula was detained and taken to the Sao Paulo airport for questioning. Brazilian police executed 33 search warrants and 11 arrest warrants at the time. Two of them were in Sao Bernardo do Campo, in Sao Paulo state, where Lula lives. Police said Lula received illegal kickbacks from the corruption at Petrobras.
Here's the background to the case:
At issue is Operation Car Wash, the investigation into alleged corruption and money laundering at Petrobras, the crown jewel of Brazilian state enterprises. Many of those activities are alleged to have taken place between 2003 and 2010, when Lula was president. Executives at the firm are accused of overcharging for contracts with construction companies, and funneling the difference either to themselves, others, or political parties, including Lula's Workers Party.

The scandal has ensnared some of Brazil's biggest political and business leaders, raised questions about President Dilma Rousseff, Lula's chosen successor, and tainted the former president's legacy as well.
Lula, as the former president is known, is a former trade-union leader who ascended to the Brazilian presidency in 2003 and remade his country into a regional economic powerhouse. Rousseff succeeded him in 2010. She was suspended in May over a separate scandal involving fudged economic data and is facing an impeachment trial. The verdict in that trial is expected in the middle of next month, during the Rio Olympic.