Japan's Deadliest Attack in Decades
Nineteen people were killed and 25 more wounded in a knife attack Tuesday outside the Japanese capital in Sagamihara.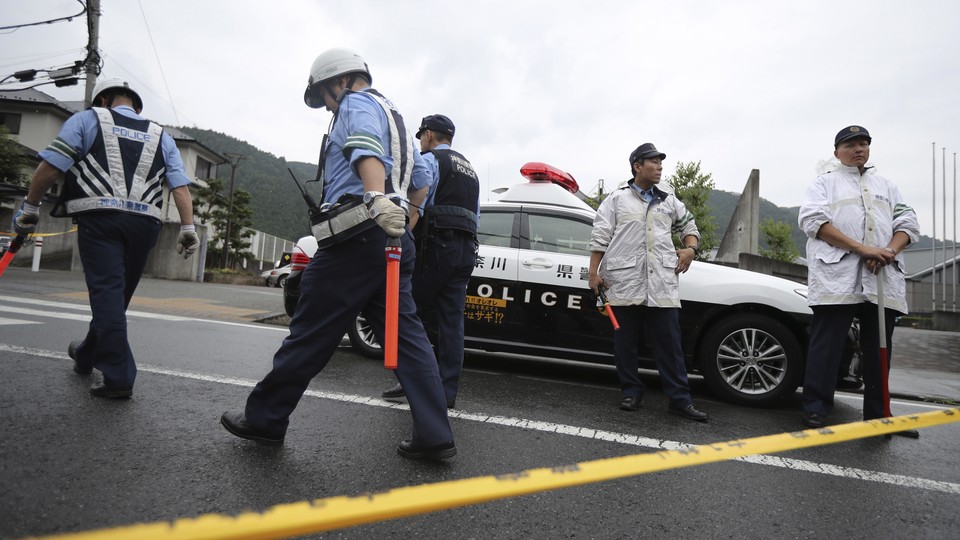 NEWS BRIEF At 2:10 a.m. Tuesday morning, 26-year-old Satoshi Uematsu broke through a window of a facility for the disabled in Sagamihara, Japan, and went on a stabbing rampage that killed 19 of the 150 patients in the facility, wounding 25 others. Among those killed were 10 women and nine men, ranging from 19 to 70 years old, according to the Associated Press.
Less than an hour later, Uematsu turned himself into police. The attack is the deadliest mass killing Japan has seen in decades.
The facility, Tsukui Yamayuri-en, was not unfamiliar to Uematsu. He began working there in 2012, and reportedly held a grudge against the facility for firing him last February. According to Kanagawa prefecture officials, the facility employs more than 200 people, though only nine of them were working on the night of the attack—a staffing shortage that Uematsu would have foreseen, according to Japanese media.
Though little is known of Uematsu's background, the Japanese Parliament office told the AP that he attempted to deliver a letter to a local legislator in February, outlining his intentions of committing an attack on two facilities. In the letter, he called for "a revolution," demanding that all disabled people be put to death through "a world that allows for mercy killings." He further demanded that he be declared innocent on the grounds of insanity, given 500 million yen ($5 million) in aid, and receive plastic surgery.
Uematsu may have suffered from mental illness, with some reports saying he had been released from a psychiatric hospital six months ago. But attacks such as these are ultimately rare in Japan, which experienced only three mass killings in the past 15 years. Some have attributed this to the country's strict gun control laws.
Nevin Thompson explained why in Quartz Tuesday:
Annual statistics compiled by Japan's National Policy Agency show there was only one gun-related death in 2015 in Japan (link in Japanese), and six in 2014. In contrast, at the other end of the spectrum, there were between 11,000 and 12,000 homicides with guns in the US in 2014.

What reasons are behind Japan's low homicide rate, especially those murders involving guns? For one thing, gun ownership in Japan is very rare. There are just 0.6 firearms per 100 people in Japan, compared to 88.8 in the US. But as the Sagamihara, Akihabara and Osaka massacres demonstrate, if an assailant wants to kill people, they do not need a gun to do so. But if there were 372 mass shootings in the US in 2015, why didn't Japan have a similar number of knife massacres that year?
Japanese authorities arrested Uematsu on charges of attempted murder and unlawful entry. Prime Minister Shinzo Abe expressed his condolences in a statement Tuesday, saying, "The lives of many innocent people were taken away and I am greatly shocked. We will make every effort to discover the facts and prevent a reoccurance."