A Deadly Train Crash in Italy
Two trains collided head-on, killing at least 20 people, news reports say.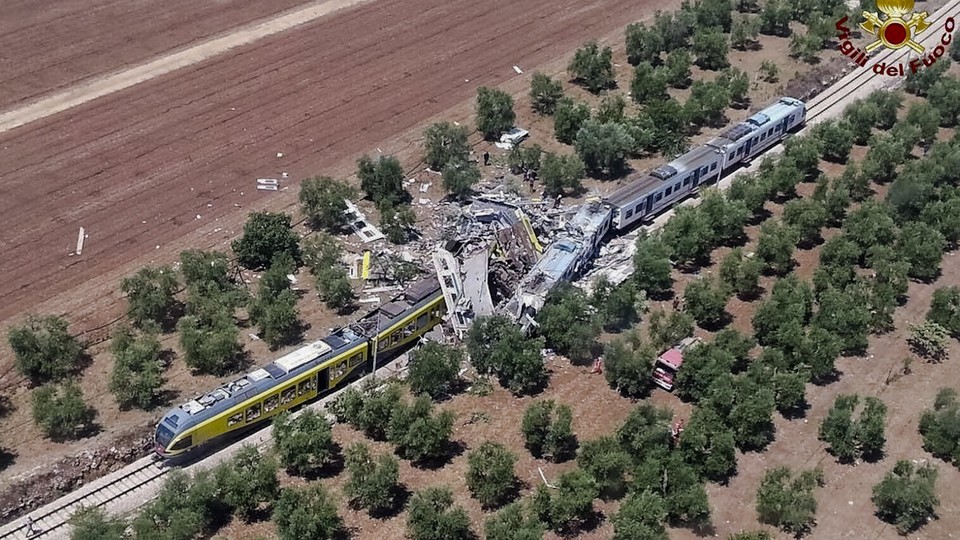 Updated at 9:25 a.m. ET
NEWS BRIEF The death toll in the head-on collision between two trains in Puglia, Italy, has killed at least 20 people.
Giuseppe Corrado, the deputy head of the Bari-Andria-Barletta province, confirmed the figures to ANSA. Here's more from the Italian news agency:
Firefighters are working to extract more people from the twisted metal of the first cars on each train. There could be more fatalities, rescuers said.
One of the trains was headed from Corato to Andria while the other was traveling from Andria to Corato, ANSA reported. Each train had four railcars, and they collided in the middle of an olive grove.
"Some of the cars are completely crumpled and the rescuers are extracting people from the metal, many of them injured," Riccardo Zingaro, the chief of the local police in Andria, told ANSA.
It's unclear what caused the collision.
This is a developing story, and we'll update it when we learn more.