The Church Attack in France
Two men swarmed a church in the town of Saint-Étienne-du-Rouvray Tuesday, killing a priest and injuring one other person.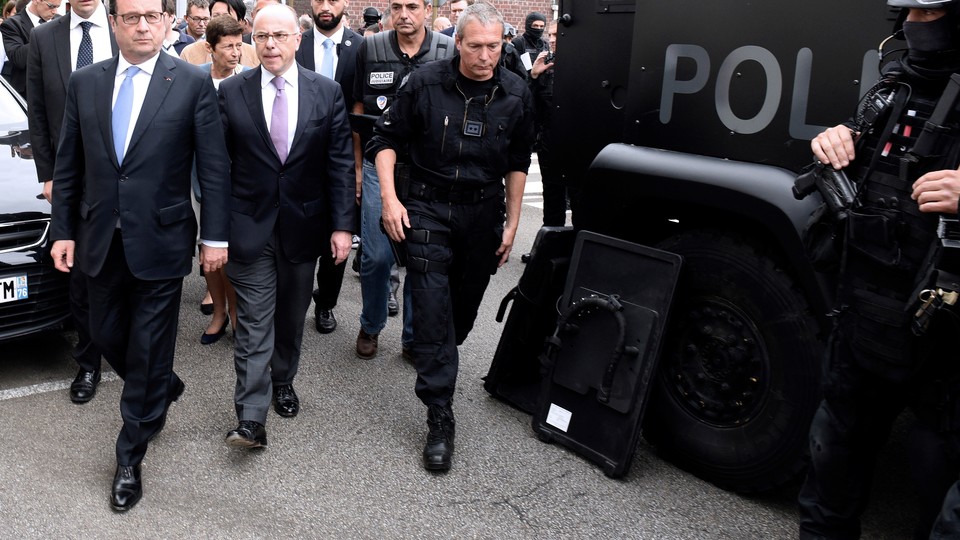 NEWS BRIEF Two knife-wielding men killed a priest and injured one other person in a church in northern France Tuesday, reportedly in the name of the Islamic State.
The attackers took at least four hostages at the church in Saint-Étienne-du-Rouvray, located in the Normandy region. Both men were killed by police after the standoff. President Francois Hollande quickly blamed ISIS, and the ISIS-affiliated Amaq news agency said the terrorist organization took credit for the attack, saying their soldiers had targeted the location in France because the country is part of "the crusader coalition."
The identities of the attackers has not been released, but there are reports that at least one man was on a French terrorist watch list. As the BBC reported:
The selection of a church by the attackers, whatever their motives turn out to be, crosses a new red line in the grim history of recent attacks on continental Europe. The murder of an 84-year-old priest in this attack will have further inflamed public opinion.

News that one of the attackers was on the French government's terror watch-list, known as the S list, will prompt many to question its purpose if he can remain at large to carry a knife into a church.
The victim, the parish priest, was identified as Jacques Hamel. He was killed sometime before 10:50 a.m. local time, shortly after the church held Tuesday Mass. Within the hour the National Police told residents to stay clear of the scene, and had blocked off a security zone. By 11:15 a.m. police said the two men had been "neutralized." A bomb squad has searched the church, and no explosives have been found.
Attendance at the church was low at the time of the attack because many people had left the city for summer holiday. The population of Saint-Étienne-du-Rouvray is about 28,000 people.
This is the fourth terrorist attack in France in less than two years. In January 2015, extremists shot and killed 17 people at the offices of the satirical newspaper Charlie Hebdo; in November of that year, ISIS assaulted a concert at the Bataclan, set off bombs near a soccer stadium, and shot people at restaurants, killing more than 130 people in about 20 minutes; earlier this month, a man drove a truck through a crowded street in Nice during Bastille Day, killing 84.