Unrest Returns to Indian Kashmir
At least 30 people are dead in clashes that began after the killing of a separatist militant leader.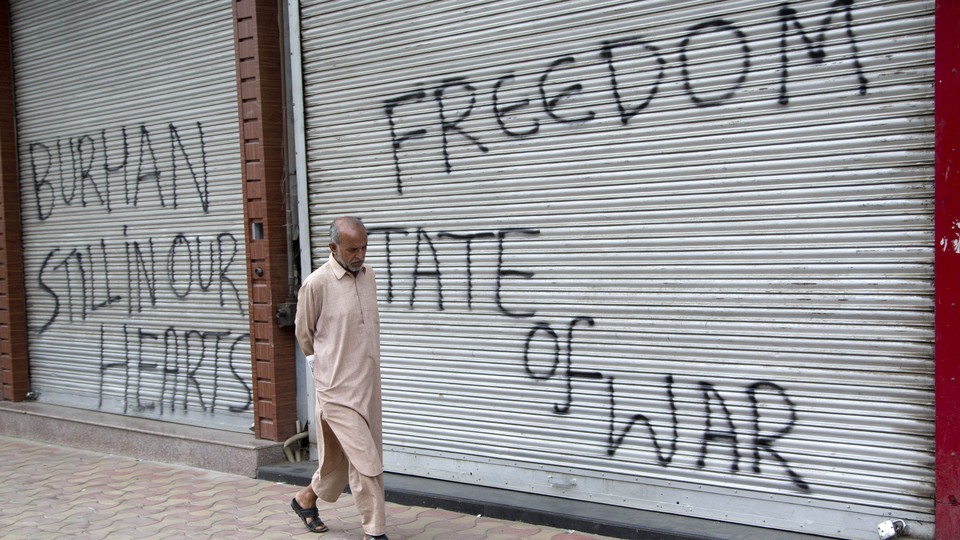 NEWS BRIEF At least 30 people are dead in Indian Kashmir after a weekend of violence prompted by the killing of a separatist militant leader by government troops.
Those killed in the violence include 29 civilians and a policeman whose vehicle, authorities say, was pushed Sunday by protesters into the Jhelum river, drowning him. (The BBC reports the driver lost control of the vehicle as he was trying to avoid stone-throwing protesters).
The Indian Express newspaper has more:
Even as the strict curfew is in place for the third consecutive day, there are reports of people defying the curfew and taking to streets at different places in central and south Kashmir. Kashmir valley erupted after the killing of Hizbul Mujahideen commander Burhan Muzaffar Wani in an encounter on Friday evening.

While the government imposed curfew in all the major towns and villages of Kashmir, people took to streets in large numbers. The security forces fired bullets and pellets to disperse the protestors…
That action resulted in the civilian deaths, the newspaper added.
Wani, the young Hizbul Mujahideen commander, had become the face of the militancy in Jammu and Kashmir, predominantly Hindu India's only Muslim-majority state. He was active on social media and, news reports say, his posts on Indian security forces' actions in Kashmir drew a wide following.
Both India and Pakistan have claimed Kashmir in its entirety since their almost-simultaneous independence from Britain in 1947. India controls a little less than two-thirds of the region; Pakistan a little more than one-third, and China a small portion.
The northern Indian state of Jammu and Kashmir has three main parts: The Kashmir valley, which is predominantly Muslim; Jammu, where Hindus are in a majority; and Leh, where Buddhists and Hindus together form the largest population bloc. Consequently, most people in the valley favor union with Pakistan or independence while those in Jammu and Leh support union with India. The valley's Hindus, many of whom have been forced out of their homes by separatist militants, also support staying with India.
Violence in the region has subsided since its peak in the early 2000s, but there have been periodic flare-ups, including the current unrest.