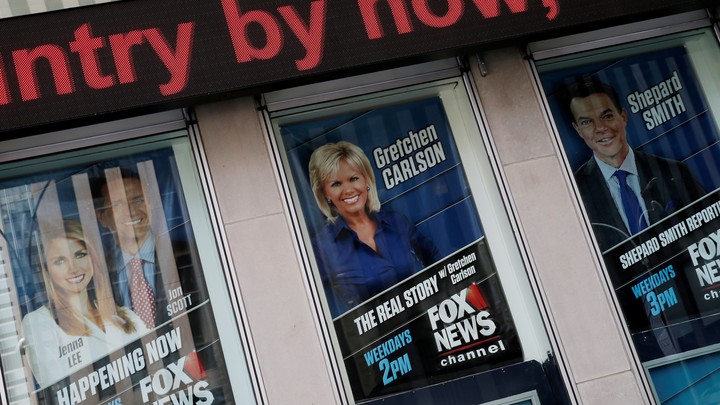 NEWS BRIEF
Gretchen Carlson's website has the usual features you'd expect from the digital presence of a television anchor—a brief biography, photos galleries, videos, positive reviews about new memoirs. As of Wednesday, it has something new: a link to download the lawsuit Carlson filed this morning against her former boss, Roger Ailes, the chairman of Fox News.
Carlson alleges Ailes fired her from the network late last month because she refused his sexual advances, and because she complained to him about sexual harassment in the office. When Carlson met with Ailes to discuss treatment she considered offensive, the complaint alleges, Ailes told her, the lawsuit claims, they "should have had a sexual relationship a long time ago and then you'd be good and better and I'd be good and better," adding that "sometimes problems are easier to solve" that way.
The eight-page lawsuit, filed with the Superior Court of New Jersey on Wednesday, alleges Ailes cut Carlson's salary, blocked her from certain assignments, and "sabotaged her career" after she rebuffed his advances. Scroll to the end of this story to read it in full.
The complaint alleges Ailes injected innuendo and sexist comments into his conversations with Carlson, which including calling her "sexy," "ogling Carlson in his office and asking her to turn around so he could view her posterior," "commenting that certain outfits enhanced Carlson's figure and urging her to wear them every day," and "admonishing her to stop worrying about being treated equally and getting 'offended so God damn easy about everything.'"
In September 2009, the complaint says, Carlson told a supervisor that her Fox & Friends co-host, Steve Doocy, had created "a hostile work environment" by:
… regularly treating her in a sexist and condescending way, including by putting his hand on her and pulling down her arm to shush her during a live telecast. Doocy engaged in a pattern and practice of severe and pervasive sexual harassment of Carlson, including, but not limited to, mocking her during commercial breaks, shunning her off air, refusing to engage with her on air, belittling her contributions to the show, and generally attempting to put her in her place by refusing to accept and treat her as an intelligent and insightful female journalist rather than a blond female prop.
When Ailes learned about Carlson's complaints, the suit says, the network boss called her a "man hater" and told her she needed to learn to "get along with the boys."
Carlson arrived at Fox News in 2005 from CBS News's The Saturday Early Show. She joined the network's morning show Fox & Friends a year later. She left in 2013, which the lawsuit claims was "retaliation" by Ailes, and hosted an eponymous afternoon show until her contract with Fox News ended in June—another retaliatory move, according to the suit.
Carlson is seeking monetary compensation for damages to her career and reputation.
We want to hear what you think about this article. Submit a letter to the editor or write to letters@theatlantic.com.