The End of the Freddie Gray Prosecutions: No Convictions
Prosecutors on Wednesday dropped charges against three police officers, meaning no one will face criminal penalties in the April 2015 death of the Baltimore man.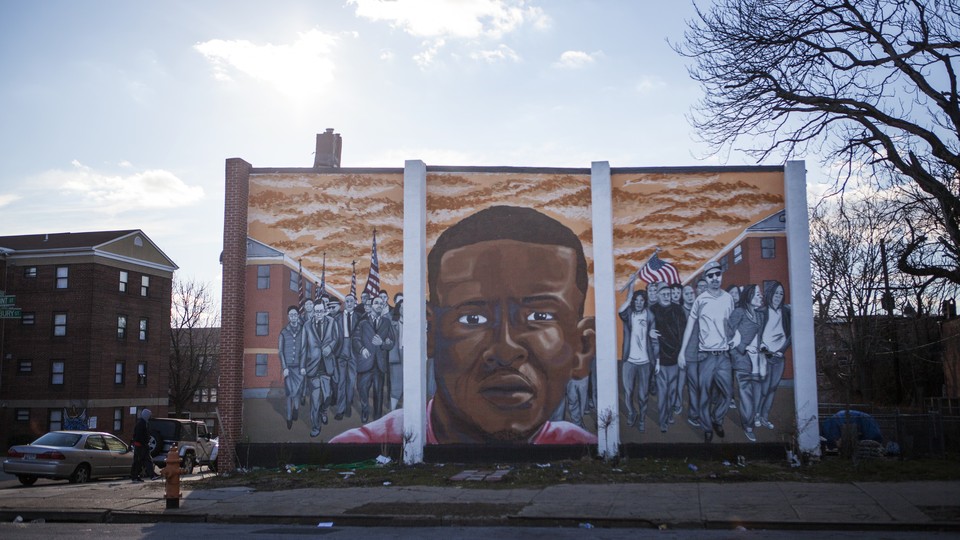 Updated on July 27 at 4:20 p.m.
In April 2015, a 25-year-old black man in Baltimore named Freddie Gray was arrested on questionable grounds and thrown into a police van. By the time he arrived at the county jail less than an hour later, his neck was nearly severed. After a week in a coma, Gray died. His death set off mass demonstrations and a few riots in Baltimore, and they galvanized the police-reform movement: How could a man who posed no threat to the police have been killed while in police custody? To many observers, the case seemed like a clear-cut example of police brutality that called out for criminal prosecution, and Baltimore City State's Attorney Marilyn Mosby quickly brought a strong slate of charges against six officers.
Yet it now appears that no officers will be convicted in Gray's death. After the first trial ended in a hung jury and the next three produced acquittals, prosecutors in Baltimore abruptly dropped charges against three remaining officers in Gray's death on Wednesday morning. The trial of Officer Garrett Miller was supposed to begin Wednesday.
In a scorching news conference on Wednesday, Mosby defended her decision to pursue cases against the officers.
"As prosecutors, we are ministers of justice, and it is our ethical obligation to always seek justice over convictions," she said. "Although no small task, justice is always worth the price paid for its pursuit."
She complained that she and her staff had been "physically and professionally threatened, mocked, ridiculed, harassed, and even sued," but added:
I was elected the prosecutor. I signed up for this and I can take it. Because no matter how problematic and troublesome it has been for my office, my prosecutors, my family, and me personally, it pales in comparison with what mothers and fathers all across this country, specifically Freddie Gray's mother, Gloria Darden, or Freddie Gray's stepfather, Richard Shipley, goes through on a daily basis.
Miller was the fourth officer scheduled to go on trial. The first, William Porter, saw his trial end in December with a hung jury, and until Wednesday, prosecutors had vowed to retry him. The following three trials—including that of Officer Caesar Goodson, who faced the most serious charge, of second-degree depraved-heart murder; Officer Edward Nero; and Lieutenant Brian Rice—all ended with acquittals.
Prosecutors' failure to secure a conviction in the case, despite the details of Gray's death, points to two realities about prosecuting police in brutality cases, one national and one local. First, it underscores the difficulty of prosecuting police. Nationwide, relatively few officers are charged with crimes in cases where civilians are killed, and even fewer are convicted. District attorneys are reluctant to bring charges against police because they depend on them for testimony in other cases, and juries tend to be deferential to cops.
The Baltimore case was supposed to be different, for several reasons. First, Mosby had moved quickly and decisively to charge the officers, which won her praise from reformers but worried an unusual coalition of police advocates and critics of prosecutorial overreach. Second, the Gray case seemed superficially simple: A healthy man entered a police van and was mortally wounded in police custody. How could a crime not have been convicted? Third, Baltimore juries were expected to be unsympathetic to the police.
Other than Porter, however, officers opted for bench trials, forgoing their right to a jury and putting their fate in Judge Barry Williams's hands. Meanwhile, prosecutors were unable to produce the evidence they needed to show that police had intentionally hurt Gray, or had even been negligent. Although they argued in Goodson's trial that Gray had been given a rough ride (the idea that officers intentionally banged him around in the van—not implausible, given a long history of rough rides in Baltimore and elsewhere), Williams scolded them for making incendiary allegations without evidence. Other parts of their cases relied on novel legal theories, charging police for behavior that, while perhaps distasteful, has seldom or never been prosecuted.
After going 0-3-1 through four trials, prosecutors apparently recognized that they were going nowhere. (There were particularly sharp challenges in the Miller case, as The Baltimore Sun explains.) Mosby has come in for sharp criticism, including some calls for her to be disbarred. It's an ironic denouement: A prosecutor who presented herself as vanquishing a heavy-handed criminal-justice system is now portrayed as an exemplar of it.
During her press conference Wednesday, Mosby said there is "an inherent bias when police police themselves" and she accused police officers of sabotaging her case: placing officers who were witnesses on the investigation team, failing to ask tough questions, and being "completely uncooperative" and launching "a counterinvestigation to disprove the state's case." It's not immediately clear what Mosby is referring to. She has been under a gag order on the case, and she did not take questions, citing civil suits against her.
For advocates, the Gray trials are perhaps not a total loss. David Jaros, a law professor at the University of Baltimore, told me in June that the trials had done an important service in putting allegations of brutality into the public record, even where there wasn't evidence to convict.
"We have ample evidence that rough rides are occurring, even if there wasn't a rough ride in this case. We have the state's attorney acknowledging for the first time that police routinely grab people on the street, throw them up against the wall without probable cause, and search them," he said. "How are we going to stop this egregious behavior?"
For Jaros, the answer was that police reform requires a broader effort, not one that relies on the criminal-justice system to change behavior around the margins. Prosecutors' surrender on Wednesday seems to validate the need for reformers to look elsewhere.
As for the Gray family, it settled with the city of Baltimore for $6.4 million last fall. But a big payout doesn't bring Freddie Gray back, and as the families of other people who died at the hands of police have noted, it's not the same as justice, either.