The Turkish President's Arch-Nemesis
A reading list on Fethullah Gulen, the cleric accused of helping orchestrate Friday's coup attempt.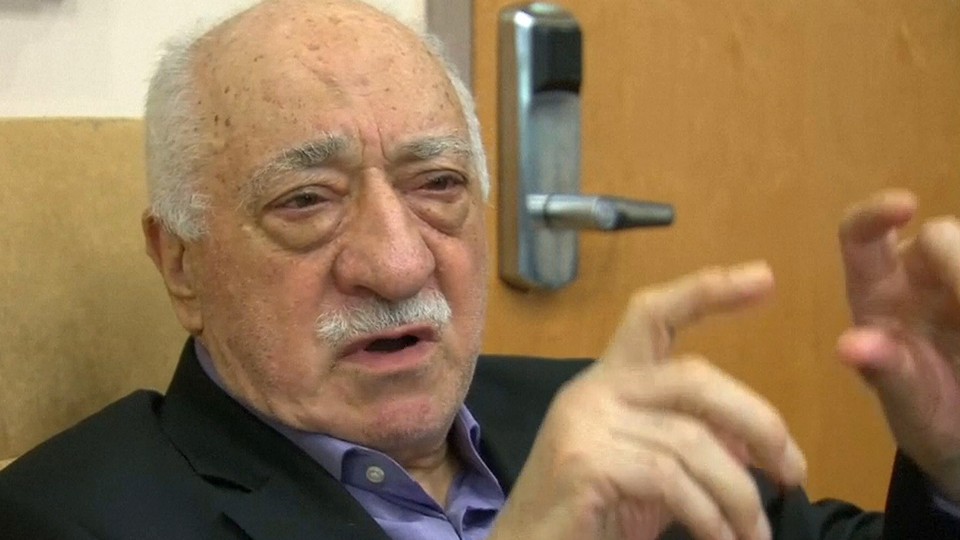 Who is Fethullah Gulen and why is Turkish President Recep Tayyip Erdogan convinced the cleric's supporters, dubbed Gulenists, were behind last week's coup attempt? Those two questions are perhaps central to understanding what's happening in Turkey in the aftermath of last Friday's failed putsch.
Who is Gulen?
The cleric is the head of the Hizmet ("Service") movement, a community that espouses a moderate strain of Islam, but whose critics dismiss as cult-like. Since 1999, Gulen has lived in self-imposed exile in Pennsylvania. He rarely gives interviews, but his followers preside over a network of businesses, schools, and charitable organizations the world over. Writing in The New Republic in 2010, Suzy Hansen chronicled in "The Global Imam" just how influential Gulen and his movement are in Turkey and elsewhere. Here's an excerpt:
As I became more acquainted with Turkey, it began to seem as if everything there was somehow linked to Gülen. Not only NGOs, businesses, and schools, but also people. "This article is good," I would say. "Yes, but you know, that writer is Gülen," would come the reply. Sometimes, calling someone "Gülen" seemed to reflect fear or prejudice, and pinning down whether or not any given organization was tied to the Gülen movement was rarely a simple matter. As someone at the Rumi Forum in Washington—another organization where Gülen serves as honorary president—put it, "If you say you are in [the Gülen movement], if you say that at 12:20, and say you are out at 12:21, you are out." One Turkish acquaintance joked to me, "Who knows? Every day, when I go to the bakery or get my groceries, I could be giving money to Gülen. Who knows!" "They're everywhere" is a common refrain. At times, suspicions about the Gülenists sound like anti-Semitism—they run the media, they're rich, they stick together, they only help their own.

If you ask Gülenists—who blanch at the words "follower" and "member," as well as the term "Gülenist" (in Turkish, the term is Fethullahçı, referring to his first name)—they will call themselves a "faith-based, civic society movement" or a "volunteers movement" made up of people who admire the thoughts and writings of Gülen. They are an organic network of people, they say, whose goal is to do good works at Gülen's noble behest while spreading his message of love and tolerance, as well as his vision of Islam. According to academics who have studied the movement, there are, more or less, three levels of involvement: sympathizers, who admire Gülen; friends, who, to some degree, support or work for the movement; and the cemaat, or community, the core adherents who are closest to Gülen himself. …

Gülen's views are moderate and modern. He is fiercely opposed to violence and enthusiastic about science. According to Gülen, "avoiding the physical sciences due to the fear that they will lead to heresy is childish." He is emphatically not a radical Islamist. "The lesser jihad is our active fulfillment of Islam's commands and duties," he has written, and "the greater jihad is proclaiming war on our ego's destructive and negative emotions and thoughts ... which prevent us from attaining perfection." He has exhorted women to take off their headscarves, a ritual he considers "of secondary importance," in order to attend university in compliance with Turkey's secular laws. His followers run nonprofit organizations that promote peace, tolerance, and interfaith dialogue, and Gülenist businessmen devote their resources to building secular schools.
Why does the Turkish government oppose him?
Erdogan, who heads the Islam-rooted Justice and Development Party (AKP), and Gulen were once close—and both opposed the Turkey's formerly strict interpretation of secularism that punished overt expressions of Islam. Both are devout Muslims, but as Mustafa Aykol pointed out for Al-Monitor, Erdogan espouses a more political Islam while Gulen advocates a more cultural Islam. As Aykol explained in "What you should know about Turkey's AKP-Gulen conflict":
Had the Gulen movement been limited only to cultural Islam, this current tension would be limited. Most observers agree that the movement in fact has its own version of a political effort: aiming for members to obtain jobs within the judiciary and the police. Apparently, this began back in the '70s as an effort to transform a hostile state — Turkey's draconian secular regime — by gradually joining its ranks. Since it has been a covert task, it has always been a matter of speculation and a source for conspiracy theories.
The perceived lack of transparency in Gulen's movement, combined with its reach within the government and society, and the unsubstantiated belief that Gulenists form a parallel state all contributed to the schism between the two men. So did the investigation of Erdogan's former spy chief, who was involved in secret negotiations with Kurdish separatists. The BBC's Guney Yildiz, in a January 2014 review, "Analysis: Power of Turkey's Fethullah Gulen," noted:
Now, with hindsight, we can say that Mr Erdogan had been preparing for this battle at least since the beginning of 2012. That was when prosecutors allegedly close to Hizmet tried to investigate the chief of the National Intelligence Organisation, a close ally of Mr Erdogan, who was conducting secret talks with the armed Kurdistan Workers' Party (PKK).
Der Spiegel's Maximilian Popp, also in January 2014, had more details in "A Brother's Vengeance: The Preacher Who Could Topple Erdogan" on what drove the two sides apart. In addition to the investigations, it also centered, according to Popp, on Gulen's nationwide "tutoring centers" that trained more than a million students for exams needed to enter Turkey's judiciary and police.
In February 2012 state prosecutors attempted to apprehend Erdogan's intelligence chief. The prime minister prevented [Hakan] Fidan's arrest —and transferred police powers to intelligence. The media attacked Erdogan's actions with the same vehemence they once reserved for the opposition. In summer 2013 Gülen criticized Erdogan for his brutal handling of the Gezi protesters.

But only after Erdogan threatened to close the tutoring centers did the conflict escalate. Lawmaker Hakan Sukur, a former soccer player and national hero, announced his resignation from the AKP: "As a supporter of the movement, I take the hostilities against Gülen personally," he said. Afterward, the daily newspaper Zaman called him a "hero with a lion's heart" and interpreted his resignation as a "final warning."

The corruption scandal shook the country just a day later.
The scandal resulted in the arrests of 52 people connected with the AKP. Fourteen top officials were charged with corruption. The arrests were believed to have been orchestrated by Gulen's supporters within the government. In response, the government cracked down by purging the civil service and other institutions of the cleric's sympathizers.
What's next?
Erdogan has accused Gulen of being behind last Friday's coup attempt and told CNN on Monday that Turkey will file a formal request with the U.S. to extradite him.
"We have a mutual agreement of extradition of criminals so now you ask someone to be extradited, you're my strategic partner I do obey, I do abide by that," he said. "But you don't do the same thing well, of course, there should be reciprocity in the types of things."
Speaking over the weekend, John Kerry, the American secretary of state, said Turkey should first "present us with any legitimate evidence that withstands scrutiny." Those remarks angered Turkish officials. Prime Minister Binali Yildirim said Monday:  "We will be a little bit disappointed if our friends say 'show us the evidence' while there are members of this organization which is trying to destroy a state and a person who instructs it."
Kerry also dismissed the idea of U.S. involvement in the coup attempt, but that perception may be hard to shake in Turkey among opponents of Gulen. As BuzzFeed News reported in 2014, in Secretive Turkish Movement Buys U.S. Influence:
Here in the United States ... Gülen's allies have been stepping up their involvement in U.S. politics, emerging as a force in districts from South Texas to South Brooklyn. Liberal Democrats like Yvette Clarke, Sheila Jackson Lee, and Al Green, and conservative Republicans like Ted Poe and Pete Olson have all benefitted from donors affiliated with Gülen in one way or another.

Leaders in the movement deny that there is any top-down organization of the donations (or, indeed, that the Gülen movement has any organization at all), but the patterns of giving suggest some level of coordination in a community beginning to flex its political muscle. Gülen himself reportedly told followers in 2010 that they could only visit him in the Poconos if they donated to their local congressman, according to the Wall Street Journal, though Gülen has denied the comment.
Gulen, a permanent resident of the U.S., himself appeared to be unperturbed by the allegations and the request that he be extradited. He told The Wall Street Journal on Sunday:
"I don't believe the U.S. will honor a request that is based on the enmity of a regime, which is recognized as dictatorial and has lost all of its credibility in the eyes of the world," Mr. Gulen said from his home in rural Pennsylvania, where he has lived in self-imposed exile since 1999.
He added: "Under any circumstances, if I had to return to Turkey and face the gallows, I will not blink an eye. I am 77 years old and I look forward to meeting my Lord and the life in the hereafter."