Mourning in Bangladesh
The country observed the first day of national mourning for the victims of the terrorist attack at a restaurant in Dhaka.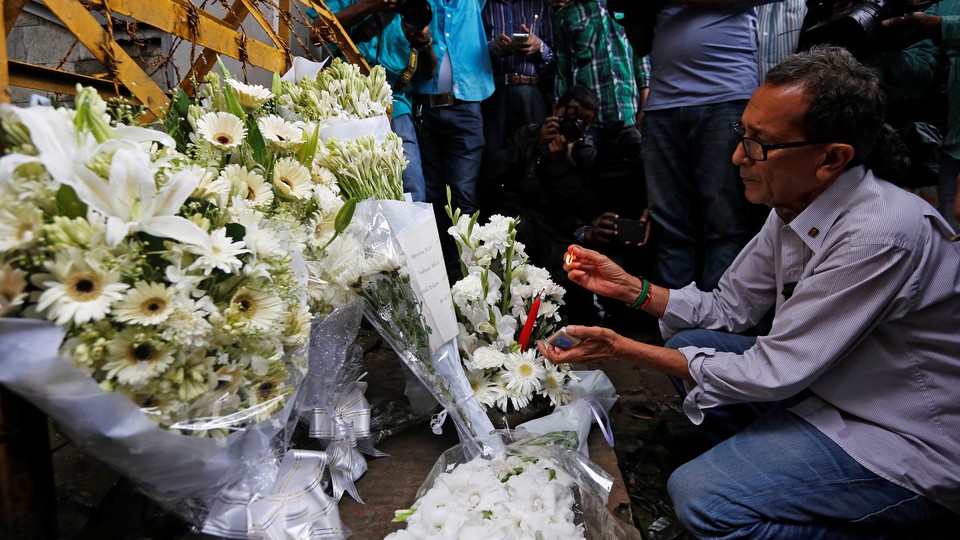 Mourners in Dhaka held a candlelit vigil Sunday night for the victims of the terrorist attack at a restaurant that left 22 people dead, marking the first of two days of national mourning in Bangladesh.
People held white candles in remembrance of those killed in the assault Friday night. A makeshift memorial of candles, flowers, and notes had been set up near the site of the carnage, the Holey Artisan Bakery, an eatery popular among expatriates in the city.
"I request everyone to unite against these handful criminals," said Shiekh Hasina, Bangladesh's prime minister, in a televised address Sunday.
Seven assailants, armed with bags full of weapons, stormed the restaurant Friday night and stayed there for nearly 11 hours before police raided the building. By the end of the siege, 20 hostages were dead: nine Italians, seven Japanese, two Bangladeshi, and a citizen each from India and the United States. Most had been killed with sharp weapons, including machetes. Two police officers who arrived after gunshots were heard also died. All but one of the attackers were killed by police; the remaining attacker was captured alive. The Islamic State said it was responsibility for the rampage, but Bangladeshi officials have denied the claim.
The gunmen appear to have targeted foreigners; witnesses say the attackers asked Bangladeshi citizens to come out of hiding inside the restaurant. Police rescued 13 hostages after the siege was over.
The Italian victims, most of whom worked at textile companies, were dining together when the gunmen entered. They are, according to the AP, Nadia Benedetti, 52; Claudio Cappelli, 45; Vincenzo D'Allestro, 46; Claudia Maria D'Antona, 56; Simona Monti, 33; Adele Puglisi, 54; Maria Riboli, 34; Cristian Rossi, 47; and Marco Tondat, 39.
The Japanese were also dining together that night, and worked for Tokyo-based consulting companies and on a Japanese government aid project in Dhaka. They are Koyo Ogasawara, 56; Makoto Okamura, 32; Yuko Sakai, 42; Rui Shimodaira, 27; Hiroshi Tanaka, 80; Nobuhiro Kurosaki, 48; and Hideki Hashimoto, 65.
Tarushi Jain, 19-year-old student at University of California-Berkeley who was visiting her father in Bangladesh, was dining with her friends Abinta Kabir, a U.S. citizen and a student at Emory University in Georgia, and Faraaz Hossain, also a student at Emory who was living in Dhaka. All three were killed.
The Bangladeshi victims and police officers have not yet been identified.
Dozens of people have been killed in Bangladesh by suspected Islamist extremists in recent years. But the attacks were mostly isolated incidents targeting individuals like secular bloggers, LGBT activists, or professors. Hostage situations like the one at Holey Artisan Bakery are unprecedented in Bangladesh, and the Gulshan district, where the attack occurred, is considered a safe area, home to affluent residents and embassies.