Bangladesh's Long Road to Islamist Violence
For a time, the secular democracy seemed to have a handle on the militants in its midst. What happened?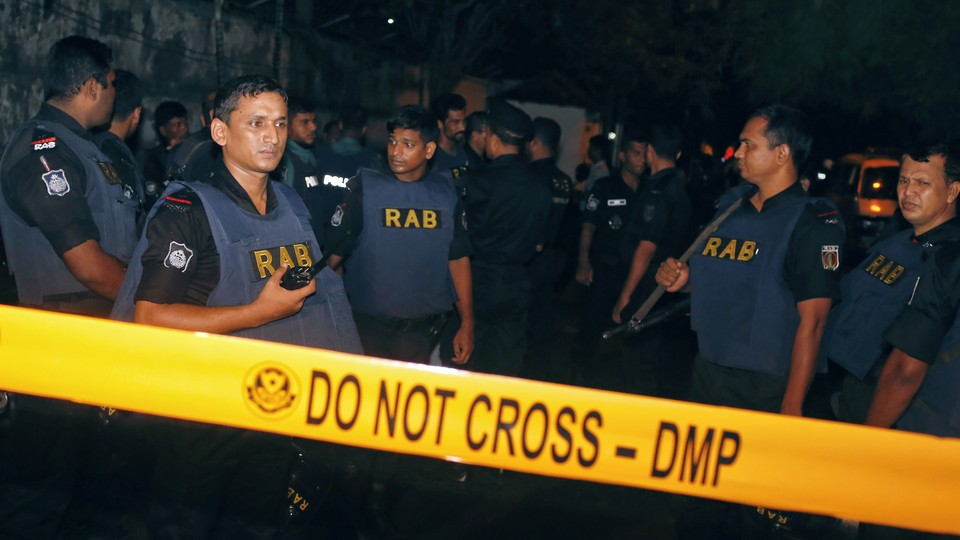 On Thursday, three people died in an attack at an Eid celebration near the Bangladeshi capital of Dhaka. That incident follows another outburst of violence last Friday, when gunmen stormed a restaurant in Dhaka's diplomatic quarter, killing 20 in the worst terrorist attack in the country's history. These were only the latest in a series of dozens of deadly attacks over the past few years in the predominantly Muslim nation of 156 million people, as Islamist militants there have targeted bloggers, secular activists, and others.  
Since 2005, Bangladesh has seen about 60 major attacks that have claimed approximately 600 lives—and about 90 percent of the attacks have occurred since 2013.
"We are seeing something qualitatively and quantitatively quite different than what we've seen before," C. Christine Fair, an associate professor at Georgetown University, told me in an interview. "This is worrisome."
The South Asian nation is officially a secular democracy. In the past, it has dealt domestic militancy—leftist radicals in the 1970s and Islamists in the 1990s—for the most part effectively. It was not wracked with the kind of violence that afflicted regional neighbors such as Pakistan and Afghanistan. But the accelerating attacks of the past few years raise the question: What happened?
The roots of the current wave of militancy in Bangladesh go back to the 1990s, Ali Riaz, a professor at the Illinois State University, told me. "It had a direct connection with [the war in] Afghanistan when Bangladeshi volunteers in the conflict came back." These returnees operated mostly along the borders with Myanmar and India's northeast; their proliferation within Bangladesh was limited. But that changed.
In 2005 the outlawed Jamaat-ul-Mujahedeen Bangladesh (JMB) succeeded in detonating nearly 500 bombs in 63 of 64 of Bangladesh's districts within an hour of one another. The explosions had limited impact, but the experts I spoke to pointed out that the logistics of pulling off an operation like that in a country with more navigable rivers than roads were impressive. "It was a show of force and showed the reach of JMB," Riaz said.
But the government at the time—led by the Bangladesh National Party,
which was in alliance with the Jamaat-e-Islami (JI), an Islam-rooted party—had denied the existence of the problem, Riaz said. These denials, in addition to moral, and in some cases logistical, support from some elements in the government, allowed JMB to grow, Riaz said.
But in 2006, things changed. The BNP-led government was replaced by a military-backed caretaker government that cracked down on militants. "The government came up with a very robust counterterrorism strategy," Riaz said. "They went after militants."
The Awami League, which came to power in 2009, continued that approach. But the fight began to falter around 2012. At that point, according to Riaz, "the government seemed to move resources to chasing political opponents rather than militant groups. Whatever the reason that drove them to this shift … [it] created the space where militant groups started to flourish."
Within that context, by 2014, the Islamic State was strengthening its ability to attract young people as far from its core territory in the Middle East as Europe, North America, and Asia. Its major rival in South Asia is al-Qaeda in the Indian Subcontinent (AQIS), al-Qaeda's branch in the region. And it was the Islamic State that claimed responsibility for last Friday's attack on the Holey Artisan Bakery.
"As of now, what I see is ISIS and AQIS have made inroads into Bangladesh," Riaz said, adding they are being supported by local groups. Fair said JMB has "essentially repurposed" itself by trying to link itself to ISIS. Indeed, she believes while ISIS and AQIS are definitely present in Bangladesh, it's highly unlikely ISIS directly planned last Friday's attack.
She points out that each attacker appears to pose in separate photographs before the attack with the same gun, an AK-22, which is, in essence, a training gun for the AK-47, the weapon of choice for militants the world over. Most victims of the attack were reportedly stabbed to death; and pistols, as well as three AK-22s, were recovered from the scene—not the hallmark, Fair says, of an ISIS-directed attack.
"The problem with all of this, I think, comes down to defining critically: What is ISIS and what qualifies as an ISIS attack?" Fair told me. "It matters for a couple of reasons because if you start to go down the ISIS rabbit hole, as so many people have, then you start looking for answers elsewhere. You start looking for foreign connections and all of this stuff, when from everything that is evident these look very much like homegrown Bangladeshi militants that have donned this ISIS uniform largely for the publicity they got for the attack."
Still, the photographs of the six young attackers show them posing in front of the flag of the Islamic State. They are each dressed in black, have donned red kaffiyehs, hold guns, and have smiles on their faces that belie what they would do next: kill 20 people on the last Friday of the holy month of Ramadan.
Yet Bangladeshi authorities have been reluctant to label that event an ISIS attack. Asaduzzaman Khan, Bangladesh's home minister, told Reuters: "If I fix a poster of IS here and stand with a machine gun, will it establish that IS is here?"
Khan and other officials have blamed JMB, which has pledged allegiance to ISIS, though direct links between the two organizations appear to be tenuous. But Fair points out: "We have to take seriously the fact that the fellows did choose to parade about an ISIS flag. They clearly intended to give the impression that this was a much more international operation than you would have gathered from the actual details of the attack."
Fair, who is a critic of the BNP and JI's activities, also criticizes the Bangladesh government's approach to Islamist militancy in the country under Prime Minister Sheikh Hasina. "She has been using every opportunity to hunt down, criminalize … to eviscerate Jamaat-e-Islami and BNP," Fair says.
Indeed, 11,000 people, including many BNP workers, were arrested last month after the brutal killings of activists and others. Fair says the arrests are part of a broader problem with Bangladesh, where there are high levels of support for suicide bombings. "Bangladesh is often lauded as a secular democracy," she says, "but it really isn't in many ways. … This government has taken away the ability to be a moderate Muslim in Bangladesh."
Riaz agrees with that assessment, and he too blames the opposition.
"The opposition parties … too bear responsibilities for creating the enabling environment as they have adopted violence in 2013 and 2015. … These," he says, "have long-term implications, these actions have also naturalized violence."