The Dallas Shootings: What We Know
Five officers were killed by snipers after gunfire erupted during protests Thursday night.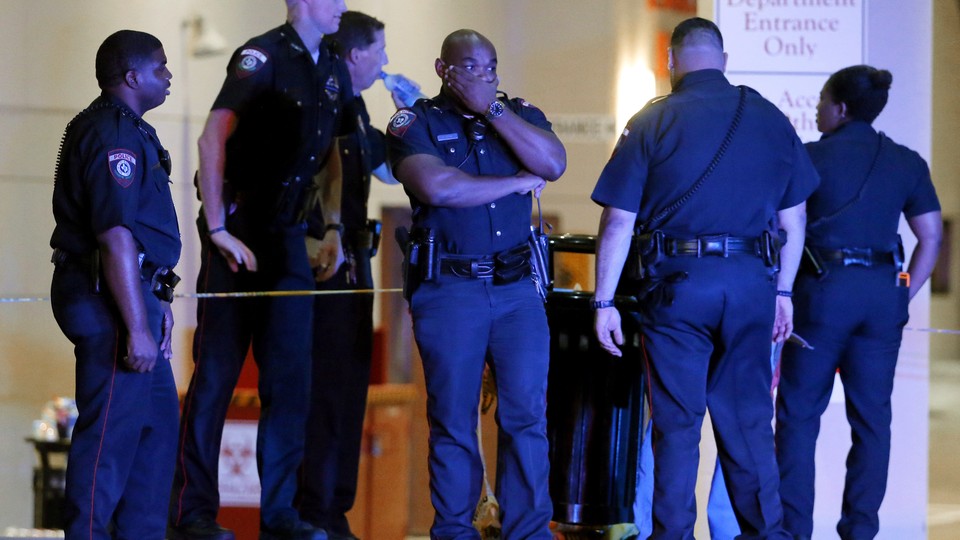 What we know:
—Twelve officers were shot by one gunman, identified by police as 25-year-old Micah Johnson, in downtown Dallas on Thursday night. Of these, four Dallas police officers and one officer from the Dallas Area Rapid Transit were killed.
—Johnson was killed by police officers early Friday morning. Three others were taken into custody following the shooting, but no further details about their role, if any, have been released by officials. The slain suspect said he "wanted to kill white people," the Dallas police chief said.
—The deadly attacks occurred during protests against police-involved shootings of black men this week in Louisiana and Minnesota. In separate incidents, officers also appear to have been targeted in Tennessee, Georgia, and Missouri, but no police were killed in those encounters.
—We're live-blogging the major updates, and you can read how it all unfolded below. All updates are in Eastern Standard Time (GMT -5).
---
9:01 p.m.
President Obama will return to the United States ahead of schedule from his European trip, the White House said Friday evening.
Obama attended an annual NATO summit in Poland on Friday. He will travel next to Spain, where he'll meet with the country's leaders before returning to Washington on Sunday night.
The White House said Obama also accepted an invitation from Dallas Mayor Mike Rawlings to visit the city early next week, where he is expected to speak about the shootings as well as broader issues of race and policing.
---
4:56 p.m.
The Dallas Police Department in a statement on the investigation said "detectives have interviewed over 200 officers and it appears at least 12 officers discharged their duty weapons."
The department officially identified the dead shooter as Micah Johnson, 25; he had no criminal history, the statement said. Here's more:
The suspect's Facebook account included the following names and information: Fahed Hassen, Richard GRIFFIN aka Professor Griff, GRIFFIN embraces a radical form of Afrocentrism, and GRIFFIN wrote a book A Warriors Tapestry.

During the search of the suspect's home, detectives found bomb making materials, ballistic vests, rifles, ammunition, and a personal journal of combat tactics.  Detectives are in the processing of analyzing the information contained in the journal
Separately, the department said, a man identified as Brandon Waller, 25, was arrested during the protests late Thursday on unrelated weapons charges. The statement did not offer any information on the three others—two men and a woman—arrested earlier. It's unclear if Waller is one of them.
---
4:41 p.m.
Another officer has been shot—this one in Valdosta, Georgia. The city said the suspect called 911 to report a break-in, and then ambushed, and shot the officer. Here's more:
Officer Randall Hancock, a 10-year VPD veteran, arrived on-scene, and shortly after arriving, was shot multiple times by an Asian male in the parking lot. The officer then returned fire and radioed for emergency assistance, resulting in other Valdosta Police Officers and officers from multiple agencies responding to assist.

Both Officer Hancock and the male offender were transported to South Georgia Medical Center (SGMC) for treatment. Officer Hancock underwent surgery and is in stable condition. The male offender is also in stable condition and has been transported to a hospital in Florida.
"I'm relieved that my officer is fine," Chief Brian Childress said at a news conference. "I'm equally relieved the offender is going to make it."
---
3:16 p.m.
An officer has been shot in Missouri. The St. Louis Post-Dispatch reports, citing sources, that an officer was shot in the neck and critically wounded during a traffic stop in Ballwin. Here's more:
They said without further explanation that the officer was shot at least once from behind and there were at least three shots fired at him. A suspect was captured shortly later during a foot chase, the sources say.
Meanwhile, investigators say a man who opened fire on a highway in Tennessee on Thursday, killing one person and wounding three others, including a police officers shot in the leg, may have acted after "being troubled by recent incidents involving African-Americans and law enforcement officers in other parts of the country." The alleged gunman, who was arrested, was identified as Lakeem Keon Scott.
---
2:54 p.m.
Josh Earnest, the White House spokesman, said at a news briefing investigators had ruled out any links between the shooter and terrorist groups.
---
1:52 p.m.
Texas Governor Greg Abbott and Dan Patrick, the state's lieutenant governor, have both reacted to the killings.
Here's Abbott's statement, in part (via the Morning News):
In the coming days, there will be those who foment distrust and fan the flames of dissension.

To come together - that would be the greatest rebuke to those who seek to tear us apart.

There is far more that binds us together. We see that great strength in times of tragedy, in times of great need. Whether fire or flood or the acts of depraved individuals, Texans are the first to open their hearts, their homes, their wallets to offer charity and love.

   
Patrick, appearing on Fox News, said: "I do blame people on social media with their hatred toward police. I do blame … [people] calling police racist without any facts. I do blame former Black Lives Matter protests. Last night was peaceful, but others have not been … this has to stop."
---
1:44 p.m.
A prayer vigil in Dallas for the slain officers has attracted hundreds of people.
Speaking at the vigil, Chief David Brown, wiping away tears, said: "This was a well-planned, well-thought-out, evil tragedy."
---
1:07 p.m.
The Associated Press, quoting the Army, is reporting that the slain Dallas attacker served a tour in Afghanistan.
BREAKING: Army says Micah Xavier Johnson, named as #Dallas shooting suspect, had served as enlisted soldier; served tour in Afghanistan.

— The Associated Press (@AP) July 8, 2016
Officials, as we've previously said, have not publicly identified the attacker.
The Army later said Johnson was a private first class who had been deployed to Afghanistan  from November 2013 to July 2014. He served in the 420th Engineering Brigade, which is based in Texas, as a carpentry and masonry specialist. Johnson served in the Army from March 2009 to April 2015.
---
12:27 p.m.
The president has ordered flags to fly at half-staff until sunset on July 12 in response to the killings. Here it is, in part:
As a mark of respect for the victims of the attack on police officers perpetrated on Thursday, July 7, 2016, in Dallas, Texas, by the authority vested in me as President of the United States by the Constitution and the laws of the United States of America, I hereby order that the flag of the United States shall be flown at half-staff at the White House and upon all public buildings and grounds, at all military posts and naval stations, and on all naval vessels of the Federal Government in the District of Columbia and throughout the United States and its Territories and possessions until sunset, July 12, 2016. I also direct that the flag shall be flown at half-staff for the same length of time at all United States embassies, legations, consular offices, and other facilities abroad, including all military facilities and naval vessels and stations.
Separately, Attorney General Loretta Lynch in a televised statement said: "After the events of this week, Americans across the country are feeling a sense of helplessness, of uncertainty, and of fear. These feelings are understandable and they are justified. But the answer must not be violence. The answer is never violence."
---
11:05 a.m.
Details are emerging about the man who was killed by a police robot bomb in the Dallas garage.
Alleged Dallas gunman Micah X. Johnson was an Army veteran, an Army personnel spokesperson confirmed to me. #DallasPoliceShooting

— Alex Horton (@AlexHortonTX) July 8, 2016
Later, CNN, citing a law-enforcement official, reported Johnson had no criminal record or known ties to terrorism.
---
10:53 a.m.
The Los Angeles Times, CBS News, and NBC News, citing anonymous sources, are identifying the shooter killed in the garage as Micah Johnson, 25, of Mesquite, Texas. Some news organizations are identifying him as Micah X. Johnson; others as Micah Xavier Johnson. Authorities have not publicly confirmed the dead man's identity.
---
9:15 a.m.
We have reactions from the presumptive presidential nominees of the two main political parties:
Prayers and condolences to all of the families who are so thoroughly devastated by the horrors we are all watching take place in our country

— Donald J. Trump (@realDonaldTrump) July 8, 2016
I mourn for the officers shot while doing their sacred duty to protect peaceful protesters, for their families & all who serve with them. -H

— Hillary Clinton (@HillaryClinton) July 8, 2016
My colleague Priscilla Alvarez's story on the political reaction to the killings is here.
---
8:44 a.m.
Police Chief David Brown, at a news conference this morning, said the suspect who was cornered in a garage was blown up by a bomb robot dispatched by police. He did not kill himself as had been reported, Brown said.
"He was upset about Black Lives Matter," Brown said of the suspect. "He was upset about" the shootings in Louisiana and Minnesota. He said "he wanted to kill white people, especially white officers."
Brown said the suspect said he wasn't affiliated with any group and was acting alone. "The suspects said other things that are part oft his investigation," he said.
---
8:28 a.m.
Dallas Mayor Mike Rawlings told NBC's Today show that the three suspects in custody are not cooperating with police.
"They are being pretty tight-lipped about it," he said.
He said their motivation was to "kill police officers, and, sadly, they did."
Rawlings said eight Dallas police and five transit officers were shot, along with two civilians. We know that five Dallas officers and one transit officer are dead.
---
8:15 a.m.
Dallas Mayor Mike Rawlings says the suspect involved in a stand-off with police died after officers used explosives to "blast him out." This was the suspect Police Chief David Brown said had earlier been "cornered" in a downtown parking garage and exchanging gunfire with SWAT officers.
---
7:40 a.m.
It turns out police mistakenly identified a suspect last night, but within hours it became clear Mark Hughes had nothing to do with the shootings.
Here's what happened: The Dallas Police Department identified Hughes, who was carrying a gun during the protests, as a suspect in a tweet that was recirculated tens of thousands of times:
But within hours, images and video footage of Hughes showed him among the protesters at the time of the shootings.
His brother Cory Hughes told local media Hughes was merely exercising his constitutional right to bear arms. Texas has open-carry laws that permit such public displays of weapons.
Mark Hughes later told local TV that he didn't know his face had been plastered on TV screens across the country.
"We received a phone call that my face was on there as a suspect, and immediately I flagged a police officer," he said.
Indeed, he is seen in a video handing his weapon over to a police officer. The department later tweeted that he had turned himself in. Mark Hughes later told local media he was questioned by officers for about 30 minutes. They told him, he said, that they had video of him shooting.
"At the end of the day," he said, "the system was trying to get me."
He added: "I don't know what to say. I can't believe it."
The local CBS affiliate in Dallas spoke to the Hughes brothers. The full interview is worth watching:
The Dallas Police Department has not yet released information about Hughes being freed or no longer being a suspect.
---
7:23 a.m.
Speaking in Warsaw, President Obama said the officers had been targeted. You can watch the president's remarks here:
"We are horrified over these events, and that we stand united with the people and the police department as it deals with this tremendous tragedy," Obama said. "We still don't know all the facts. What we do know is that there has been a vicious, calculated, and despicable attack on law enforcement."
---
Updated at 5:28 a.m.
A fifth Dallas police officer has died:
It has been a devastating night. We are sad to report a fifth officer has died.

— Dallas Police Depart (@DallasPD) July 8, 2016
DART identified its slain officers as Brent Thompson, 43, who joined the transit agency's police department in 2009. He's the first DART officer killed in the line of duty. The transit police department identified the injured officers as Omar Cannon, Misty McBride, and Jesus Retana.
President Obama, speaking in Warsaw, Poland, called the attacks "vicious, calculated, and despicable."
---
Updated at 1:59 a.m.  on July 8
Two gunmen shot eleven police officers in Dallas, Texas, during a protest on Thursday night, killing at least four of them, police said. The death toll makes this one of the deadliest days for police in the history of American law enforcement.
At a late night press conference, Dallas Police Department Chief David Brown said a male suspect is "cornered" and exchanging gunfire with SWAT officers in a downtown parking garage. The suspect told officers "the end is near" and claimed he had placed bombs throughout the building and the downtown area, Brown said.
A female suspect is also in custody, Brown added, although he did not identify her as a shooter. Police officials also said two suspects were taken into custody on a nearby highway. It's unclear whether there are other suspects still at large.
No motive has yet been established and it's unclear whether the shooting was related to the protest.
"Tonight it appears that two snipers shot ten police officers from elevated positions during the protest/rally," Brown said in an initial statement. "Three officers are deceased, two are in surgery, and three are in critical condition. An intensive search for suspect is currently underway." The police department later said an eleventh officer had also been injured and a fourth officer had been killed.
"At 8:58 p.m., our worst nightmare happened," Dallas Mayor Mike Rawlings said at the press conference.

Two of the deceased officers are from the Dallas Police Department. Dallas Area Rapid Transit also said four of the officers were from its police department, including one of the fatalities, on its official Twitter account.
Four DART police officers were shot in downtown Dallas. 1 deceased, others not life-threatening. No IDs yet. Updates via twitter.

— dartmedia (@dartmedia) July 8, 2016

The shootings occurred during a protest against police killings earlier this week in Louisiana and Minnesota. Hundreds rallied in downtown Dallas, near the corner of Main Street and Lamar Street. Local news footage captured what sounds like several gunshots being fired, and the crowd scattering.
Texas Governor Greg Abbott said he would end an out-of-state trip and return to Dallas following the shootings. In a statement, he also offered his condolences to the officers' families.
Texas Lieutenant Governor Dan Patrick initially said more than one officer had been shot in Dallas, but did not have further details on the number or their condition.
Our thoughts and prayers are with the police officers who were shot in #Dallas tonight. Awaiting further details.

— Dan Patrick (@DanPatrick) July 8, 2016
As the Washington Post noted, Dallas's reform-oriented police department is considered a national model, credited with improving transparency and lowering homicide rates. The department's official Twitter account posted photos earlier Thursday night of officers peacefully mingling with protesters at the demonstration.
We'll update this story with more information as it becomes available.