Dallas Police Chief: 'We're All on Edge'
David Brown, the head of the city's police force, said Monday investigators are reviewing hours of video footage of last week's deadly attack in Texas.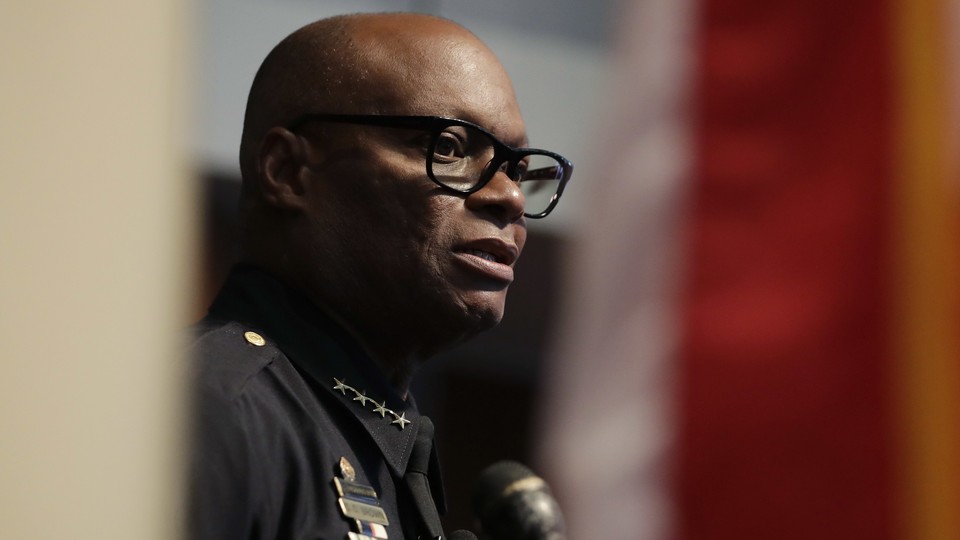 NEWS BRIEF The Dallas Police Department will review more than 170 hours of footage from body cameras worn by police at a demonstration against police violence last week where a sniper killed five officers and injured nine more, the department's chief said Monday.
Dallas Police Chief David Brown said in a news conference that officials are reviewing 300 witness statements and collecting video footage from body cameras, dashboard cameras, and surveillance cameras at the intersection in downtown Dallas where 25-year-old Micah Johnson opened fire Thursday night. Before he was killed by police, Johnson, who was black, told officers he specifically targeted white police officers because he was upset by last week's fatal police shootings of two black men, one day apart: Alton Sterling in Louisiana, and Philando Castile in Minnesota.
Brown said he is "running on fumes" as the department investigates the shooting with the help of  federal agents and regional law-enforcement agencies.
"We're all on edge and being very careful," Brown said.
The slain officers included four from the Dallas Police Department and one from the Dallas Area Rapid Transit (DART). Four Dallas officers, four DART officers, and two Dallas County Community College officers were wounded.
Brown said police do not yet know the meaning of the initials "R.B." which Johnson, an Army veteran who served in Afghanistan, wrote in blood on the walls of the parking garage of El Centro College where he was holed up for hours before police sent in a remote-controlled bomb robot that killed him. Police later found a stockpile of weapons and bomb-making materials at Johnson's home. Three other people who were arrested Friday in connection with the incident were questioned and released later that day.
Brown, who is black, said Monday his family had received death threats following last week's shooting. Brown has served as police chief since 2010. That year, his 27-year-old son died in a shootout with police after he fatally shot an officer.
Brown said Monday police officers in the United States are under tremendous strain.
"We're asking cops to do too much in this country," he said. "Every societal failure, we put it off on the cops to solve," he said. "Not enough mental health funding, let the cop handle it. Not enough drug-addiction funding, give it to the cops. … Schools fail, give it to the cops."
As for protesters holding demonstrations over the deaths of Sterling and Castile—and over the resurgent debate over race relations and policing practices in the United States—Brown urged them to "become a part of the solution."
"We're hiring," he said. "Get off that protest line and put an application in, and we'll put you in your neighborhood and we will help you resolve some of the problems you're protesting about."