Hillary Clinton Goes to the FBI
The presumptive Democratic nominee sat down for a "voluntary interview" with federal investigators on Saturday.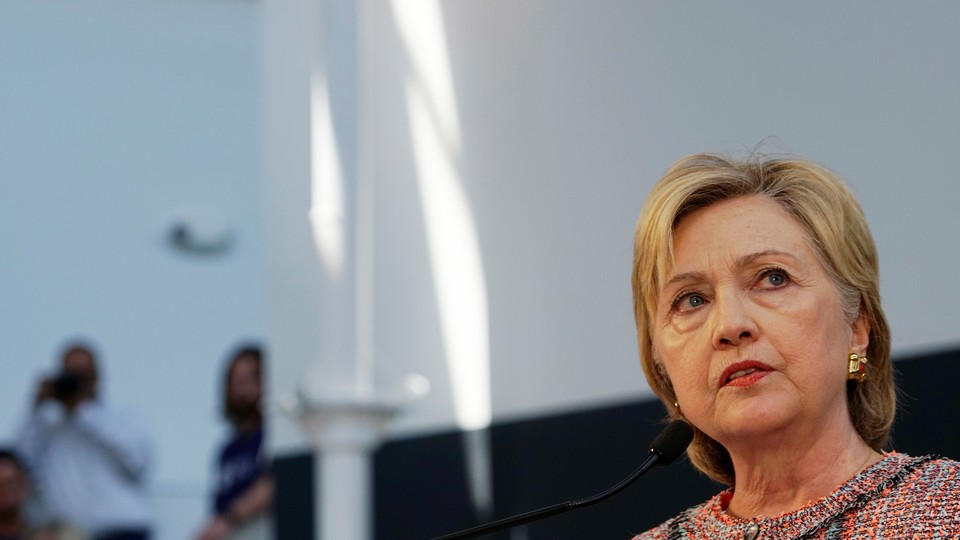 FBI investigators interviewed Hillary Clinton, the presumptive Democratic nominee for president, for three-and-a-half hours on Saturday as the probe into her use of a private email server while secretary of state enters its final stages.
The meeting took place at FBI headquarters in Washington, D.C.
"Secretary Clinton gave a voluntary interview this morning about her email arrangements while she was Secretary. She is pleased to have had the opportunity to assist the Department of Justice in bringing this review to a conclusion," Clinton spokesman Nick Merrill said in a statement. "Out of respect for the investigative process, she will not comment further on her interview."
FBI agents are looking into whether Clinton mishandled classified information on her private email server during her four-year tenure at the State Department. Clinton has previously characterized her decision to use the server as a "mistake," but has strongly denied any criminal wrongdoing.
It's not clear whether the investigation will result in criminal charges. FBI officials have avoided describing the probe as a criminal investigation. The Wall Street Journal noted in March there are no indications federal prosecutors have empaneled a grand jury, which would be necessary to file charges. And Clinton's description of Saturday's meeting as a "voluntary interview" suggests the FBI did not use a subpoena.
The interview comes after Attorney General Loretta Lynch said Friday she would defer to career FBI and Justice Department officials on whether or not criminal charges would be sought in the investigation. As my colleague David Graham explained Friday, the announcement followed an unusual episode in the lengthy saga:
FBI Director James Comey, whose organization is running the inquiry, and Attorney General Loretta Lynch, who would make the final decision on charges, have both worked to assure the public that they are acting independently, free of political interference.

That's why Lynch's recent visit with former President Bill Clinton has raised so many eyebrows. The two chatted Monday night at Phoenix airport. Both were at the airport, and Clinton apparently walked to Lynch's plane unbidden to say hello. Lynch says that they did not discuss the email investigation, and that the visit was purely social. But the cloak-and-dagger nature of the meeting—visits across the tarmac at night—is enough to arouse suspicions, and The New York Times reports that the White House declined to say whether it was appropriate. What did they talk about? And if it really was purely social, what was Bill Clinton thinking? It should have been clear that the encounter would be controversial. Politico reports that the visit made "Democrats groan," but Republicans, independents, and transparency advocates are in the groaning gallery too.
Donald Trump, the presumptive Republican nominee, swiftly pounced on the reports, describing the tarmac meeting as "terrible" and "so horrible."