Correcting 'American Sniper' Chris Kyle's Legend
An investigation by the U.S. Navy found the famous SEAL had not been awarded as many medals as he claimed.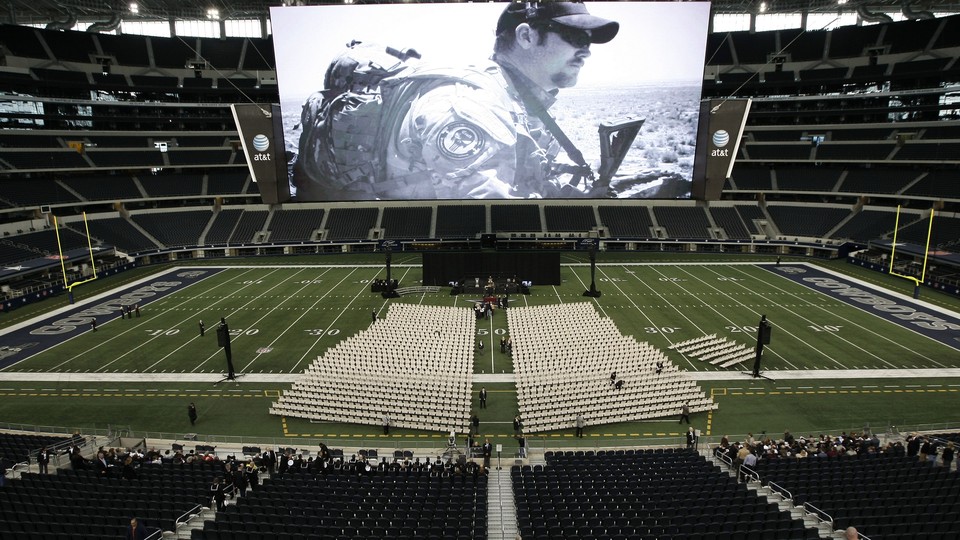 NEWS BRIEF A U.S. Navy investigation into the war record of "American Sniper" Chris Kyle found the SEAL overstated how many medals he had received.
Until his death in 2013, Kyle was known as the U.S. military's deadliest sniper. He wrote an autobiography, and Bradley Cooper played him in a movie that was largely based on the book. It was in the book that Kyle said he was awarded two Silver Star and five Bronze Star medals for his service. But an investigation found he had actually earned one Silver Star and four Bronze Star medals.
The Navy opened the investigation into Kyle's record in 2012, and it issued a corrected report last month. The news was made public Friday, after USA Today talked with a Navy spokesman.
USA Today reported that:
"After thoroughly reviewing all available records, the Navy determined an error was made in the issuance of Chief Petty Officer Chris Kyle's form DD214," Ensign Marc Rockwellpate, a Navy spokesman, said in a statement. "Specifically, the DD 214 did not accurately reflect the decorations and awards to which Kyle was officially entitled. After notifying his family of the error, the Navy issued a corrected copy of the DD 214, which accurately reflects Kyle's years of honorable and extraordinary Navy service."

It is unclear who made the original error, and it appears to be a clerical mistake that was not corrected by Kyle or other Navy officials. The Navy is automating its personnel record system to prevent such errors.
This is not the first time Kyle's word has been questioned. In his book, he wrote that he shot dozens of looters from atop the New Orleans Superdome after Hurricane Katrina. But there's no evidence that this is true. Kyle also claimed he punched a man who disparaged SEALs and who was later identified as Jesse Ventura, the former governor of Minnesota. Ventura said it never happened, and he sued Kyle for defamation. A jury awarded Ventura $1.8 million.
Kyle dedicated much of his time after leaving the Navy to helping veterans. It was one of these men, Eddie Ray Routh, who killed Kyle in 2013.