A Setback for China's Claims
An international tribunal has ruled against Beijing's claims to rights in the South China Sea. The ruling, which is in favor of the Philippines, is binding, but The Hague-based court cannot enforce it.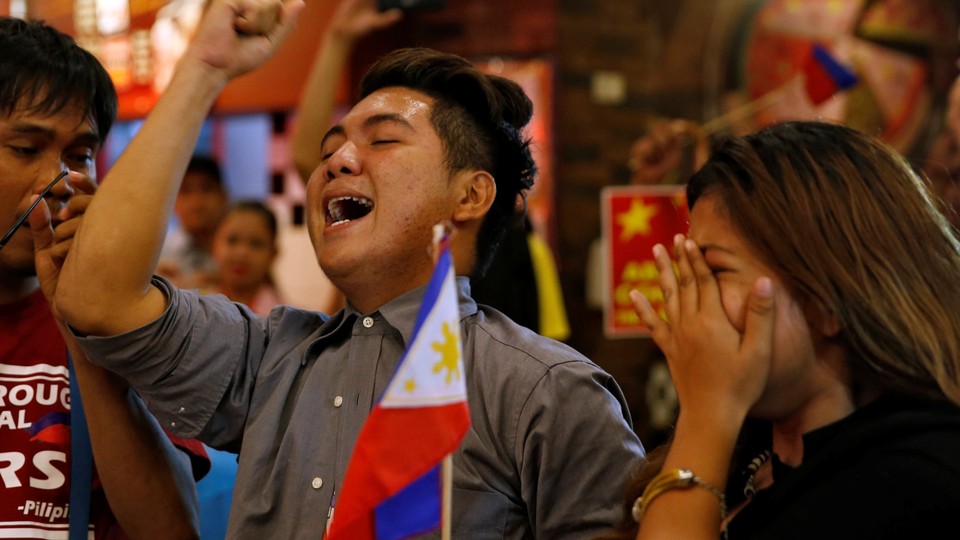 NEWS BRIEF The Hague-based Permanent Court of Arbitration ruled Tuesday against China's claims to rights in the South China Sea. The ruling is a victory for the Philippines, which brought the case, and it is legally binding—but the court does not have the power to enforce it.
Here's part of the the 497-page ruling:
There was no legal basis for China to claim historic rights to resources within the sea areas falling within the 'nine-dash line.'
The 'nine-dash line' refers to a demarcation line on a map of the sea, rich in energy and minerals, from 1947. The Philippines, citing international law, had contested China's claim to the sea. China boycotted the case, even though it and the Philippines are signatories to the United Nations Convention on the Law of the Sea, under which the arbitration panel was acting. China called Tuesday's ruling "ill-founded."
The arbitration tribunal made the illegal and invalid so-called final verdict on the South China Sea dispute on July 12. Regarding this issue, China has made the statement for many times that it is against the international law that the Aquino III administration of Philippines unilaterally requested the arbitration. The arbitration tribunal has no jurisdiction on this matter.
Paul Reichler, of the law firm Foley Hoag who served as the Philippines's chief counsel, in a statement said:
This historic decision not only vindicates the Philippines' claims, it provides much-needed clarity concerning the Parties' legal rights and obligations under the Law of the Sea Convention to which they and more than 180 other States are signatories. The Tribunal's ruling not only benefits the Philippines, it also benefits other States bordering the South China Sea like Indonesia, Malaysia, and Vietnam. If China's nine-dash line is invalid as to the Philippines, it is equally invalid to those States and, indeed, the rest of the international community.
The ruling by the five-judge tribunal was unanimous.